'90 Day Fiancé': Are Avery and Omar Still Together in 2021?
'90 Day Fiancé: Before the 90 Days' stars Avery Mills and Omar Albakkour had a complicated visa journey. Are they still together?
When it comes to 90 Day Fiancé couples, a lot of their relationships seem doomed from the start. Then, there are some couples whose love for one another seems strong enough to carry them through the hardships of international dating, visa applications, and disapproving family members. Avery Mills and Omar Albakkour from 90 Day Fiancé: Before the 90 Days seemed to have what it takes to go the distance, but almost two years after their season aired, are they still together?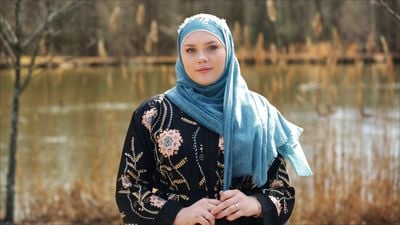 How did the '90 Day Fiancé' couple meet?
Mills and Albakkour met on a Muslim dating app. Mills' recent conversion to Islam surprised her family as she had been a bit of a wild child growing up. During season 3 of Before the 90 Days, the couple met up in Beirut, Lebanon to get married, as it was safer than Mills going to Syria, where Albakkour is from.
Because Syria was previously on a travel ban list, the visa process for Mills and Albakkour has been long and arduous. At the end of the season, Mills went back to America to talk to a lawyer about getting her husband to the United States. He told her that they had less than a 5 percent chance of getting the visa approved.
In April of 2020, the two were still living in separate countries.
"To clarify, Omar and I are happily married, but I stay in America the majority of the time [because] I sponsor Omar's visa so I have to keep my big girl job in America, and I'm in college," she wrote on her Instagram stories.
Are Avery Mills and Omar Albakkour still together?
On season 4 of 90 Day Fiancé: What Now?, Mills revealed that the two were considering moving to another country to be together.
"We're going to try our hardest to move to America. We're hopeful that we'll get a visa in the next two years," Mills said. "But plan B is definitely U.A.E., I would say plan C is Canada, plan D maybe Kuwait."
Mills later appeared on Self-Quarantined and revealed that her husband was supposed to have his interview for his visa in March but it was canceled due to the coronavirus (COVID-19) pandemic.
"If he doesn't get to come here within the next six months, we are going to move to the United Arab Emirates (U.A.E.) to Dubai," she said. "But it really ruins his chances to come to the U.S. because I will no longer have a job in the U.S. If I'm working in Dubai, that doesn't count for his visa here. It's like we're back at square one. And we really don't know what to do."
The couple did ultimately move to the U.A.E together but, while living there, Albakkour finally got his visa interview.
"This could either be very good or very bad. I'm literally shaking," Mills said in a YouTube video as she waited to see how her husband's interview went. "I don't know what to think right now, guys. Like, if he gets approved, he gets to meet my whole family. We get to go to America. He gets to see his family, he hasn't seen his brother in almost 10 years and they're like, best friends. And I want that so badly for him. And I miss my cat."
Albakkour's visa did get approved, so it looks like the two are headed to America.