'90 Day Fiancé': Are Ronald Smith and Tiffany Franco Getting Back Together?
90 Day Fiancé couple Tiffany Franco and Ronald Smith have had a rocky relationship, to say the least. Franco dealt with a lot of uncertainty when it came to marrying Smith, mostly due to his checkered past when it comes to addictions and the law. However, the two ended up falling in love and deciding to tie the knot. After having a baby together, it seems as if things went awry. Franco and Smith decided to separate. However, it seems as if now the couple may be working on keeping their relationship intact.
Tiffany Franco and Ronald Smith separate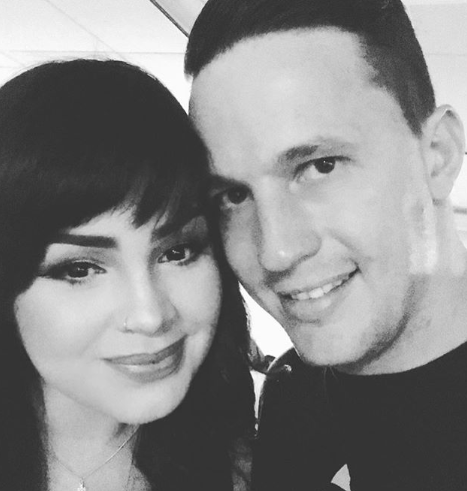 90 Day Fiancé star Tiffany Franco took to her Instagram stories to announce that she and Ronald Smith would be separating.
On her story, she wrote, "Unfortunately I have to announce that Ronald and I will be separating. I wanted to be the first to let you know rather than hiding it and putting on a façade for social media."
In her next message, Franco made it sound as if the two would not be getting back together any time soon. She added, "Thank you guys for following our story we really love each other but some things are just irreparable. We both deserve much better than what we can offer at the moment."
Franco also seemed to suggest that Ronald Smith was toxic, writing, "When a toxic person can no longer manipulate you they will try to manipulate the way others see you. Truer words have never been spoken. I wish nothing but good things for Ronald but I won't waste one more second being taken for granted and being unhappy."
Franco went on to make it clear that she had never been unfaithful to Ronald Smith.
Ronald Smith's remarks about separation
Ronald Smith also took to social media to discuss his separation with Tiffany Franco. It seems as if the 90 Day Fiancé couple had some differing opinions about what exactly went down. 
Ronald Smith wrote on Instagram, "Herewith sorry to inform you all that I have decided to leave Tiffany for certain reasons. Thank you for following our story but unfortunately it just didn't work for me. I'll be filing for divorce in [South Africa] since she isn't even registered in [the] USA. Talk about [adultery.]"
Smith went on to explain in a second post that Tiffany Franco was simply too controlling for him. He wrote, "She wants answer, I answer. She wants reports, I report. She wants location, I show location. I mean it's crazy. Still I was accused of lying."
Smith went on to add, "She's very controlling bossy didn't really love me. I was a pet to her caged up because if I wanted to go somewhere it ended in [an] argument. If I want to do something I'm not allowed."
Is the 90 Day Fiancé couple working on getting back together?
However, based on a new Instagram post featuring Ronald Smith with his and Tiffany Franco's daughter, some fans are wondering if the two might be working on keeping their relationship intact. 
Soap Dirt recently reported that Tiffany Franco will be visiting Ronald Smith in South Africa for three weeks. They went on to report that Smith has claimed "the divorce was not final," and that they are "going to work things out." 
One Instagram user commented on the photo with, "Glad you guys are working on you're relationship. Its hard raising kids by yourself."
Another added, "So does this mean you guys are working things out? I hope so. She looks just like Daddy."