'90 Day Fiancé': Are Tiffany Franco and Ronald Smith Still Together?
90 Day Fiancé couple Tiffany Franco and Ronald Smith tried to make their long-distance relationship work. With Franco a Maryland native, and Smith located in South Africa, things seemed difficult for the two at first. However, Ronald Smith came with some past demons in the form of addiction, and Tiffany Franco had to decide if moving to South Africa was the right move for her and her son. 
Are the couple still together now that their season of 90 Day Fiancé is over?
Ronald Smith's troubled past
Ronald Smith waited until after his 90 Day Fiancé engagement to admit to Tiffany Franco that he had a gambling addiction in the past. Obviously, this sowed doubt in Franco's mind about whether or not marrying Smith was the right choice for her. 
Eventually, Franco decided to give Smith another chance. He entered rehab, and also explained his criminal record to Franco.
Franco said on the show, "I definitely should've asked Ronald more questions about his record when I did see it, but there was so much already going on with the gambling addiction and everything else. But now at this point, I want to make sure that there's nothing he's hiding because my future and Daniel's future is on the line. There's definitely some more information that I need to get."
Though Franco did give Smith another chance, she was still shocked by his past, and the fact that he kept secrets from her. At one point, she posted on Instagram, "When I was first dating Ronald before I knew about the gambling I was so blissfully happy… no stress just fucking happy. How things and people change."
Unsure about South Africa
Tiffany Franco was also not so sure about uprooting her son's life in the U.S. and bringing him to South Africa. The 90 Day Fiancé star eventually discovered she was pregnant with Ronald Smith's baby, and that gave her even more pause about staying in the country. 
Ronald Smith admitted that human trafficking, ATM bombs, murders, and burglaries were all things to be on the watch for in South Africa. He added, "But still, it's a nice place to live."
Eventually, Franco's son, Daniel, admitted to Franco that he doesn't enjoy living in South Africa. "I don't want to live here forever. I want to be with [Ronald], but at the same time, I want to live in America, and it's really tough to choose," said Daniel.
Franco eventually decided they would move back to the U.S., and that she'd try and get Ronald Smith his K-1 visa. During their Tell-All episode, Franco said, "Well, we did end up talking to that same lawyer again and when he looked further into the details on the record, seeing that he's never been convicted of any charge, it's all been withdrawn." She continued, "So technically speaking, his record is clear."
Are Tiffany Franco and Ronald Smith still together?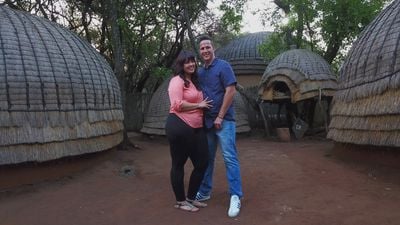 At this point, it does seem as if the 90 Day Fiancé couple is still together. However, it does appear as if they are still in separate countries. It currently is unclear where Ronald Smith stands in the visa process. 
That being said, the two often post pictures together on Instagram, as well as photos of their family. It seems that the couple is happy together and going strong. Franco and Smith were a fan favorite during their time on 90 Day Fiancé, and many fans are rooting for them on Instagram.