'90 Day Fiancé': Ariela Danielle Undergoes Immediate C-Section in 'Other Way' Sneak Peek
90 Day Fiancé couple Airela Danielle and Biniyam Shibre have had a wild journey. And with Ariela pregnant and Biniyam having been denied a visa three times in the United States already, the future of their relationship seems up in the air. To make matters more complicated, a sneak peek of upcoming The Other Way episodes shows Ariela learning that she needs to have a c-section immediately. 
Ariela Danielle has to have her baby immediately 
Ariela Danielle isn't the first American woman that Biniyam Shibre has gotten pregnant. Biniyam previously had a relationship with an American woman that didn't work out, resulting in his child's mother taking the baby back to the U.S. 
Now, Ariela Danielle is pregnant, and it looks like things won't be going as planned this time either. A sneak peek for new episodes of 90 Day Fiancé: The Other Way shared by People shows Ariela learning that she's going to need an immediate c-section. 
"You are going to deliver by cesarean section. We will not wait," a doctor tells Ariela in the sneak peek. 
"So when would I have to have the baby?" asks Ariela.
"Today," replies the doctor. Ariela is understandably shocked. 
The clip then shows Ariela in the hospital, being prepared for her c-section. She's crying as she says, "I'm not ready!"
'90 Day Fiancé' star butts head with Biniyam's sisters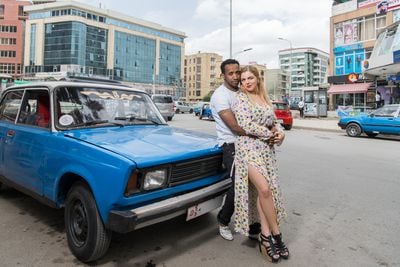 Unfortunately for Ariela Danielle, her 90 Day Fiancé troubles don't end with a surprise c-section. Biniyam Shibre's sisters want Ariela to baptise her baby, and Ariela doesn't agree.
"My parents are also not of the same religion. My father is Jewish, and my mother is Roman Catholic. Honestly, I always felt really uncomfortable with the idea of Christianity because I don't believe in hell. It's just so awful to me. I just don't think that it's something we should be teaching our son about," Ariella has previously told producers.
"If you don't baptize, the baby goes to hell!" Biniyam's sister yells at Ariela in the sneak peek.
"You're gonna let your sisters talk to me like this?" Ariela asks Biniyam, who sits there looking uncomfortable. 
"You act like his ex now, I swear," Biniyam's other sister adds.
'90 Day Fiancé' fans react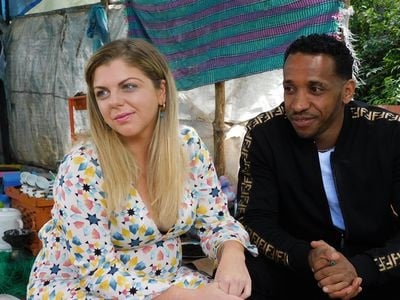 90 Day Fiancé fans seem largely concerned for Ariela Danielle, with many worrying about her preparation for motherhood.
"I feel bad for Ariella, more so for the baby[.] You can tell she's not ready to be a mother at that stage. Her mother should have stayed back till the delivery." wrote one Redditor. 
"What denomination is Biniyam (or however you spell it) and his family? Saying a baby will go to hell for not getting baptized is pretty awful and weird," pointed out another user.
"And poor Ari, that's so sad. I will say having a baby is scary and then just thrown on her she has to have it that day, and Biniyam's family isn't being fair[.] [L]ike I get that's what they believe but that's not what you tell a new mother. Especially one of a different faith that's downright rude and disrespectful," opined another fan of the show.