'90 Day Fiancé': Ariela Weinberg Gets Real, Says Cast Does Show for Cash and Fame
90 Day Fiancé star Ariela Weinberg had plenty of drama with her husband, Biniyam Shibre, when they first appeared on the show. Since then, they seem to have made things work, but a new season of The Other Way teases even more drama, this time centering on Ariela's ex-husband. Despite that, Ariela has come clean about why she did the show, and it's not all about showing her journey — rather, money and fame seem to be the main goal.
'90 Day Fiancé: The Other Way' Season 3 teases ex-husband drama
90 Day Fiancé couple Ariela Weinberg and Biniyam Shibre have had their ups and downs on the show. The two overcame cultural differences and fears of cheating and jealousy to maintain their relationship, but a new season of The Other Way teases storm clouds on the horizon.
The preview for the new season features Ariela telling Biniyam and his family that her ex-husband will be visiting them in Ethiopia. Obviously they are shocked and confused.
"I won't let him take Ari back to America," Biniyam tells 90 Day Fiancé producers.
The preview shows Biniyam fighting with Ariela's ex-husband using training pads. Biniyam gets pretty intense and eventually has her ex on the floor in a chokehold. He appears to tap out, and it seems like Biniyam ignores it altogether.
This is followed by shots of Ariela heading to the airport as she prepares to leave Ethiopia with her child for the U.S. Biniyam expresses concern that she won't come back. Later, the two video chat, and Ariela tells Biniyam that she's considering not returning.
"I will never go back to Ethiopia after what you have done to me and Avi," she tells him. It remains to be seen exactly what it is that Biniyam did.
Ariela Weinberg dishes on why she and Biniyam Shibre did the show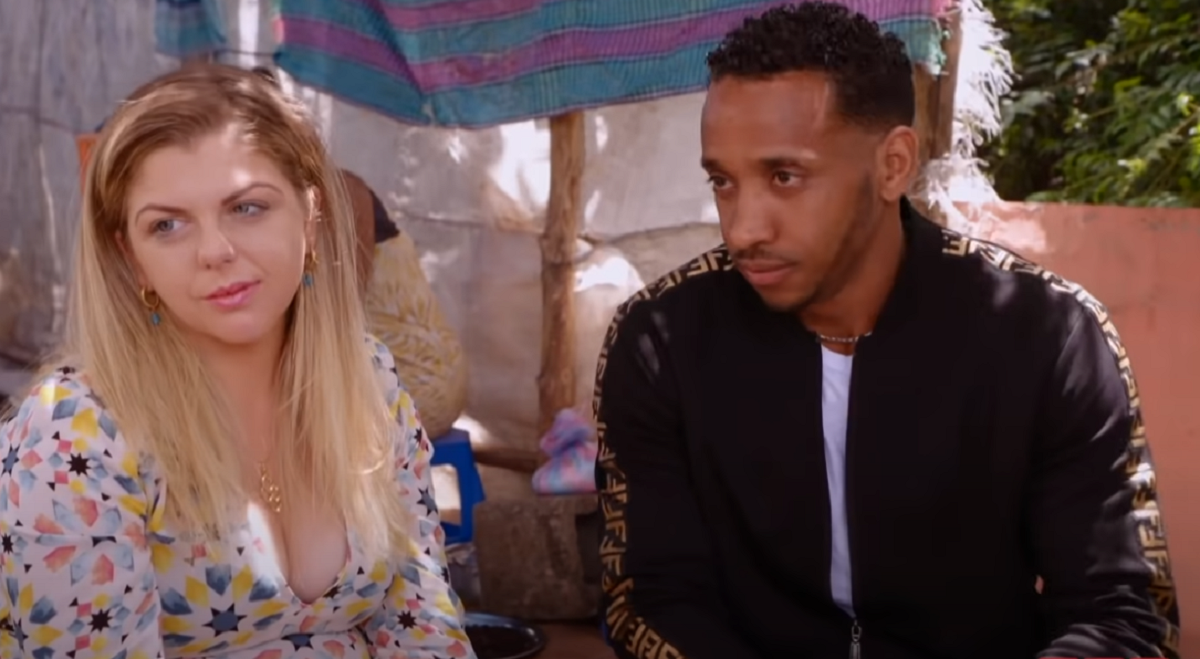 Ariela Weinberg has since been very open about why she and Biniyam Shibre decided to appear on 90 Day Fiancé — and it's not about showing their love to the world. Rather, Ariela admits that the pair were pursuing money and exposure.
90 Day Fiancé blogger John Yates previously shared a screenshot of a DM in which Ariela explains her reason for appearing on the show, per Screen Rant.
"We did the show because Bini is an entertainer (artist, dancer, circus performer, martial artist, etc.) and I wanted the world to see his talent and get him opportunities," Ariela wrote.
"So he has some scenes showcasing that. His song was in his intro package so I'm hoping that will get his music video a lot of views and we can sell his song," she added.
The reality star also previously called out a fan for criticizing people who appear on the show for the money.
"Why would anyone open themselves up to ridicule and mockery for the sake of a TV show? To get something out of it. No one goes on TV to show how in love they are and the filming commitment alone weeds out a lot of people," she replied to an Instagram comment.
'90 Day Fiancé' fans react to her openness
90 Day Fiancé fans seemed pleasantly surprised by Ariela Weinberg's honesty about why she and Biniyam Shibre appeared on the show.
"Wise words from a reluctant reality tv star. They all do it for the coin," commented one Redditor.
"Well, she's absolutely correct about that. Unpopular opinion but I've always liked her. TLC did her dirty with her edit," added another user.
"Ari is honestly one of the rare cast members whose social media made me like her more," opined a Redditor.