'90 Day Fiancé': Armando and Kenneth Make '90 Day Fiancé' History On 'The Other Way' Early Premiere
Stephanie Matto and Erika Owens were the first-ever same-sex couple on the '90 Day Fiancé' franchise. The upcoming season of '90 Day Fiancé: The Other Way' will feature the franchise's first-ever gay male couple, Armando and Kenneth.
The most recent season of TLC's 90 Day Fiancé: Before the 90 Days featured the first-ever same-sex couple on the entire 90 Day Fiancé franchise: Stephanie Matto and Erika Owens. The second season of another TLC spinoff, 90 Day Fiancé: The Other Way, will make history again—with Armando and Kenneth Niedermeier, the franchise's first-ever gay male couple.
Kenneth, a 57-year-old dad of four kids (26-year-old son Bricen and 23-year-old triplet daughters, Taylor, Cassidy, and Madison, along with a three-year-old grandson, Cooper) from St. Petersburg, Florida, is set to marry Armando, a 31-year-old father of a six-year-old daughter, Hannah. Armando hails from Mexico, where Kenneth will move on the season. The couple met in a social media group for gay fathers.
On the 90 Day Fiancé: The Other Way premiere, "Home is Where the Heart Is," Kenneth opened up about his background, coming out to his parents, and how he feels about sacrificing just about everything for the love of his life.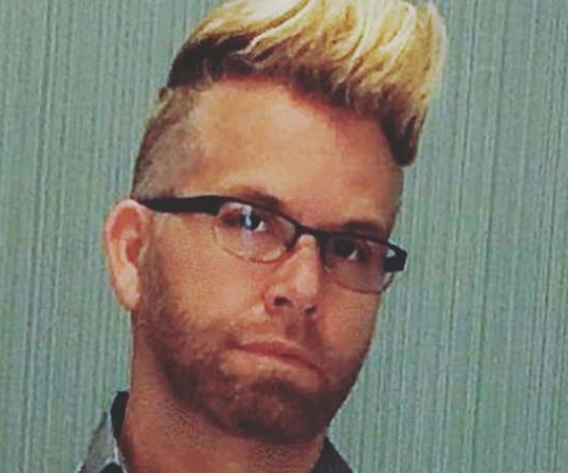 Kenneth revealed what it was like to come out to his parents as a young gay man
On the season premiere of 90 Day Fiancé: The Other Way, Kenneth got emotional about realizing he was gay as a young man in Ohio. He set out for Florida in search of himself.
"I left Toledo because I knew there were things happening within me," Kenneth said. "I couldn't put my finger on everything, but I knew that I was different. I came to Florida to see if I could find myself. One night, I got ready and went to a gay club. And, ba-da! I was home."
Although the 90 Day Fiancé star was comfortable with his own identity, he wasn't at all sure how his parents would react—especially given their traditional background. "I was 19 when I came out in Florida, but even though I felt relief in my heart, I still had my family to come clean with," he said. "My mom was a very strong moral Catholic. My dad was a head football coach for 40 years."
With tears in his eyes, Kenneth opened up about what a relief it was to know that his family loved him unconditionally. "I wrote an eight-page letter to them. And then I got a call, and their first words, my mom said, 'Don't worry about it. You're fine,'" he said with surprise. "They didn't have any problem with it. They loved their son, and it didn't matter."
The '90 Day Fiancé' star said being a father was the most important thing in his life
When Kenneth was a younger man, he explained, it wasn't common for same-sex couples to have children. But that had always been one of his goals, and he wasn't about to let societal expectations stop him.
"Back in the '80s and early '90s, gay men weren't having children," the 90 Day Fiancé star said. "The in vitro process was very expensive. You had to be married. I've always wanted to be a father, so nothing was going to stop me."
Luckily, a close friend agreed to pretend to be married to Kenneth so they could seek out in vitro fertilization. That's how Kenneth was able to become a dad to his four kids, who have always been his whole world.
"Being a dad has been nothing but a blessing to me," the 90 Day Fiancé star said meaningfully. "My family has always been very important in my life."
The dad of four raved about his soulmate, whom he met on social media
But as for Kenneth's love life, he said, that hadn't always been quite as rewarding as fatherhood.
"The whole time raising my children, I had two different long-term relationships," the 90 Day Fiancé: The Other Way star said. "But they didn't last."
Meeting Armando on a social media site for gay dads, said Kenneth, rocked his whole world and changed the course of his life forever. "My life has taken a different path now that I didn't expect at my age," Kenneth revealed. "I'm moving to Mexico in two weeks to be with the love of my life."
Kenneth and Armando became "fast friends" and fell for each other hard after they met in Mexico for a few days after Kenneth attended a friend's wedding in California.
"Soon after I went home, he told me that he could see himself with me," Kenneth said of Armando, "and I had reservations because I was 26 years older than him. He lived in another country, and he has a young daughter, so he can't come to the United States."
But Kenneth's passion for Armando won out over everything else. "I never thought I would move to another country or do anything like that. But I'm ready to go to be with Armando, to be with my love. The time is now," he said confidently.
And for true love, the 90 Day Fiancé star said he was more than willing to make the sacrifice. "I've given up so much to be with Armando. But he is worth everything," he gushed.