'90 Day Fiance': Avery Mills Claps Back at Critics About Relationship With Omar Albakour
Avery Mills of Ohio and Omar Albakour of Syria had a whirlwind romance that ended in marriage on TLC's "90 Day Fiance: The Other Way." Since the couple's season aired, Avery has been open about her frustrations with certain fans. She recently clapped back at critics who insulted her conversion to Islam and her relationship with Omar.
Avery Mills and Omar Albakour wrestled through visa denials and delays, long distance, and cultural differences to end up together on TLC's 90 Day Fiance. Mills, who is originally from Columbus, Ohio, converted to Islam at 18 years old before meeting then-23-year-old Albakour, a fellow Muslim and future dentist from Syria, online.
Mills and Albakour struggled with months of painful separation after they married after just a few days together in Syria. Due to the Syrian travel ban, the young couple had trouble with their visa application for Albakour to move to the U.S. Some 90 Day Fiance fans have also criticized Mills for converting to Islam and for not telling her parents earlier that she might be moving to Syria herself.
Now, the young couple is still together, but it's still unclear where exactly they currently live. Mills runs an online store, Albakour Kouture, and frequently takes to Instagram and Twitter to discuss her passion for Islam and Middle Eastern culture, as well as to clap back at critics.
The 90 Day Fiance star recently defended her religion and her relationship with her husband to various commenters on her Instagram posts after they accused her of agreeing to be 'unequal' as a woman in her chosen faith.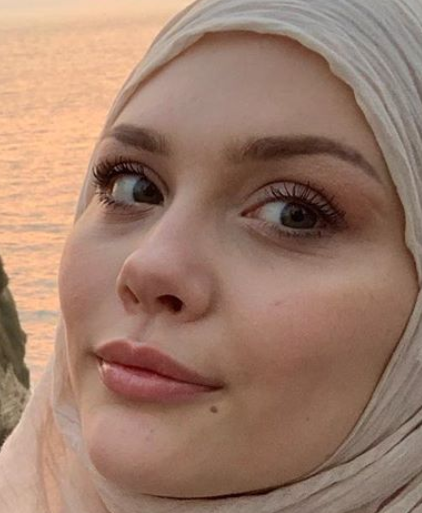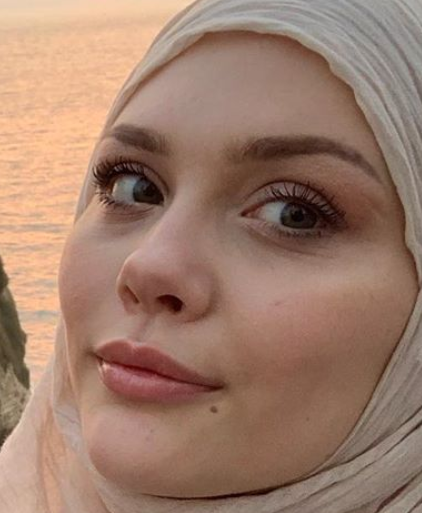 Some '90 Day Fiance' viewers criticized Avery's relationship with Omar
On Avery Mills' recent post of herself with husband Omar, one 90 Day Fiance: Before the 90 Days fan commented on her choice to wear a hijab and convert to Islam.
"I'm curious how your American female friends feel about your choice to convert to a religion/culture where women are/ never will be considered equal to a man?" the critic asked.
Mills came back with a response quickly, quipping, "Tbh they ask me if Omar has a brother and they always tell me how proud they are of me."
The critic wasn't buying Mills' answer and wrote back, "I'm not that gullible but thanks anyhow." Other Instagram users defended the 90 Day Fiance star and her relationship, saying that the critic was relying on false religious and cultural stereotypes.
For her part, Mills defended herself as well, writing, "What lol how are you about to ask a question and be mad it's not what you wanted ? I'm sorry you don't like the truth."
The '90 Day Fiance' star fought back against assumptions about her religion
Another Instagram user had choice words for the young 90 Day Fiance star as well. "It is amazing how at this day and age people still choose to enslave themselves for an ugly and violent fairytale," the critic wrote on the same post.
Avery Mills immediately defended her happy marriage, clapping back, "Nothing about my relationship is ugly and violent no matter how much you want it to be."
The 90 Day Fiance star clarified that she had also not converted for Albakour, but had instead already converted by the time they met online and started dating. In fact, they met on a dating site for devout Muslims.
"Also I was Muslim before I met Omar…Also this is not a fairytale this is simply a happy relationship (they do exist in real life not only in fairytales," she wrote.
Avery called her choice to convert to Islam the 'greatest decision' she had ever made
Mills, who has been an outspoken advocate against Islamophobia and anti-Islam sentiments, also told one of the critics on Instagram that she was happy with her choice to convert to a different faith. "I was and still am a Muslim it's the greatest decision I have ever made," the 90 Day Fiance star wrote.
Other Instagram users criticized Mills' hijab and modest clothing. "Why he can dress the way he wants and you don't? If you both are in the same religion???" one 90 Day Fiance viewer questioned the cast member.
Mills said that there wasn't a double standard in her opinion. "We dress [in] the way what Allah asks us, even a man is not allowed to show his charms in public," she clarified.
This isn't the first time the '90 Day Fiance' star has spoken out against criticism
This is far from the only time that Avery Mills has spoken out against online bullying, as well as against criticism from 90 Day Fiance viewers about her behavior, relationship, and religion.
After 90 Day Fiance: Before the 90 Days wrapped, Mills considered starting a YouTube channel about converting to and practicing Islam. But bullying from fans led her to take a social media break instead. Avery wrote in her Instagram stories, "To save my mental health I'm not going to be as present on social media because at the end of the day people WANT to break me and I won't give them what THEY want."
While the season was still airing, Mills also spoke out against claims that her husband Omar was controlling. On an Instagram Live session, the 90 Day Fiance star said that he was anything but. She defended her husband, saying, "I do have to say something I don't usually respond to. Any comments — I hate when people say Omar is controlling."
Avery also pushed back against Deavan Clegg's claims about racism in the U.S.
The 90 Day Fiance: Before the 90 Days star also subtly spoke out on her Instagram stories against castmate Deavan Clegg, who said she was a Trump supporter and argued that racism didn't exist in the United States. Mills disagreed.
"To anyone that doesn't believe racism and bigotry isn't still alive and well in America, just go look at my comment section," Avery wrote at the time. "I have gotten death threats from Americans for the simple fact that I'm Muslim, and whole countries are banned from coming here."
"I grew up in a very diverse community where I heard white folks addressing black people as criminals and all Muslims as terrorist…People that don't speak up about the problems just bc it doesn't affect them are a part [sic] of the problem," Mills continued. The 90 Day Fiance star added that it was everyone's responsibility to "stand up to hate" in this world.