'90 Day Fiancé': Avery Mills Has a Tense Conversation With Her Mom About Moving to Syria For Omar Albakour On 'What Now?'
Avery Mills, a 20-year-old student from Columbus, Ohio, and Omar Albakour, a 25-year-old dentist from Syria, first graced the small screen as an engaged couple on TLC's 90 Day Fiancé: Before the 90 Days Season 3.
Avery was raised Christian but converted to Islam in her late teens. Soon afterward, she met Omar on a Muslim dating app—and the rest was history. Omar sent his fiancée an engagement ring in the mail, and they married after just a few days together in Lebanon in Feb. 2019.
On a recent episode of TLC GO's digital-only series, 90 Day Fiancé: What Now, Avery and Omar updated viewers on how their marriage is going. Avery's mom, Teri Mills, had always been supportive of her daughter but wary of her growing relationship with someone from such a different cultural and religious background.
Teri and Avery sat down together on What Now? to discuss Avery's potential future with her husband—and even a possible move to Syria one day.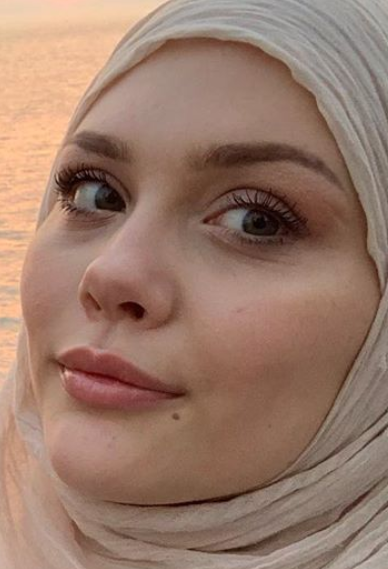 Avery and her mom clashed about her new religious practices on '90 Day Fiancé: Before the 90 Days'
While Teri has always seemed like a supportive mom, she and Avery butted heads at first about Avery's conversion to Islam, her decision to wear a hijab, and her budding relationship with Omar. Teri was concerned that Avery was too young (just 19 at the time) to make such life-changing decisions, in addition to being worried about her safety.
Avery and Omar decided to get married right away when she went to visit him in Lebanon. "My mom flipped out," Avery recalled on What Now, "and she insisted on coming along."
In a 90 Day Fiancé throwback clip, Teri told Avery that she wasn't about to let her daughter head off to Lebanon alone to meet a man she didn't know well. "You are becoming a different person," Teri told her daughter. "Girls have disappeared, and they have joined ISIS. So I'm going to come with you and support you in a marriage that I was surprised [about]."
Avery and her mom sparred about the differences in her daughter's behavior and beliefs. She was also wary of Omar's cultural background and concerned about his potential beliefs about issues like polygamy (which a select number of Muslims practice, but Omar does not) and women's rights.
At first, Avery's mom predicted that her daughter wouldn't stick to her conversion to Islam, or at least her commitment to wearing a hijab, for the long haul. But Teri ultimately got along with Omar and now seems happy about her daughter's marriage.
The young bride's mom said she hoped her daughter would stay in the U.S.
On Omar and Avery's recent episode of 90 Day Fiancé: What Now, Teri seemed happy for and supportive of her daughter as they discussed her relationship with Omar. She even hoped that Avery and Omar would live in Ohio, as close by as possible, so she could spend time with both of them and any children they might have in the future. Still, she has some remaining concerns about Avery's safety, especially in traveling across the world alone.
Avery was about to reunite with Omar in Lebanon after eight months away from her husband. Teri admitted that she was more than a little worried about her daughter as she prepared for the trip.
"In just a couple of days, Avery is leaving to go to Lebanon to be with Omar," Teri said. "She's actually going to be traveling alone, so I am worried." She asked her daughter to stay in touch with her throughout her trip and to send her the address of each hotel she'd be staying at with her husband. Avery agreed, but seemed to think her mother was a tad overprotective.
Teri also fretted that Avery might be planning to use the trip as an excuse to move in with Omar in a different country. "Now, next question. When are you coming home?" she asked Avery. "You're not going to try and stay there at all, are you?"
"I swear on the law that I'm coming home," the 90 Day Fiancé star promised her mom.
"I'm just worried about you," Teri confessed, adding that she desperately wanted her daughter and son-in-law to live in the U.S. "And I don't want you to move to another country. I just want you guys to be here."
While Avery agreed that she and Omar hoped to live in the U.S., she explained that they were trying to be realistic about the likelihood of Omar's visa application being approved. "Of course, we do too,' Avery assured her mom. "But we can't just settle for Plan A. We have to have other things in line, and that's what we have."
The 90 Day Fiancé star added that, if Omar's visa was denied, the young couple had discussed living in Syria if the civil war ended. "I'm going to be honest with you," Avery told Teri. "He said if the war ended, and it was actually 100% safe, he would want to live in Syria. We're going to try to come here first, but I wouldn't be opposed to moving to be with him." What's more, Omar's family wanted him to raise any children he might have with Avery in a Muslim country.
"To Omar, family's everything to him," Teri told TLC producers. "But it is upsetting that my daughter would possibly have to move out of the United States. I really just want her here, and I don't want our family to be separated."
Most importantly, though, Teri didn't believe the unrest in Syria was about to end anytime soon. "I don't think it's safe," Teri worried. "I really, truly just don't."
Avery promised her mom that she and Omar wouldn't do anything to put themselves or their future kids in danger. "If it is unsafe, we won't move there," she said.
Omar and Avery discussed their various options in terms of building a life together
After Omar and Avery shared an emotional reunion in Lebanon, they discussed the practical matter of where they would live if Omar's K-1 visa application was denied.
"If the visa doesn't come, do you want to move back to Syria?" Avery asked her husband.
"I hope so," Omar said.
But the 90 Day Fiancé star wanted to make sure that she wouldn't be in any danger in her future home. "Make sure it's super safe, because my mom, she wants us to be safe," Avery said.
Omar agreed, adding that he'd never take his wife to an unsafe area. And right now, he lamented, Syria wasn't safe enough for them to settle there.
In the next two years, Avery told producers, they'd have to choose another country as their home base in the event that the visa process was unsuccessful. "We need a place where we can both work and be financially stable, but still be safe," Avery explained.
The couple discussed the possibility of moving to Canada, where it's often easier for Syrians to get a visa application approved. They also considered Abu Dhabi and Dubai as potential home cities.
And while it doesn't appear that Avery and Omar live in the same country yet—at least from social media—they're still together.
After recent rumors indicating the pair had split, Avery took to Instagram to assure fans that they were still a happy couple. "I'm not sure why there is an article saying Omar and I aren't together, but we are very much happily married and we have never split up," she wrote in a sweet caption. "So for the people that rushed to my page to see if the tabloids were true they aren't ❤️ Still my best friend."