'90 Day Fiancé': 'Babygirl' Lisa Hamme's Ex-Husband Once Threatened to Kill Her
90 Day Fiancé: Before the 90 Days star Lisa Hamme has been stirring up some fan controversy since her debut on the show. Hamme has been very active on social media, especially Instagram, seemingly fighting rumors that she and her Nigerian lover, Usman Umar, may have split up already. However, she's also been very critical of Umar on Instagram, so it's easy to see why some fans might think the two are no longer together. It also seems as if this isn't Lisa Hamme's first time in a challenging relationship. In fact, a report from the York Dispatch suggests that Lisa Hamme's ex-husband once threatened to kill her.
Lisa Hamme throws shade at Usman Umar
Fans remain unsure whether or not Lisa Hamme and Usman Umar are still together. Lisa Hamme's shady Instagram posts, many of which were directed at Usman Umar in the past, is part of what is fueling this confusion. 
The 90 Day Fiancé star has since deleted her old account and created a new one, but she had previously shared several Instagram posts poking fun at Usman Umar. One post suggested that there's some sort of truth to be revealed. The post read, "Even the people who betray you are part of the plan." Hamme captioned it, "The truth always comes out I'm patiently waiting I got lots time I'm recuperating from surgery got about 8 to 10 weeks recovery [sic]."
In another post, Hamme shared a message that Usman Umar had written on Facebook. He wrote, "Hello Lisa Renee Hamme I'm very sorry for what I said TV, maybe it hurt U bcus of language barrier but i don't mean HURT to YOU [sic]." 
Above the screenshot of Umar's post, Hamme wrote, "When losing the chance at a K1 becomes reality." 
Hamme had also previously made a post referencing Usman Umar's alleged body odor, and how insufferable it was. It certainly doesn't seem as if the 90 Day Fiancé star is going out of her way to shower Umar with affection on social media.
Lisa Hamme's husband threatened to kill her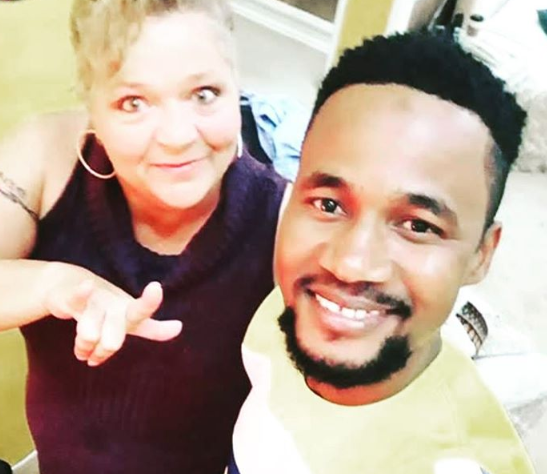 While it's unclear whether or not Lisa Hamme's relationship with Usman Umar works out, we do know that she's had a failed relationship in the past. In fact, Hamme's ex-husband once threatened to kill her. 
An article from 2016 in the York Dispatch reveals that Lisa Hamme's ex-husband once seemingly chased Hamme with his car, and threatened to attack her. Apparently the two were in a fight when her ex-husband flipped her out of a chair, pushed her to the floor, and also threw her into a wall. 
Police records state, "Fearing for her safety, Lisa stated she left the residence in her car and went directly across the street to the parking lot of the Grace Fellowship Church."
It seems her ex-husband followed in his car, tried to cut her off, drove at her directly, and yelled at her, "I'm going to kill you."
The '90 Day Fiancé' star has a history of domestic troubles
According to the York Dispatch, Southwestern Regional Police Chief Greg Bean confirmed that this is not the first time officers have been called to break up a domestic dispute among the Hammes. 
Bean explained, "We are trying to help them solve their problems, and we have a long history of trying to do that. Unfortunately, marital discord erupted again."