'90 Day Fiancé: Before the 90 Days' Season 5 Tell-All Teaser Hints Ella Cheated on Johnny More Than Once
'Before the 90 Days' star Ella's in the hot seat when host Shaun Robinson reveals she spent her birthday with someone and kept it a secret from Johnny.
Part one of the 90 Day Fiancé: Before the 90 Days Season 5 aired on Apr. 3, 2022, and as usual, things got messy. Aside from Caleb and Alina, everyone from the season showed up via telecast or in person, and the drama didn't take long to unfold. However, in a recent teaser for the final half of the tell-all, Before the 90 Days star Ella's in the spotlight as the teaser hints she cheated on her boyfriend, Johnny, more than once.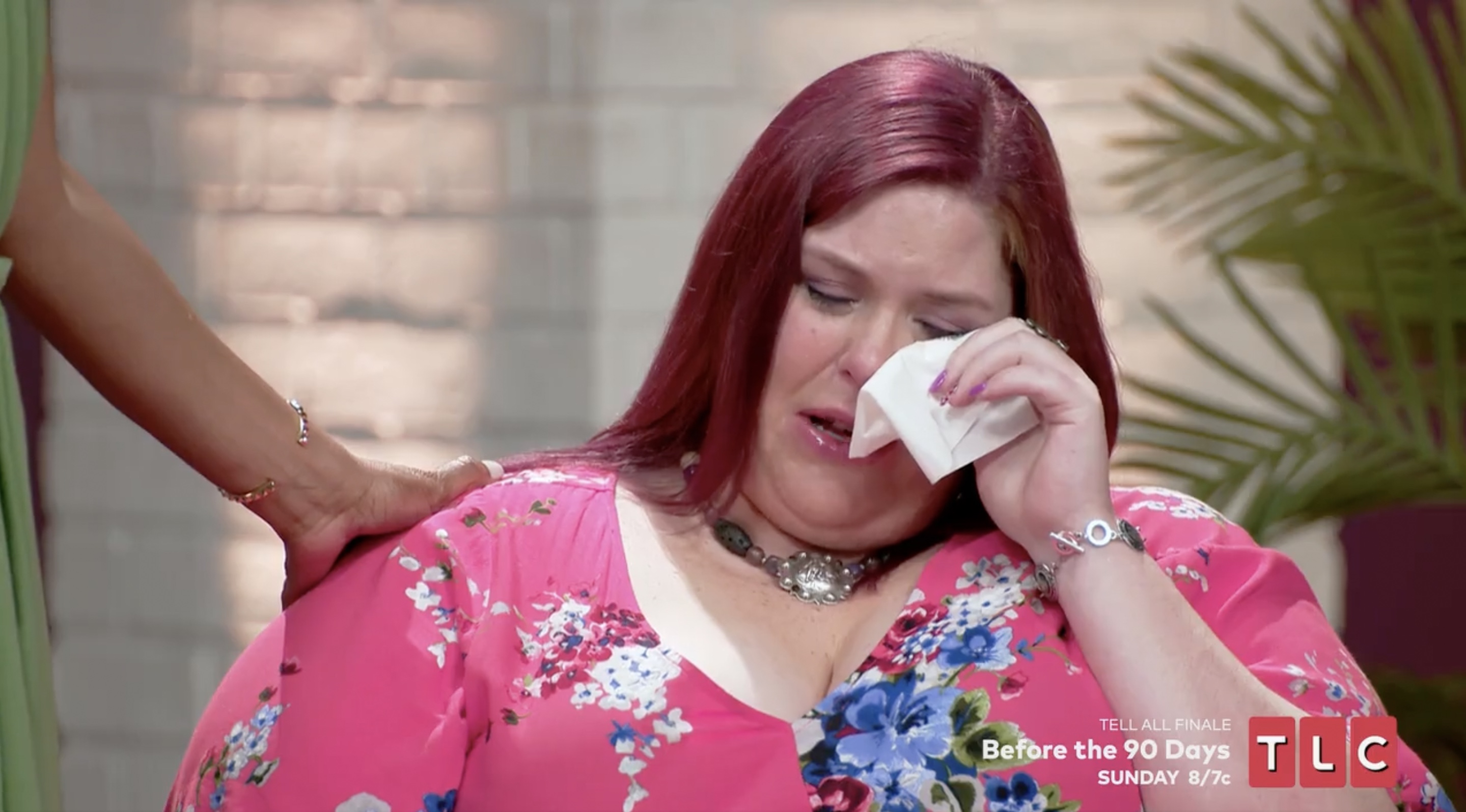 Ella admitted to cheating on Johnny in an earlier episode of 'Before the 90 Days' Season 5
Johnny and Ella were the one couple who never got a chance to meet in person during Before the 90 Days Season 5. Johnny lives in China, where the travel restrictions during the coronavirus (COVID-19) pandemic were tighter than the American ones. He expressed his concerns about not being able to return to his aging parents and child if he decided to visit Ella in the States. This angered Ella, and she cheated on Johnny, blaming his travel delay.
During a video call with Johnny, Ella tearfully confessed, "When you've been going back and forth with this, I called over a friend and talked with him and cuddled with him. And we ended up having sex. I didn't mean for that to happen. It just happened because I was so distraught and so upset."
Even though Ella appeared to regret her mistake, some eagle-eyed fans caught something suspicious on her phone. The Instagram account for 90 Day Fiancé news, @90daycouple, posted a close-up of Ella's phone revealing she had an icon for Tinder. 
The caption reads: "Someone with sharp eyes (not me) caught Ella's Tinder notifications on her menu bar when she was talking to Johnny, looks like she's not that sorry. Edit: a few of our followers have pointed out she also has Ok Cupid and Plenty of Fish notifications as well!!"
A recent teaser for part two of the 'Before the 90 Days' Season 5 tell-all hints that Ella continued to cheat
Reunions for any reality TV show often get messy, and the cast for Before the 90 Days Season 5 is no different. Part one of the tell-all didn't showcase much of Ella and Johnny, but that looks to change in part two. 
In a recent teaser, host Shaun Robinson asks Ella, "What about your birthday? Who were you with on your birthday?"
Ella looks at Shaun nervously. The camera then switches to Johnny as he looks up, shocked to hear what Shaun is about to reveal. The next scene shows Ella wiping tears from her eyes as she says, "I didn't mean for that to happen."
Before the 90 Days star Ella's track record isn't on her side. Plus, it seems as though Shaun has some intel on her intimate encounters that Johnny's not aware of yet. 
Johnny previously took full responsibility for Ella's cheating
In a move that shocked fans, Johnny took full responsibility for Ella's infidelity in a lengthy Instagram caption. The father of one wrote, "For what happened to the past I think I have no right to blame her for what she did because she was 28, 2 years earlier now she is 30 i know i wasted her best age i feel great guilty and what i did is totally unfair."
Whether or not Johnny and Ella remain together now hasn't been confirmed. Tune in to TLC on Sunday night to watch all of the drama unfold.