'90 Day Fiancé': Big Ed Breaks Down Body Shaming Experience
90 Day Fiancé: Before the 90 Days Season 4 is already bringing drama and excitement into fans lives. Unfortunately, for one cast member, fans are bringing body-shaming into their life. Big Ed premiered on the franchise with Season 4, and is hoping to find love with his Filipino girlfriend, Rosemarie. However, Big Ed isn't actually all that big, and his appearance has been drawing comments from fans that have left Big Ed feeling less than good about himself. Sadly, Ed revealed that this isn't a new experience.
Big Ed hid his height from Rosemarie
Big Ed is a 54-year-old photographer, who fell in love with Rosemarie, a 23-year-old from the Philippines after the two began chatting on Facebook. Big Ed is 4'11", but he recently revealed that he lied about his height to Rosemarie. 
During the season premiere of 90 Day Fiancé: Before the 90 Days, Big Ed revealed that told Rosemarie, who is 5'2", that they're the same height. Big Ed explained, "I have been keeping a few things from Rose. One is my height, I'm 4'11" not 5'2"."
However, that's only one of the secrets he's been keeping. Ed went on to reveal that he's also planning on getting a vasectomy, because he no longer wants children — he already has a 29-year-old daughter. 
However, Rosemarie doesn't feel the same way. In fact, she's looking forward to having kids. During the premiere, Big Ed told his friend, "Well, she already wants another child, she wants a girl. And I haven't told her this, I don't want to tell her this, but I want to get nipped."
He continued, "I'm already going to take on a four-year-old kid, but to take on another child on top of that, it's just overwhelming. I'm at a place in my life where I've raised my daughter. She's 29 and I'm 54. Other than Prince, I'm not ready to have more kids."
Big Ed discusses body shaming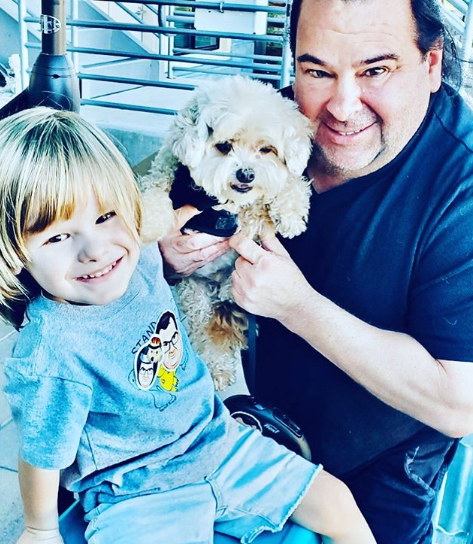 Big Ed knows he might look a little different than Rosemarie expects. During a recent interview with Entertainment Tonight, the 90 Day Fiancé star revealed that how he looks and body shaming have always been a part of his life. 
Big Ed has Klippel-Feil syndrome, a congenital condition that results in two of the seven neck vertebrae fusing.
He told the publication, "I have limited range of movement. I have a bigger than normal chest cavity, so I've been made fun of my whole life, and when I was in high school, I actually got stuck in the neck machine. I used to work out with all the football players and so that became kind of a running joke, so I sort of become really well-known, they would still sort of tease me. So when the show first came out, I was literally in a panic because I was reading stuff online — which they told me not to — and that's all it was, was I can't wait until next season."
The '90 Day Fiancé' star helped a fan
However, Ed's experience in life enabled the 90 Day Fiancé star to help another man in need. Big Ed explained to Entertainment Tonight that a fan with the same condition came forward to ask Big Ed for advice.
"Two weeks ago, I get this letter from Abe in New York that has my same condition and I was able to reach out to him and he was like, 'Look, I don't know how you do it, you're on national TV rubbing mayonnaise on your hair. I have the same problem, everyone is making fun of me.' He basically wants to give up on life and I just said, 'Abe, do not. Do not let this syndrome define who you are.' And that's how I've always kind of lived my life," explained the 90 Day Fiancé fan favorite. 
Ed does wish that those who shame others for their appearance were more aware of how it affected others. He explained, "If we can learn more to laugh at ourselves and people are going to look at us differently, but the most important thing I've learned from that is that I'm different and it's OK to be different," he shares. "I think if people really knew how it affects people when you make fun of somebody, they wouldn't do that. To make fun of someone's physical appearance is … it's an unkind thing. But I'm not mad at them … they're just looking at me and seeing how they see me, but if they knew, it's not a good idea."