'90 Day Fiancé': Biniyam's Friends Warn Her Not to Make the 'Same Mistakes' With Ariela That He Made With His Ex-Wife
90 Day Fiancé star Ariela Danielle, a freelance writer from Princeton, New Jersey, quickly became pregnant just weeks after meeting Biniyam Shibre, a 31-year-old choreographer, personal trainer, and MMA fighter from Ethiopia.
Ariela and Biniyam hadn't planned for a baby, but, on the second season of TLC's 90 Day Fiancé: The Other Way, the couple decided to try to make it work so they could co-parent their baby in Biniyam's home country.
On a recent episode of 90 Day Fiancé: The Other Way, a very pregnant Ariela hopped on a plane with her mom, Janice, to move to Ethiopia—hopefully permanently. But Biniyam's friends advised him against making the same mistakes that he made with his ex-wife, another American, with whom he also had a child.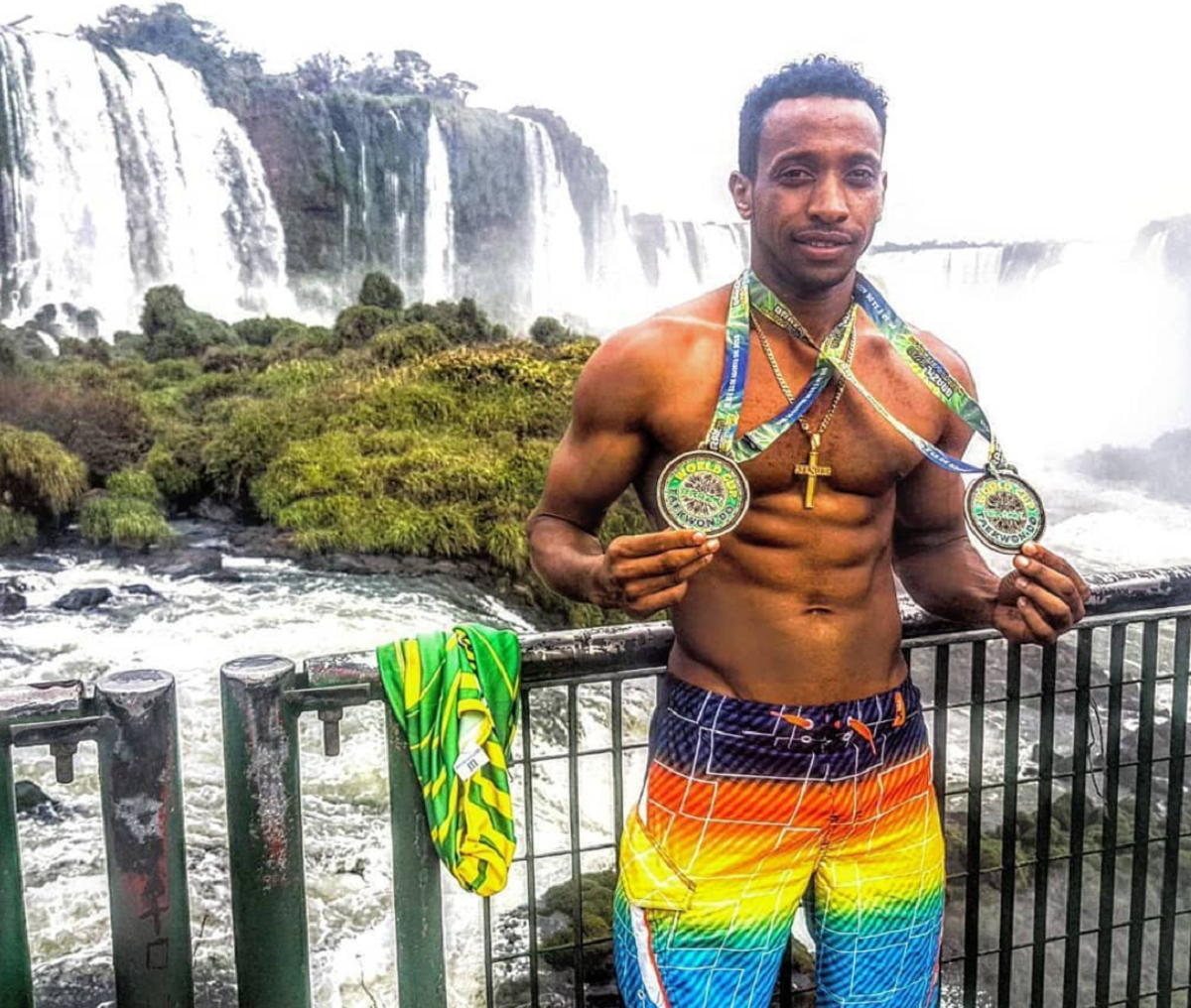 Biniyam described pain and tragedy in his past as he introduced himself
On 90 Day Fiancé: The Other Way, Ariela and her mom made their way to Ethiopia on a long, arduous flight. Ariela hoped her boyfriend would recognize how much of a sacrifice she was making to be with him.
"This is the biggest and riskiest decision of my life," the 90 Day Fiancé star admitted. "I just hope that Biniyam understands how much I'm giving up to be with him."
Meanwhile, Biniyam introduced himself to 90 Day Fiancé audiences for the first time. He explained that he lived with his brother and had endured tragedy in his life at a young age.
"Everybody in my family takes care of me because my parents died when I was young," Biniyam revealed. "I was 13 or 14. I know they both died from illness, but I don't know how exactly they died."
The 90 Day Fiancé star had to make it all on his own after tragically losing his parents. "We were all of a sudden left with nothing," he remembered. "But, to get where I am today, I did it all myself."
Biniyam described himself as an ambitious person who had worked hard for his success. "I have a lot of jobs," he shared. "I do personal training. I'm a dancer in the nightclub, and I'm doing the MMA fighting."
Ariela's boyfriend reflected on meeting his American bride-to-be
Ariela's boyfriend also reflected on meeting his American love, whom he planned to propose to after she arrived in Ethiopia. He met the recently-divorced Ariela when she was on a spontaneous trip to his country. The couple hit it off while she was waiting for a taxi outside her hotel, and the rest was history.
"She have beautiful eyes and smile," Biniyam gushed about Ariela. "She's so different from other girls. And she support me like no one else has."
As for Biniyam and Ariela's pregnancy, Biniyam confirmed that it wasn't planned. But in the throes of passion, the 90 Day Fiancé star said, it had just happened. "We didn't think about it for a baby, but we fall down off the bed," he said.
When a producer asked Biniyam what that phrase meant, Biniyam laughed and replied only, "We sleeping together romantically."
The '90 Day Fiancé' star assured his friends that Ariela was different from his ex-wife
Still, during a meeting with his music producer, Brook, and another friend, Firezer—with whom Biniyam was crafting a music career under the alias "Baby Cool," having already recorded eight songs—they painted a less rosy picture of Biniyam's romantic past.
When Biniyam told his friends he planned to propose to Ariela, they warned him about making any hasty moves. "You should make sure, like, you don't want to make the same mistakes like you have done before," Brook advised him.
Biniyam revealed that his ex-wife, like Ariela, was American. They were together for "six to eight months" before she got pregnant, and they ultimately stayed married for four years before splitting up.
According to the 90 Day Fiancé star, his ex-wife went back to the U.S. with their son and didn't allow Biniyam to contact him. "I feel so, so sad about my son," Biniyam lamented. "He doesn't know me anymore."
Biniyam assured his friends, however, that Ariela was nothing like his ex. "My ex, she never trust me," the 90 Day Fiancé star explained. "Ari, she understand me. She trust me. That's the difference."
But Biniyam's friends weren't convinced. Brook told 90 Day Fiancé producers that watching his friend go through such heartbreak had been difficult, and he didn't want to go through it again.
"To be honest, I'm scared," Brook said of Biniyam's relationship with Ariela. "Because his ex was the same…the American girl. She was nice, but she just changed. For one year, I didn't see him smile. So how can we trust this one?"