'90 Day Fiancé': Biniyam's Sisters Call Ariela's Ex Visit 'White People Sh–'
90 Day Fiancé couple Ariela Danielle and Biniyam Shibre are already facing some mighty drama. Ariela has expressed feelings of loneliness and isolation when it comes to living in Ethiopia with Biniyam, who is often out at night working or with friends. As a result, she says she's been talking more and more with her ex-husband, with whom she claims to have a very close friendship. Ariela went so far as to invite her ex-husband to visit her in Ethiopia — something Biniyam's unamused sisters are calling "white people sh–."
Ariela Danielle video chats with ex and invites him to Ethiopia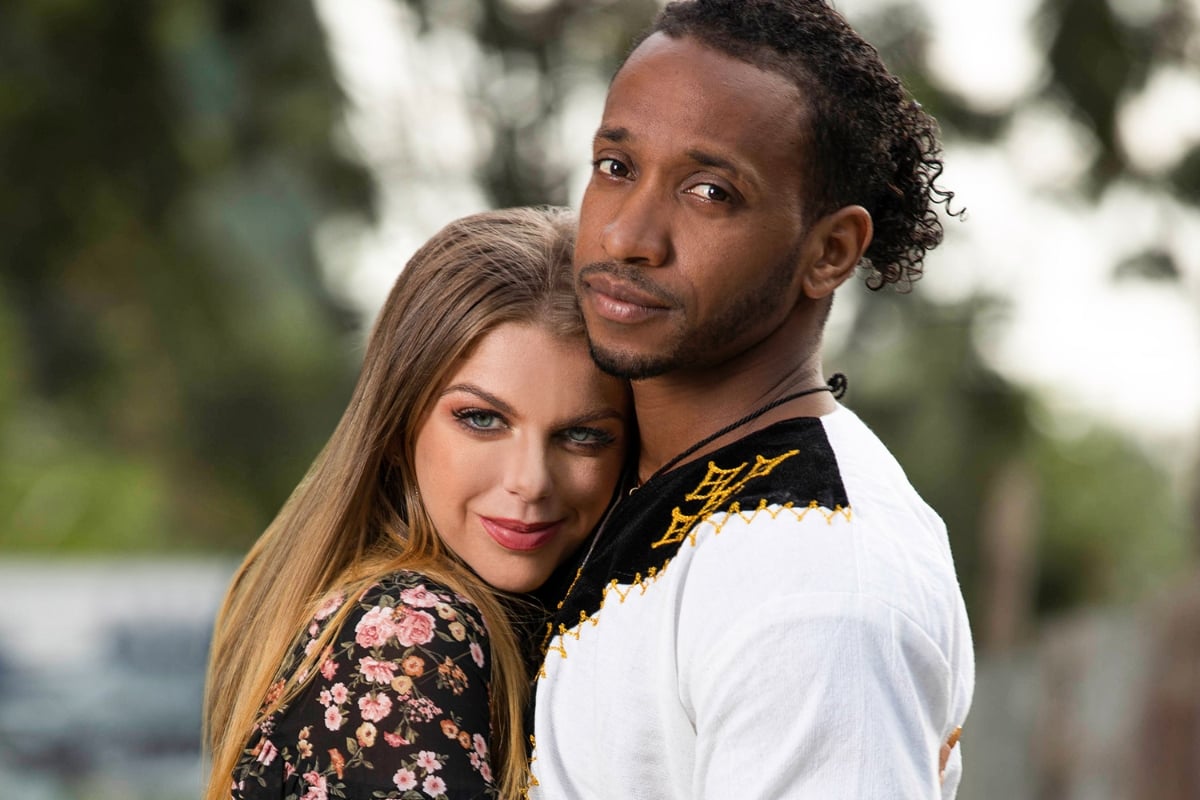 90 Day Fiancé star Ariela Danielle has decided to invite her ex-husband, Leandro, to visit her in Ethiopia. Ariela has been dealing with feelings of loneliness since she moved in with Biniyam Shibre, who often spends nights out late with friends. Ariela explained her feelings to Mimi, her nanny.  
"Having Mimi around has really helped me. She helps me understand Ethiopian culture and Ethiopian life. … I can't imagine my life without her now," Ariela told producers. 
"I know I tell you all the time, but I just want to tell you you're my best friend. You're like my family you know. You helped a lot, like so many times when Bini goes out and stays out all night and I would be alone with the baby, it's very hard," she told Mimi. 
"It can be isolating because I don't have a set group of friends, or I don't have deep relationships with people here."
Ariela previously had a video chat with Leandro, who she almost called "babe" during the call, claiming she was just so used to it. 
"He's coming because he wants to meet the baby, he wants to meet you, he wants to see Africa," Ariela told Biniyam. 
"And I think also to be honest with you, like, me and him, we talk, like, especially when me and you were fighting a lot this past year, I called him and I was crying and stuff. And I know he was upset thinking, like, maybe this guy is not good for you. So maybe he wants to check you out and see, you know, that I'm happy and everything."
Biniyam Shibre's sisters are not amused
Of course, 90 Day Fiancé star Biniyam Shibre was shocked when Ariela Danielle told him she invited her ex-husband, who she still talks to frequently. She told him that she still loves, him but as a friend. She also explained the situation to Mimi.
"Because I'm feeling a little bit homesick, I asked Leandro to come visit to see the new baby, and to meet Bini, see my life here. Leandro and I are still best friends, even though we got a divorce. We talk all the time and he's really involved in my life."
Mimi explained that an Ethiopian woman would never have her ex-husband come visit. "No, no way. In this country when you divorce him, you'll not meet him again," she said.
"In our culture you don't host your former husband in your home," Mimi told producers. "You don't invite him and he doesn't come to visit. But she's American and free. So she invited him."
"I definitely don't think that it's normal in Ethiopia to be close to your ex-husband or ex-wife. But because Leandro is always gonna be in my life, I think it's really important that Bini and Leandro meet each other and accept each other. But I think Bini feels a little bit macho and territorial about me, so I'm not sure they're gonna get along," Ariela explained. 
Biniyam Shibre's sisters were not amused with Ariela Danielle's decision to invite her ex-husband to visit — this could be a big issue, given that Ariela and Biniyam's sisters have butted heads in the past over cultural differences. 
They called Leandro's visit "white people sh–" and also went on to reveal to Biniyam that Leandro had visited Ariela when she was in New Jersey. 
'90 Day Fiancé' star worried he may lose Ariela Danielle
Biniyam Shibre's ex-wife was also an American, and when the two split, she took Biniyam's son with her back to America. Now the 90 Day Fiancé star is worried that the same thing might happen to him again with Ariela Danielle. 
"Like, with Ari I start again another American girl. And she's beautiful and she's talented. And then I don't want to lose her… And then I don't want to be hurt. Because when I lost [my ex], I'm so hurt," he explained on the show. 
"Because when I lost [my ex], I'm so hurt. I'm so depressed. Even I tried to kill myself. So many things, situation in myself, so that's why I don't want it to happen with me inside. I don't want to lose her because I love her. She's given me a baby," he added.
How to get help: In the U.S., call the National Suicide Prevention Lifeline at 1-800-273-8255. Or text HOME to 741-741 to speak with a trained crisis counselor at the free Crisis Text Line.