'90 Day Fiancé': Blake Tells the Truth About His Relationship With Jasmin, Dishes On Angela Deem and Michael Jessen
90 Day Fiancé fans have always been skeptical about Blake Abelard, a DJ and audio engineer from Los Angeles, and his fiancee Jasmin Lahtinen, a model from Finland. 
In addition to coming across as reserved and sometimes even uninterested in her American fiance, Jasmin seemed to clash with Blake's close friends on the show. But on Instagram, Blake and Jasmin appear to be very much together. 
In recent affectionate posts about his other half, the 90 Day Fiancé star pushed back against the couple's portrayal on the show. He also spilled a few details on what it was like to hang out with his 90 Day Fiancé castmates, Michael Jessen and Angela Deem, at the recent tell-all filming.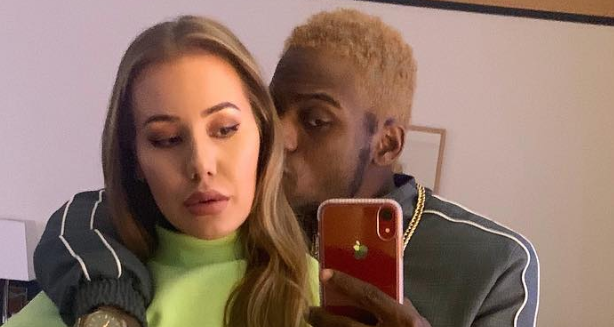 Blake said he and Jasmin 'shun negativity'
In mid-Jan. 2020, Blake took to Instagram to defend his relationship with his Finnish fiancee. Sharing a series of sweet couple photos and snapshots of Jasmin exploring the world, Blake proclaimed that he's madly in love with his lady no matter what anyone says. 
"The fact that I get to see her smile every day, reminds me of all the nights I worked, the beats/productions I sold, and all the clients I've recorded, just to see her…and it was TOTALLY worth it," the 90 Day Fiancé star wrote in the caption. 
"We're growing as one and it's the greatest thing ever," he continued. "We shun negativity out of our lives just by simply reminding ourselves that, it's US, not them."
Blake added that he's not bothered by what others have to say about his relationship, as long as he and Jasmin are happy. "I got her here on my own," he wrote. "I'm taking care of her on my own. I could care less what anyone says. This woman is my everything, my 🌎."
Many 90 Day Fiancé fans were surprised by the post, especially because many viewers believed they didn't have a good chance of staying together. Still, comments were mostly supportive, with many fans admitting they knew they couldn't believe everything they saw on TV.
"It's nice to read how you stand up for your girl and for your relationship. I really like both of you," one Instagram user commented, adding that she didn't understand the hate for Jasmin's more introverted nature on the show. "Jasmin reminds me of myself 12 years ago when I moved countries to be with my husband. I was exactly as quiet as she is."
The '90 Day Fiancé' couple still appears to be going strong
Although not all 90 Day Fiancé couples are allowed to reveal their relationship status before the end of a season, it looks like Blake and Jasmin have been given the green light. The couple is very much together, according to recent social media photos. Both include one another in their Instagram bios with a very telling engagement ring emoji.
Blake also spoke up about how different the experience of filming is from what he ends up seeing on TLC at the end of the day. In one behind-the-scenes Instagram post, he opened up about all the friends he'd made while filming the show. Still, the 90 Day Fiancé star admitted he wasn't always happy with how he was portrayed.
"It makes me wonder though, why we shoot soooo long, for so many hours, keeping these people from their families and other obligations, just to use 4 minutes of the most cringe worthy, negative 'scenes,'" Blake wrote. "Guess that's TV for you."
Jasmin is a bit more reserved than Blake on social media (as in life), but she also frequently shares Instagram stories of the couple traveling together. And in a recent couple's photo, she added the sweet caption, "A love like no other."
The DJ and musician spoke up in defense of his castmates
In addition to defending his own relationship with Jasmin, Blake revealed that not all of his 90 Day Fiancé castmates were like what he expected, either. 
Blake raved about the experience of filming the 90 Day Fiancé Season 7 tell-all episode in New York City on Instagram. He even shared a few anecdotes about two of his castmates.
The 90 Day Fiancé star revealed that Michael Jessen, Juliana Custodio's husband, offered his fellow cast members some sage advice about dealing with online hate. "Once I heard @michael_jessen_77 say that he doesn't get nervous because of things that he has gone through in life," wrote Blake, "right then and there I felt connected because all of this filming attached with all the negative comments we get isn't easy."
Jasmin's fiance also advised viewers not to take everything they saw on the show at face value. Angela Deem is widely disliked by many 90 Day Fiancé fans for her onscreen treatment of her Nigerian fiance, Michael Ilesanmi. But Blake said nothing could be further from the truth, at least in his experience in person.
About Angela, Blake wrote kindly: "People make @deemangela seem like she's horrible but u know what? Backstage we talked and she's one of the realest people that I've met in a long time AND in the entertainment industry, u don't see that often."