'90 Day Fiancé': Blake's Friends Ask Him If He Thinks Jasmin Is 'Using' Him
Blake Abelard and Jasmin Lahtinen of TLC's '90 Day Fiance' Season 7 have always seemed like an unlikely match. On the Jan. 12 episode, 'Choose Me,' their differences became more obvious than ever at Blake's live musical performance.
Since their first appearance on TLC's 90 Day Fiancé Season 7, Blake Abelard and Jasmin Lahtinen have never seemed like a good match to many viewers. 
Blake is an outgoing audio engineer, producer, and DJ from Los Angeles with an active social life. Meanwhile, Jasmin is a much more reserved model from Finland who shies away from nightlife and drinking. The couple clashed from the first day about Jasmin's closed-off nature and Blake's assertive (and skeptical) circle of friends.
On the Jan. 12 episode of 90 Day Fiancé, "Choose Me," Jasmin saw Blake perform live for the first time. But her lack of excitement made Blake's friends wonder if she was in the U.S. for the right reasons.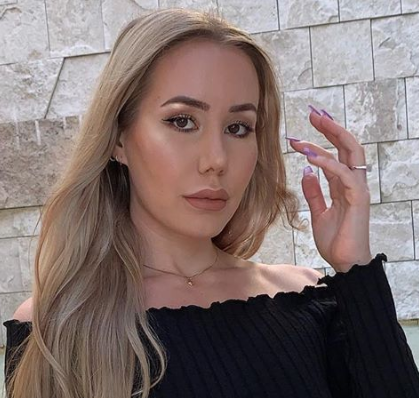 Jasmin admitted she wasn't excited about seeing Blake perform
As Jasmin prepared to see Blake perform, she admitted she wasn't excited about it. She explained that she didn't like hip-hop or loud clubs, and she didn't understand why Blake wore a mask and took on an alter ego during performances.
"It's kind of weird. And I don't understand the lyrics, so I don't know. I really don't care," the 90 Day Fiancé star admitted. "I don't know why he covers his face. He has a pretty face. I like his face. So why cover it?"
Meanwhile, Blake worried that if Jasmin didn't enjoy his performance, it could cause tension in their relationship. "If Jasmin didn't like the music tonight, I don't know. It would make me feel some sort of way," the 90 Day Fiancé star told TLC producers. "But hopefully it doesn't have to come to that."
As Jasmin met up with Janette, her twin sister who also lives in L.A., she continued to complain about the loud, rowdy atmosphere of the nightlife scene. "I don't go to clubs in Finland," Jasmin explained. "Too many people, too loud music, and it smells like alcohol and sweaty people."
The '90 Day Fiancé' star said her fiance 'wouldn't be her favorite artist'
While the rest of the crowd formed a mosh pit in front of the stage, Jasmin and her sister sat quietly at a table to the side. 
"Don't make that face. Try to get into it," Janette chided her sister, who looked less than excited about her fiance's performance. 
"I'm not into it," the 90 Day Fiancé star replied.
Jasmin told producers that Blake's art wasn't exactly her thing. "If Blake was not my fiance, I don't think he would be my favorite artist, because I don't like rap music," she admitted.
Backstage, Blake's close friend Rita wondered why his fiancee hadn't been more excited about his music. She advised him to make sure he wasn't being "used" and to take things as slowly as he could. "You just need to make sure that there's already a good foundation and a good start there," she told him.
Although Blake defended his fiancee to Rita, he confessed to 90 Day Fiancé producers that he was disappointed by her behavior at the club. 
"I'd expect her to be out there in the pit and shoulder to shoulder with everybody," he said sadly. "I want Jasmin to show that she does care. That's a dealbreaker for me, you know?"
Blake's friends warned him his fiancee might be in the relationship for the wrong reasons
Later in the week, Blake headed to the studio to collaborate on music with his colleagues and close friends, Everett and Joey. The 90 Day Fiancé star admitted he was upset about how his first performance in front of Jasmin had gone.
"I'm disappointed that Jasmin didn't try more with my friends," he told producers. 
And Blake's friends certainly noticed her lack of enthusiasm. "As Blake's friend, it's hard to see Jasmin's lack of interest," said Joey.
But as Joey and Everett grilled Blake about why Jasmin didn't seem more excited, he said cultural differences in attitude and expressiveness were to blame. 
"She wasn't born here," he said, looking exhausted as they questioned him. 
"But she was born with ears, right?" Joey shot back.
"I know that Jasmin's not that expressive at times. That's just how some Finnish people are," the 90 Day Fiancé star said. 
But his friends weren't convinced. "You're showing her your world and it doesn't seem like she's down with it," Everett said. "Do you feel like you're being used?"
"I don't think so, no," Blake said. But he didn't seem completely confident himself.
While Blake looked a little unsure, he said he was still getting married after the 90 days, and that his friends would need to learn to understand Jasmin's cultural differences. "They just need to understand it, like, through her eyes," the 90 Day Fiancé star said.