'90 Day Fiancé': Brittany Banks Calls Out Yazan for Cheating on Her with Fans and Doing Drugs
When it comes to couples on 90 Day Fiancé: The Other Way, none had more differences to overcome than Brittany Banks and Yazan. From the moment the couple was introduced on the show, fans knew they were going to run into problems. Yazan's conservative Muslim background and Banks' wild rap lifestyle were going to be hard to mix. But now Banks is calling Yazan out and claiming that he isn't as innocent as he seems.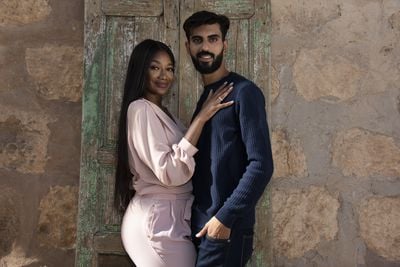 Brittany and Yazan's relationship
Banks and Yazan had a very quick courtship. They met via FaceTime when Banks was visiting her sister who happened to live in the same apartment complex as Yazan's sister. Banks walked into the room when Yazan and his sister were talking and the two were instantly attracted to one another. Four weeks later, Yazan sent Banks money to meet him in Jordan. After a week of spending time together in Jordan, Yazan proposed.
Though they were in love, there were some major roadblocks in Yazan and Banks' relationship. First, Yazan and his family wanted Banks to convert to Islam. Banks, on the other hand, had no intention of subscribing to any new religions. In addition to this big issue, Banks was already married when she went to Jordan. She told Yazan that she was going to bring her divorce papers with her when she moved but Banks never actually got the divorce.
What happened when Brittany arrived in Jordan?
When Banks arrived in Jordan, it didn't take long for the two to clash. After a few minutes of hugging and being excited to see one another, things got ugly. When Banks hugged the production crew in Jordan, she showed them some liquor that she had brought with her. This angered Yazan and caused him to yell and curse her out.
RELATED: '90 Day Fiance': How Does David Murphey Have So Much Money to Spend on Ukrainian Dating Sites?
"I've never seen him act like that and it was scary to me," Banks told the cameras." I'm not proud of his behavior at all. I'm actually very disappointed."
Yazan couldn't be calmed down.
"This is exactly what my parents warned me about," he said. "Brittany either doesn't understand or doesn't care about the traditions or the country I live in."
This was a huge red flag for Banks.
"Of course I respect his culture and his choices but at the same time I am not Muslim," she told the cameras. "It reminded me of the way my ex behaves and so if he's going to behave like my ex then I don't want anything to do with him."
Yazan isn't innocent
After Yazan's tantrum aired, Banks decided to shed some light on who Yazan is as a person.
RELATED: '90 Day Fiance': Big Ed Is Trying to Shut Online Trolls Up by Donating to Charity
"Fun facts about us," she captioned a now-deleted picture of her and Yazan. "Yazan's favorite drink is Jack Daniels. Yazan loves hashish, tramadol, and gaslighting women. He also loves to cheat with '90 Day Fiancé' fans. He's on his third one. His favorite pastime is blaming others for his actions. Enjoy @yazan_abuhurira did I miss anything? Should I honorably mention your out of control temper?"
She also took to her Instagram story to continue blasting Yazan.
"Woke up in a f*ck you mood," she wrote. "Tired of misogynists who think they can groom women. Ima kill all that on behalf of my ladies. F*ck misogynists. Women are queens."