'90 Day Fiance': Brittany Dated an 86-year-old Man
90 Day Fiancé star Brittany has an interesting dating history. She seems open to relationships with people of different backgrounds, life experiences, and ages. Brittany recently revealed she once dated a man who was a lot older than her. Here's what happened last time on 90 Day Fiancé: The Single Life.
Things didn't work out between Brittany and Yazan on '90 Day Fiancé'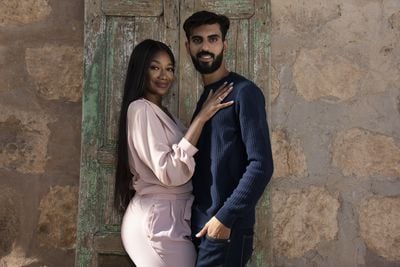 Brittany was engaged to Yazan, but the relationship didn't work out. When her date, Terence, asked what happened, she said Yazan's family was very involved in their relationship. In this '90 Day Fiancé' clip, Brittany has an emotional discussion with his parents.
Yazan's parents accused her of not being respectful, but she couldn't understand why they felt that way. A lot got lost during Yazan's attempts to translate. Unfortunately, the meeting with his parents went terribly wrong. Brittany left in tears and Yazan's mother was yelling at her and telling her to "get out of my face."
Brittany says she dated an 86-year-old man
During '90 Day Fiancé': The Single Life one thing that comes up during Brittany's date with Terence are her feelings about age. She mentions that she's a little older than Terence and she asks if he has a problem with that. Terence, who is 24, says he's OK with Brittany being 27. He asks about her experiences when it comes to age, and she says she dated a man who was 86 years old.
When Terence presses her about why she dated someone so much older than her, Brittany says she used to do a lot of fun things with him. "He was really fun," says Brittany, "We went out to eat, we went shopping. We did a lot together. It was amazing."
Brittany says age doesn't really matter because she sees herself as "an old soul." She also tells Terence that she tries to focus more on who a person is than their age. "A lot of people like to judge for that, but honestly I don't care because I see everyone as a human at first," says Brittany.
Although Brittany says she's open to different ages, she also admitted she was concerned about dating Terence because he's younger than her. "He seemed really young in that he was into partying," said Brittany during her 90 Day Fiancé interview. She wasn't expecting to go on a date with him, but she says he texted her and asked her out for a drink.
What made Yazan fall in love with Brittany, according to their translator
What made Yazan fall in love with Brittany? According to Adam, the former couple's translator, it seemed like Yazan was swept away by Brittany's physical attributes, reports Entertainment Tonight.
Adam says he believes the relationship between Yazan and Brittany was mostly a physical one. "They couldn't keep their hands off each other," he tells ET. Adam also says he asked Yazan what made him willing to give up almost everything for Brittany.
"Believe it or not, the answer I get from Yazan was that, 'I just love Brittany's body,'" says Adam. "More specifically, her feminine parts. And he said that and laughed." Since he says Yazan laughed, we're not sure if he was just joking or if this was a serious comment. Adam seems to think Yazan was driven by physical attraction. Hopefully, there was also love there. Either way, Brittany says she's ready to move on and find the right person for her.
Follow Sheiresa Ngo on Twitter.