'90 Day Fiancé': Brittany Reveals the Secret That She's Hiding From Yazan That Could Ruin Everything
Last night, 90 Day Fiancé: The Other Way premiered and this season is already shaping up to be pretty insane. The thing that sets The Other Way apart from all of the other shows in the franchise is that it shows the American cast members attempting to permanently move to their partners' country, whereas most 90 Day shows follow the couples as they prepare to apply for the K-1 visa so that they can live in America together.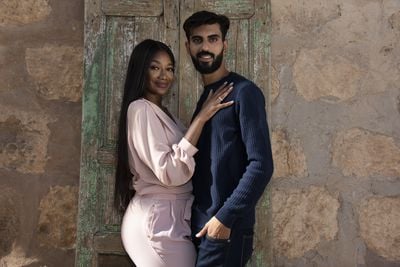 One of the most interesting couples on this season so far is Brittany and Yazan. The two couldn't be more different. Brittany is a bit of a wild child and Yazan is a conservative Muslim. Despite their differences, they decided to get married. But there is one huge secret that Brittany has been keeping from Yazan.
How did Brittany and Yazan meet?
Brittany and Yazan had only known each other for five months when the 90 Day Fiancé cameras came into the picture. They met by accident. Yazan's sister actually lived in the same apartment as Brittany's sister and Brittany just happened to walk in the room when Yazan was FaceTiming his sister. As soon as they saw one another, they had instant chemistry. Four weeks later, Yazan sent Brittany money so that she could visit him in Jordan. Yazan proposed after only a week of being with Brittany in person.
Brittany's lifestyle
Though Brittany has been to Jordan before, it doesn't seem like she understands how big of a change this move will be. She didn't even tell her father about the move until a week before she was set to leave.
"No, no, that doesn't fly with me, I'm sorry," her dad said when she told him of her plans. "You've been to Jordan but you still don't know Jordan. Have you thought about that?"
Brittany is currently a rapper in Florida who likes flashy things and showing a lot of skin. Jordan is a much more conservative area where women are not supposed to show skin. Brittany also said that she doesn't like to be told what to do and will always do whatever she wants. She did admit that this might cause a problem in Jordan because the women aren't listened to there.
Yazan wants Brittany to convert to Islam, but whenever they talk about it, she quickly changes the subject.
"I'm such an independent person," she told the cameras. "I have my own thoughts and feelings, and I don't want to go by any book telling me what to do."
What secret is Brittany hiding?
Yazan has made it clear that his family expects him and Brittany to get married within days of her arrival in Jordan, but that may not legally be able to happen because Brittany is already married.
"I married my ex five years ago and it didn't work out how I thought it would," she said in a confessional.
Three months after she and her husband broke up, he was taken by ICE and deported to Haiti.
"And right now he's not playing nice at all. He's giving me a really hard time," she continued.
Brittany has not mentioned any of this to Yazan.
"To be honest with you, I forgot I was married," she told an attorney who she sought legal advice from.
Unfortunately for Brittany, if her ex does not cooperate with the divorce, the process could take almost a year to be finalized.