'90 Day Fiancé': Corey Rathgeber Blames Evelin Villegas for Keeping Their Marriage Secret
90 Day Fiancé: The Other Way star Corey Rathgeber explains why he and his wife, Evelin Villegas, decided to keep their marriage a secret from the public. However, Corey appears to be blaming it mainly on Evelin, saying that it was her idea.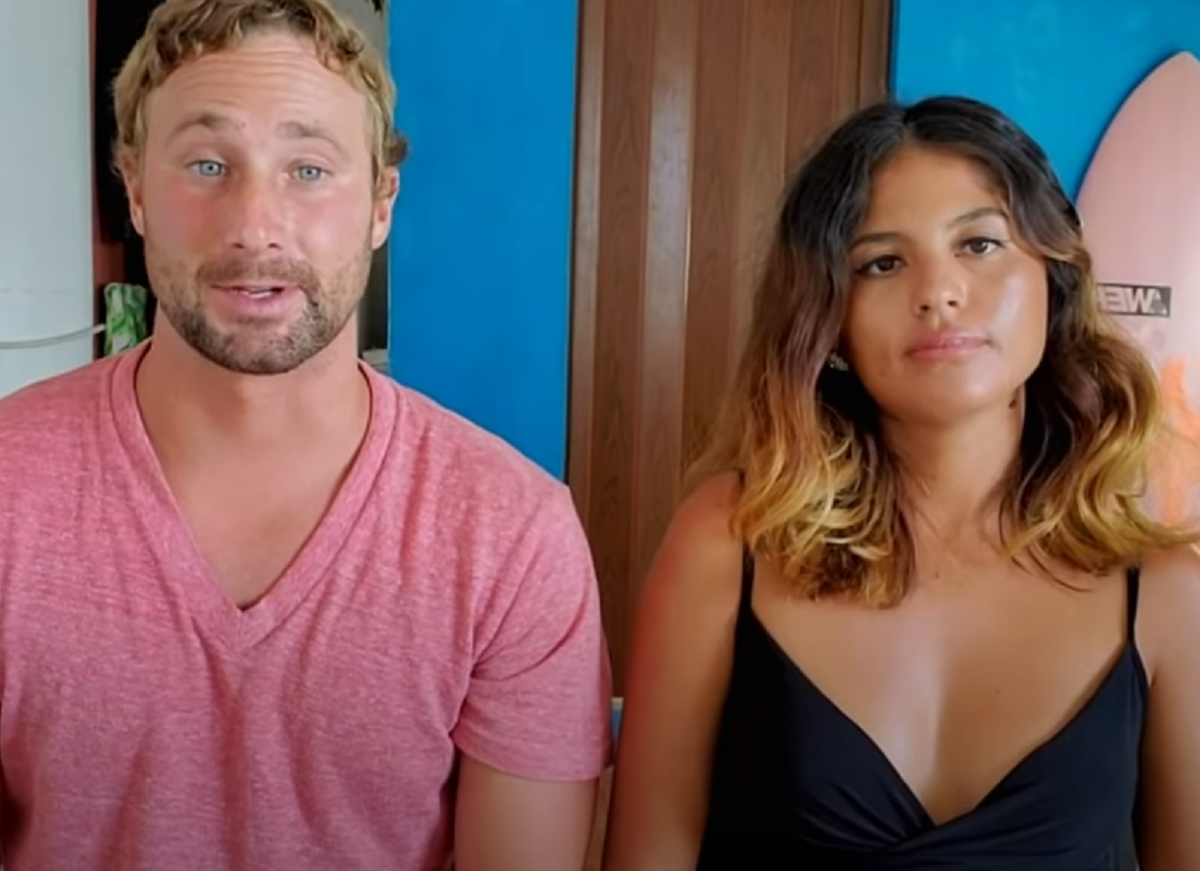 Evelin tells her sisters she's already married to Corey
On the Sept. 12th episode of 90 Day Fiancé: The Other Way, Evelin is trying on wedding gowns for her upcoming wedding to Corey. Her sisters, who aren't too keen on the idea of Evelin marrying Corey, hear more about Corey's alleged infidelity. Then, Evelin drops a bombshell on her sisters (and audiences at home), revealing that she and Corey have been married for over a year.
Evelin admitted, "The truth of the matter is, one year ago, Corey and I went to Guayaquil and got married." Her sisters were shocked by Evelin's news. Season 3 was filmed in mid-2020, meaning Corey and Evelin have been married for over two years.
Corey blames Evelin for keeping their marriage a secret
After the episode aired, spilling their big secret, Corey went to Instagram. He made a post addressing the issue. He wrote as the caption, "It's finally revealed that we did actually get married years ago… Stay tuned because so many of the long-awaited questions will be answered very soon! Are you guys ready?"
During a Q&A on Corey's Instagram Live, he addressed some of the fans' questions. One fan asked Corey, "Why did you decide to keep your marriage a secret?" Corey responded, "Evelin wasn't ready for everyone to know so we kept it private. I respected her wishes until she was ready."
Why did Corey and Evelin lie about their marriage?
It comes as no surprise to most 90 Day Fiancé fans that Evelin was the mastermind behind the marriage lie. So many fans are trying to understand why they lied in the first place. Some fans believe they lied so that they could continue being featured on the 90 Day Fiancé franchise.
How much are Corey and Evelin making by being on 90 Day Fiancé: The Other Way? According to a source, via RadarOnline, TLC "pays their American cast members $1,000 to $1,500 per episode." With a season of 90 Day Fiancé: The Other Way consisting of 22 episodes each, Corey and Evelin will have appeared on 44 episodes by the end of this season. This means that the minimum they have received is $44,000 from TLC. While it doesn't seem like a lot of money for a few years, it does help fund Evelin's dream wedding.
So far, all audiences know is that Corey is blaming Evelin for wanting to keep their marriage a secret. Whether or not fans will ever know the true motivation of Corey and Evelin hiding the truth from fans for many seasons remains to be seen. Corey promised fans that they would get answers on the upcoming episode of 90 Day Fiancé: The Other Way.
RELATED: '90 Day Fiancé': Corey Addresses Rumors That Evelin Is Banned From Entering the US for 10 Years