'90 Day Fiancé': Corey Rathgeber Defends Evelin Villegas, 'You Have Been Warned'
90 Day Fiancé couple Corey Rathgeber and Evelin Villegas always seem to be having some sort of problem. There have been several times during which it was unclear whether or not the two were still together, or if a separation was on the horizon. Now, Rathgeber is upset with Villegas for starting an OnlyFans. However, it seems that no matter how irritated he might be, he's always ready to defend Villegas from hate.
Evelin Villegas and Corey Rathgeber butt heads over OnlyFans
RELATED: '90 Day Fiancé': Corey Rathgeber Is Selling Stripteases Online
Several 90 Day Fiancé stars have been joining OnlyFans recently. The subscription platform is known for hosting nude photos and videos for reality television personalities looking to make a little extra cash. 
Evelin Villegas recently joined the website, but Corey Rathgeber wasn't very happy with her decision. The reality star took to his Instagram story to tell fans just how he felt. Rathgeber wrote, "Thanks to those who have reached out to me about Evelin's OnlyFans account. I 100% do not agree with it! For now I am not going to talk about it."
Villegas, however, claims that she's been enjoying her OnlyFans experience so far. During a Q&A she hosted on Instagram, Villegas told her fans, "I don't consider this a degrading thing. I've been having a lot of fun. Guys have been really respectful…Honestly, I'm just having a lot of fun there. No judgments. They are, like I said, respectful. And I've been making good money. I'm pretty sure I'm gonna end up making more than I made in a whole season with 90 Day Fiancé."
Evelin Villegas deletes Instagram content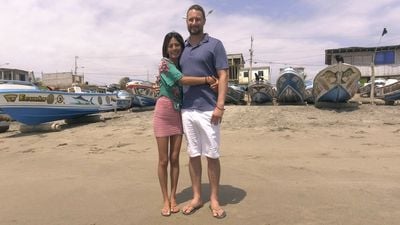 While Evelin Villegas may be enjoying her time on OnlyFans, she recently explained that things haven't been so good for her on Instagram lately. 
In a move that surprised many of her 90 Day Fiancé fans, Villegas scrubbed her Instagram account of all of her content. She then uploaded a single photo with a caption explaining why she chose to delete everything. 
Villegas captioned her post, " "Hi again! I deleted all my pictures cause I needed a fresh start…so many pictures and videos that meant so much to me but some people still come and destroy them with their nasty comments so I decided to delete it all and start again. I really appreciate all the love and support from all of u nice people but for the trolls I say please if you don't like me stay away from my page."
She went on to add, "Much love to all of you, don't forget it's mental health month, no more trolls! Love you all, I'll love for you guys to visit my little piece of paradise after we win the war against coronavirus."
Corey Rathgeber warns '90 Day Fiancé' trolls to back off
It seems Corey Rathgeber has had enough of the negative comments directed at Evelin Villegas. The 90 Day Fiancé star recently took to his Instagram story to tell trolls it's time to back off. 
90 Day Fiancé blogger John Yates captured the post. Rathgeber wrote, "Anyone who disrespects my beautiful fiancée and says nasty comments about her on my page will be blocked. I want my page filled with nice positive energy! Everyone you have been warned!"
In another post, Rathgeber added, "Not only is it disrespectful to Evelin, but its disrespectful and hurtful to me as well. Please be nice and keep your mean & trashy comments to yourself. Thank you."