'90 Day Fiancé': Does Stephanie Matto Regret Doing the Show?
90 Day Fiancé star Stephanie Matto has received plenty of backlash from fans following her appearance on Before the 90 Days. Matto has dealt with frequent fan accusations that she's not truly bisexual, that she's only in it for exposure, that she's frauding about this being her first bisexual experience, you name it. Now, as Matto and her 90 Day Fiancé partner Erika Owens' adventure continues on the show, it seems Matto regrets appearing on it at all.
Stephanie Matto dishes on her sexuality
Stephanie Matto dealt with attacks from 90 Day Fiancé fans who suspected her of frauding them with her storyline. Matto runs a YouTube channel, and one of her older videos was previously entitled "I Was in Love With a Girl | My First Bisexual Experience." Following fan backlash, it has been changed to 'I Was in Love With a Girl.' 
As a result of the video title, some fans questioned if Matto was lying to them about Erika Owens being her first bisexual experience. Matto took to Instagram to dispel those rumors. 
Matto wrote, "My final time addressing this. First of all: this is NOT a coming out video. Nowhere in this video did I come out. This was a video about an experience I had with a girl I thought I was in love with."
"My mom never watched my channel 3 years ago when I made this. I've made videos about anal sex, dildos, and all sorts of things she has NO interest in. This video was also buried in over 3 years worth of videos (about 800 in total). I recently made it my main page video because obviously the cat is out of the bag now and I figured I would share it now for all the naysayers who would try to say, 'she's just bi for the show,'" Matton added.
The '90 Day Fiancé' star opens up about intimacy issues
Stephanie Matto experienced additional questions from fans about her seeming lack of interest in intimate activities with Erika Owens. Some fans felt as if Matto advertised herself as a very sexual person online, and that Owens was blindsided
Matto addressed these comments as well, opening up about her intimacy troubles as a result of her aplastic anemia. Matto wrote, in part, "I am a monster. I am a cold b*tch. Or so people say. And I can see why people would think that. 'You never f*ck me', 'you never touch me', 'you're a cold b*tch' are all lovely phrases exes from years past have used to describe me. But what some of these people came to know eventually is that even though it took me a long time to let my walls down, I was the most loyal and loving when given a chance."
The 90 Day Fiancé star added, "Back in August I texted my girlfriend telling her about my celibacy and told her that the last time anyone touched me I freaked out. In my previous relationship there was barely any intimacy and the best way to describe it was 'roommates' instead of partners. This ex witnessed my relapse, my inability to clot, my constant emotional and physical fatigue from medication. It took time for them to realize that my fear and awkwardness was not any indicator of the depth of my love."
Does Stephanie Matto regret doing the show?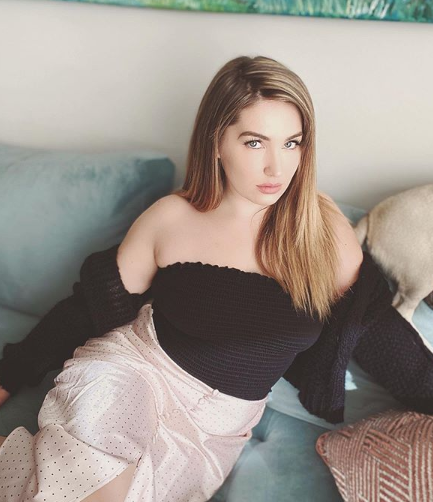 Now, it seems as if the 90 Day Fiancé star might regret doing the show altogether. Stephanie Matto held a Q&A on her Instagram account, and some of her answers make it sound as if the show is part of the reason things didn't work out with Erika Owens. 
One fan asked Matto, "If you could go back would you publicize your relationship on 90 day?" 
Matto replied, "If I could go back I would definitely rethink it, but it's too late now lol."
Another user asked, "Would you do another season?"
Matto replied, "Personally, no. It was an interesting experience but not good for maintaining a healthy relationship."