'90 Day Fiancé': Ed Brown Hasn't Had a Relationship In Nearly 3 Decades
On TLC's '90 Day Fiance: Before the 90 Days' Season 4, Ed Brown and his much younger Filipina girlfriend, Rosemarie, are likely to become one of the most talked-about couples. On the season premiere, Ed revealed he hadn't been in a romantic relationship since his divorce nearly 30 years beforehand.
The new season of TLC's 90 Day Fiancé: Before the 90 Days features a new crop of hopeful international couples who are preparing to meet their overseas significant others.
One of the most talked-about cast members on Season 4 of the 90 Day Fiancé spinoff will undoubtedly be "Big Ed." 54-year-old Ed Brown, a professional photographer from San Diego, California, is looking for love with Rosemarie, a 23-year-old from the Philippines. Ed gave himself the ironic nickname "Big Ed" because of his short stature (and "huge personality," which he says makes him "feel tall").
On the early premiere episode of 90 Day Fiancé: Before the 90 Days, "Love Can't Wait," Ed told TLC producers exactly why he was so afraid to love again. He also admitted he hadn't had a romantic relationship in years.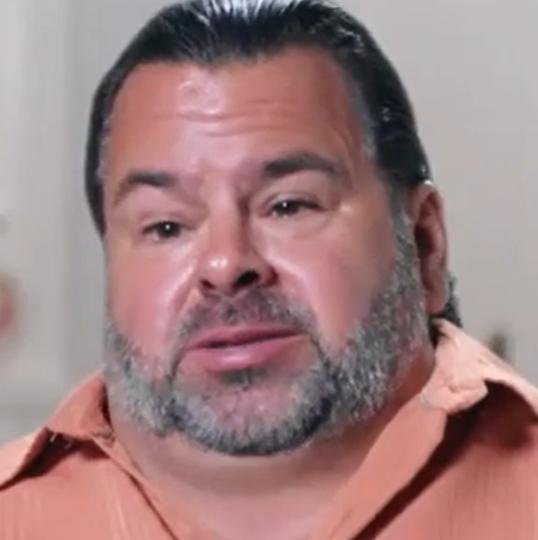 Ed said he hadn't had a relationship in many years
Ed has focused on work, his 29-year-old daughter, and his "best friend" (his little dog, Teddy) for years. After a painful divorce 28 years prior, the 90 Day Fiancé star was afraid to be vulnerable again.
"My track record with relationships is not very good," he told TLC producers. "I was married for two years, and it didn't work out, because I was unfaithful. It was just a stupid mistake."
Still, the 90 Day Fiancé: Before the 90 Days star said his failed relationship was worth it. "I did get a beautiful daughter out of that marriage," Ed said. "Tiffany, she's 29 years old. We are pretty much two peas in a pod. She's just like her father, stubborn, and she is the best thing I've created on this earth."
After Ed's difficult divorce, he didn't seek out romance again. "I said to myself, I'm never gonna find love," he explained. "It's me and Teddy. This is gonna be my life."
The photographer thought he finally found 'the one' when he started talking to Rosemarie
But that all changed when Ed met Rosemarie, whom he calls Rose. He sent her a friend request on social media and was immediately smitten.
"She has the most amazing, deep brown eyes," he gushed. "I was like, wow. I'm in love."
Ed revealed that talking to Rose was the most important part of his day. The 90 Day Fiancé star said the couple exchanged constant romantic promises and sweet talk, sharing that Rose had responded to his profession of undying love with a vow of her own: "I'll be your queen and you can be my king."
"I know in my heart, she's the one," Ed said. Despite his past pain, he was finally willing to take a risk again for love.
The '90 Day Fiancé: Before the 90 Days' star's family was 'skeptical' about his girlfriend
Still, there were some possible red flags in Ed's relationship with Rose. The divorced dad's family and friends were "skeptical" of his love for the much younger woman, possibly in part because he started sending her pricey gifts right away.
"After about four weeks of Rose being my girlfriend, I started sending gifts every week," Ed said on the premiere episode. "But unfortunately, as far as I know, she hasn't received any of the gifts that I've sent because she lives in a very poor, remote area." He admitted that he'd sent her upwards of $5,000 in gifts (including high shipping costs) over the course of their online relationship.
What's more, Ed hadn't come clean with Rose about what he really looked like, leading some 90 Day Fiancé fans to call him a "catfish." "I haven't been exactly honest with Rose about my appearance," he confessed, adding that he "lied a little bit" about his height. In a preview clip for a later episode, Ed gestured towards his body and asked Rose, "You like?" (She didn't look exactly thrilled.)
But despite all the possible obstacles in their relationship, Ed insisted he had finally found the one. "I was too afraid to let anybody get that close to me again," the 90 Day Fiancé star said, sharing that he was about to visit Rose in her home country in hopes of proposing. "I just really, truly hope that it is real love."