'90 Day Fiancé': Ed Tries to Unbutton Rose's Dress In 'Bares All' Clip
90 Day Fiancé's Ed has faced plenty of scrutiny ever since his appearance on the franchise with Rose. Many fans found his approach to romancing Rose questionable at best, and his behavior before and after the show has come into question. Now, a previously unaired clip on 90 Day Bares All has some fans cringing at Ed's behavior all over again. Here's what went down.  
On '90 Day Fiancé,' Ed insulted Rose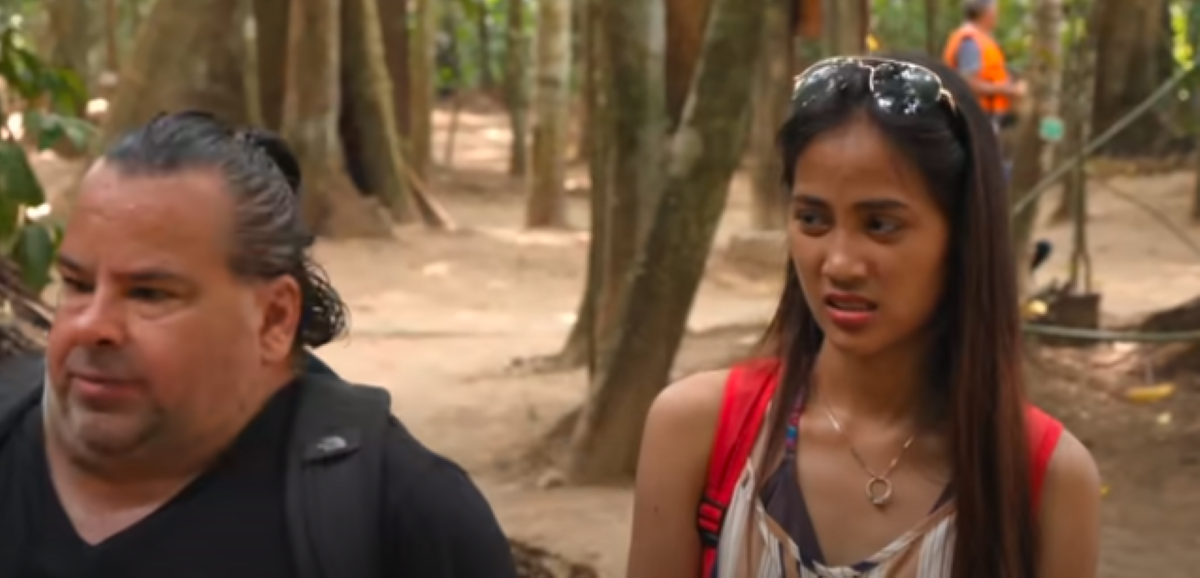 On 90 Day Fiancé Ed insulted Rose when he made several requests relating to her body. The first strike was Ed asking Rose to get an STD test — something he refused to do himself, and that he asked her to do almost immediately after meeting her in person. 
Rose was understandably upset with his request and the double standard. Later, Ed and Rose spent the evening together in a hotel room. Ed gave her a foot massage, and asked her for a kiss. She allowed him to kiss her cheek, looking and sounding unenthused. 
"Um, don't be mad at me, but um, I noticed your legs were kind of like mine, they were hairy. Would you shave your legs?" he asked her afterwards. Rose seemed to ignore the question and shot him an annoyed look.
Things only got worse when Ed took it upon himself to buy Rose "gifts." These included mouthwash and a toothbrush. 
"I got you a couple more things. This is going to be less romantic. So, this is mouthwash. And I got you a cute toothbrush because your breath is not pretty," he told Rose. She explained to him that she had a stomach ulcer which could cause bad breath on occasion.
Big Ed faced accusations of sexual assault
90 Day Fiancé isn't the only time Ed was accused of bad behavior. The reality television star has faced accusations of sexual assault from a former colleague. TikTok user Lordakeet posted a video about Ed and their previous interactions. 
"The moment of finding out the guy who sexually harassed me for 9 months has moved to his next victim…in front of all of America," she captioned the video.
"I want to speak up but signed a nondisclosure agreement. But 9 months and years of therapy. I don't know what to do. Supporting other women! Obviously he's still a predator," she added.
Lordakeet posted additional videos, eventually specifically naming 90 Day Fiancé's Ed as the person she's referencing.  
'90 Day Fiancé' star Ed shocks in 'Bares All'
Just when 90 Day Fiancé's Ed seemed to have revealed all of his cringier interactions with Rose, 90 Day Bares All swooped in to make viewers uncomfortable again. 
"So rose you know I'm a photographer. I want to paint a canvas of you with my camera. Which means I want to take your picture. In your bikini," Ed told Rose
"Ed photographing me — I'm shy because this is my first time, but he want," said Rose. 
"Okay, now, I wanna see that bikini I bought you," said Ed, walking up to Rose and tugging at her coverup. 
"Take that dress off, show me a little skin, let's game on, let's get this thing going," Ed said to the camera. 
Ed continued to give Rose instructions that she followed without enthusiasm. 
How to get help: In the U.S., call the RAINN National Sexual Assault Telephone Hotline at 1-800-656-4673 to connect with a trained staff member from a sexual assault service provider in your area.