'90 Day Fiancé' Fan Bumps Into Syngin Colchester Profile On Bumble
90 Day Fiancé couple Tania Maduro and Syngin Colchester had a tumultuous relationship that left many fans thinking the two wouldn't make it — especially when Tania left Syngin alone in a shack to go on vacation. Now, fans may be left wondering if the two are still together given a fan sighting of Syngin Colchester on the dating app Bumble. Here's what we know so far. 
Is Syngin Colchester on Bumble?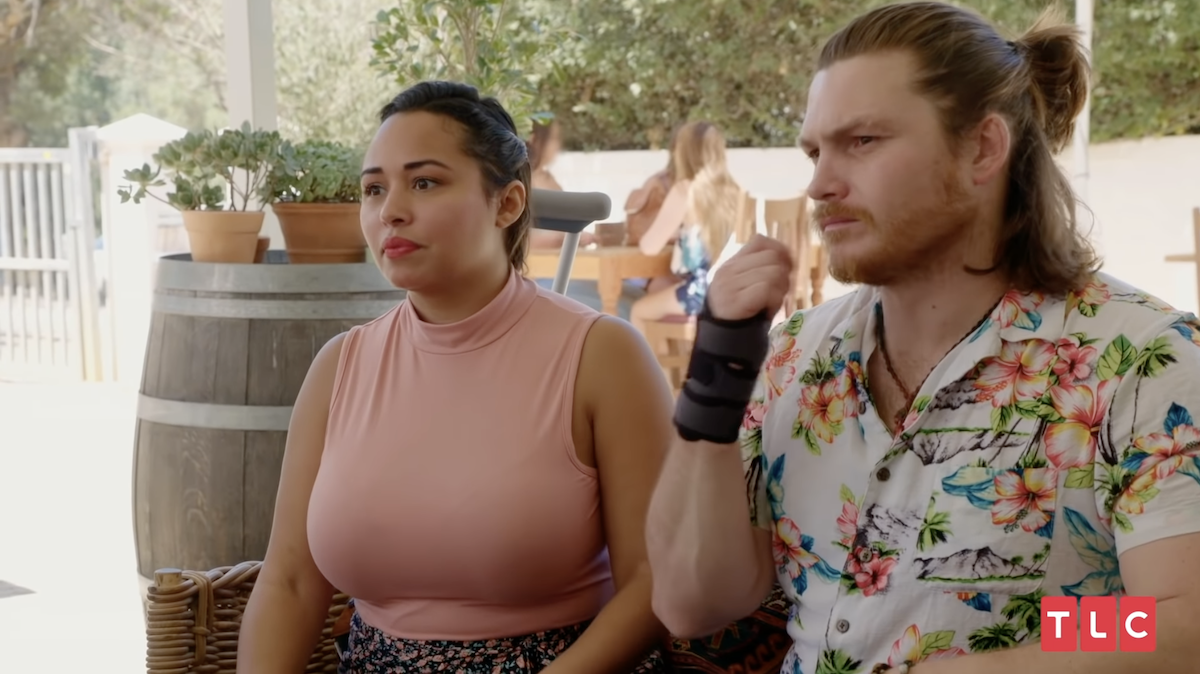 90 Day Fiancé fans stumble across some notable cast members on dating apps from time to time — but usually when it's become apparent that things aren't working out. A recent sighting of Syngin Colchester on Bumble has some fans wondering if he and Tania Maduro are doing alright.
Naturally, it's hard to be sure that a dating app profile truly does belong to a reality television celebrity. Somebody could be using their photo and name to catfish others. However, a Redditor recently posted screenshots of a Syngin Colchester account on Bumble that does seem to be on the money. 
The photo was definitely Syngin, with his long locks. The location was in East Haven, which checks out, and the profile lists his country of origin as South Africa, specifically Cape Town. Under "my interests" the profile reads, "rugby, festivals, EDM, camping, being open-minded," all of which check out for Syngin as well.
The profile also reads, "The world would be a better place with more… More trees and less a——–."
90 Day Fiancé fans got a kick out of the existence of the profile. One user called back to when Tania told Syngin he's not her soulmate.
"Poor guy's hoping he's somebody's soulmate," they wrote. 
"OP needs to swipe right and report if they get catfished by a fake Syngin. I wanna know," suggested another user.
"I wouldn't be surprised if him and Tania are trying out some poorly planned polyamory to save their marriage," opined another Redditor. 
'90 Day Fiancé': Are Tania and Syngin still together?
Despite one 90 Day Fiancé fan's discovery, it does seem as if Tania Maduro and Syngin Colchester are still together and going strong. In fact both Tania and Syngin do post one another on their Instagram with some regularity.
In fact, Tania recently posted a photo with Syngin on July 27 of the two enjoying a trip to Watkins Glen State Park in New York together, taken in front of Belhurst Castle.
Tania also shared a clip of the two visiting the waterfall at Watkins Glen and kissing by the falls — it seems as if the 90 Day Fiancé couple is going strong.
Tania Maduro and Syngin Colchester are open about their sex life
90 Day Fiancé couple Tania and Syngin have been pretty upfront about their sex lives since appearing on the show, and it isn't out of the realm of possibility that the pair could be experimenting with polyamory or open relationships.
The two shared some of the details of their sex life with Entertainment Tonight, notably discussing their "sex box."
"We have a whole little sex box. We have nipple clamps in there, a little whip in it, feathers, masks, vibrators, definitely vibrators," Tania explained.
"Yeah and a couple of rings, you know. Just whatever we can fit in there, kind of. I'm just trying to make like it's normal talking about it," Syngin added.
RELATED: '90 Day Fiancé': Ariela Weinberg Gets Real, Says Cast Does Show for Cash and Fame