'90 Day Fiancé' Fans Appalled By Angela and Michael's Cyber Sex Scene
'90 Day Fiancé' couple Angela and Michael got together online for a steamy night, but fans of the show feel like it was simply too much to bear.
90 Day Fiancé fans are not thrilled with TLC following a sexually explicit scene between Angela Deem and Michael Ilesanmi. The two settled in for a steamy night together that got a little too aggressive for many viewers. This follows on some major drama between the two, and fans are still wondering if Angela and Michael will be ending their 90 Day Fiancé relationship in the wake of what's been happening. 
Angela Deem has a steamy night with Michael Ilesanmi
Angela Deem and Michael Ilesanmi have been in a bad place when it comes to their 90 Day Fiancé relationship. The two have been butting heads big time, to say the least. Angela and Michael decided to try and get their relationship back on track with a steamy night together. 
Angela put on some lipstick, added some sprigs of baby's breath to her hair, and got into a bubble bath, covering her nude upper half with bubbles. 
"It's time for Michael and I to reconnect sexually even though we are thousands of miles apart," she explained at the time. 
She video calls Michael Ilesanmi, who seems happy and amused to see her in the tub. "This is our date night. Wanna dip in my pool?" she asked him. 
Michael asked if he should take off his shirt, and Angela tells him to go for it. "Why not? You're my husband," she replies. 
At one point, Angela Deem tells her 90 Day Fiancé paramour that she'd like to "blow his bubble" and that her nether regions are "on fire." She then shows Michael Ilesnami her breasts for the first time following her reduction surgery, which he calls "okay." 
Michael gives Angela an uncomfortable strip-tease to seal the deal. 
'90 Day Fiancé' fans are not happy about the scene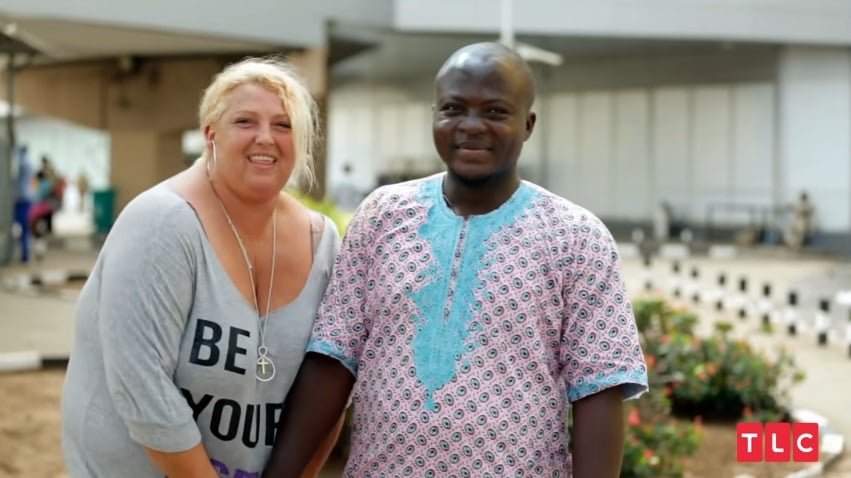 90 Day Fiancé fans were not overjoyed to see Angela Deem basically exposing herself and getting steamy on camera with Michael Ilesanmi. Many felt that the scene was too private and inappropriate and that they had been exposed to something they didn't want to see. 
"Why do we even have to see such scenes…ugh…always so awkward, as was the bathtub scene with Brandon and Julia…," pointed out a disgruntled viewer.
"I've always had a good sense of humor, and consider myself fairly open-minded, but where this woman is concerned there are no redeeming qualities. She's not even funny any more. Angela is disgusting! I've never before known anyone who is so inappropriate and gross," wrote one Redditor. 
Others pointed out that they felt bad for the camera people and those in post-production. 
"I don't know what they paid that person, but I know it wasn't enough. It could never be enough. I hope the cameraman finds peace," joked one viewer.
"Yeah, no one thinks about post. We have to watch that stuff over and over," added another user.
Angela and Michael have been going through major drama
Angela and Michael's steamy night together follows on some major blowouts between the two on recent episodes of 90 Day Fiancé. Many fans have been feeling frustrated with how Angela Deem talks to Michael Ilesanmi during these arguments — she tends to raise her voice at him often and has no problem saying nasty things to Michael. 
At one point, Angela told Michael that their relationship was over, going so far as to disparage her husband's genitalia. 
"I should have left you when I went over there and your penis wasn't what you said it was. You lied from the beginning, Michael," she told him over a video call. 
"You need to find you a Nigerian woman. I don't wanna be married no more. End of the day, you're not gonna see me back in Nigeria. I don't wanna do nothing with you. Look, I'm setting you free. Go get who you wanna get. This relationship is over," she added. 
However, their bathtub scene suggests that the 90 Day Fiancé couple is making efforts to get their relationship back on track.