'90 Day Fiancé' Fans Bash Leida Margaretha for Post Targeting Protestors
90 Day Fiancé star Leida Margaretha has never been particularly well-loved by franchise fans. The reality star has a past checkered by shady accusations from her ex-lover's wife, who claimed that Margaretha wanted to give up her son. What's more, Margaretha had a hand in Eric Rosenbrook kicking one of his daughters out of the house. Now, the reality personality is claiming that protestors are in the wrong, and fans are not having it.
Leida Margaretha allegedly asked ex to take her son
Leida Margaretha has been accused of some pretty shocking stuff by her ex-lover's wife. Soap Dirt posted screenshots of messages from a source that claims to be Margaretha's ex-lover's wife that accused the 90 Day Fiancé star of trying to abandon her child. 
The source claimed, "She asked my husband, her ex f*ckboy to adopt her son. Apparently, she asked my husband for not only him to adopt Aless, but us BOTH. Meaning I would be mother Aless now. So her mommy and daddy can't take him!!! Also so she could play dependa in Wisconsin with droopy….kid free!" 
"Her son can't even speak!!!!!! She would hire Filipino ladies in Japan to watch him so she could go out. All she does is take selfies!!! Which is funny that she would hire Filipinos because, she hates them!!! Apparently, her babysitter would leave the kid alone, since the b*tch would take too long to come home," the source added.
The same source went on to claim that Margaretha was involved in a street racing car crash that resulted in the deaths of three individuals. They wrote, "Three people died in Indonesia! No arrest records. No trial. Her daddy paid those poor people off."
Leida Margaretha claims she received death threats
Many 90 Day Fiancé fans expressed distaste for Leida Margaretha both during and after her time on the show. Apparently, things escalated to a serious degree, and both Margaretha and Eric Rosenbrook began to receive death threats. 
In a now-deleted Instagram video, Margaretha addressed the situation. She said, "We put our lives in danger. We put our lives on the frontline. This is not fair. This is not worth it all. We are never going to do this again. … I swear to God, once the contract is done, we will reveal everything that they didn't on the show."
Margaretha later said that the same death threats are part of what prompted her and Rosenbrook to stay away from the show after their season. She wrote, "No, we won't be on the next season. We will deal everything on our own. … Death threats are not acceptable under any circumstances. If I made those death threats by myself I wouldn't let the authorities involved. Whoever says, 'Boohoo Leida, this is on you' … I pray you will never experience the same way like I have … My son doesn't deserve to be killed or kidnapped. I keep it real. I never lie. I value honesty and I hope it will help me at the court later."
'90 Day Fiancé' fans bash her for post targeting protests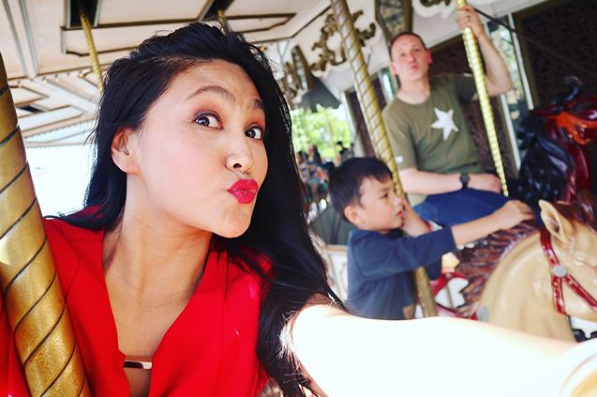 Now the reality star is facing another wave of hate following a post she made on her Instagram story targeting those protesting against racism and police violence. 
The post on her story read, "For all the peaceful protestors upset about being lumped in with the rioters, looters and lawbreakers….It's kinda like all the great police opfficers getting lumped in with the few bad ones, isn't it? Chew on that for a moment."
Fans were quick to tear into the tone-deaf post. One Redditor wrote, in part, "I imagine they're both stupid enough though to not understand the difference between individuals protesting and a taxpayer funded law enforcement arm of the government. Or too stupid to understand the difference between looting and murder, especially murder at the hands of the state."
Another referenced the street racing incident, writing, "Very interesting approach considering that she may be an actual murderer."
"'Chew on that for a moment.' She really thinks she made some kind of profound statement. What a dumb*ss. A racist dumb*ss," added another fan of the show.
"God I love when people making a shit point end it with 'think about that!' or something similar. Like maybe you don't want anyone to think on that, because .2 seconds of critical thinking would tell me it's stupid," opined another user.