'90 Day Fiancé': Fans Call Angela Deem Out For Her Jealousy Issues On Social Media; She Tells a Fan to 'Get Off Michael's D*ck'
90 Day Fiancé stars Angela Deem and Michael Ilesanmi are known for their tumultuous relationship and their many differences—both cultural and personal.
The 30-year age gap between Angela, a hospice nurse and grandmother of six from Hazlehurst, Georgia, and Michael, who hails from Lagos, Nigeria, is just one of their many obstacles. Before their wedding in Nigeria—a last resort, after Michael faced many delays in the K-1 visa application process—they also navigated problems due to Angela's infertility, as well as their disagreements about gender roles in marriage.
On the fifth season of TLC's 90 Day Fiancé: Happily Ever After, Angela and Michael have also continued to face ongoing issues with jealousy and trust. Angela is frequently jealous and suspicious of her younger Nigerian fiancé and his dealings with women. Recently, 90 Day Fiancé fans called Angela out for her jealous behavior on Instagram—and she didn't shy away from clapping back.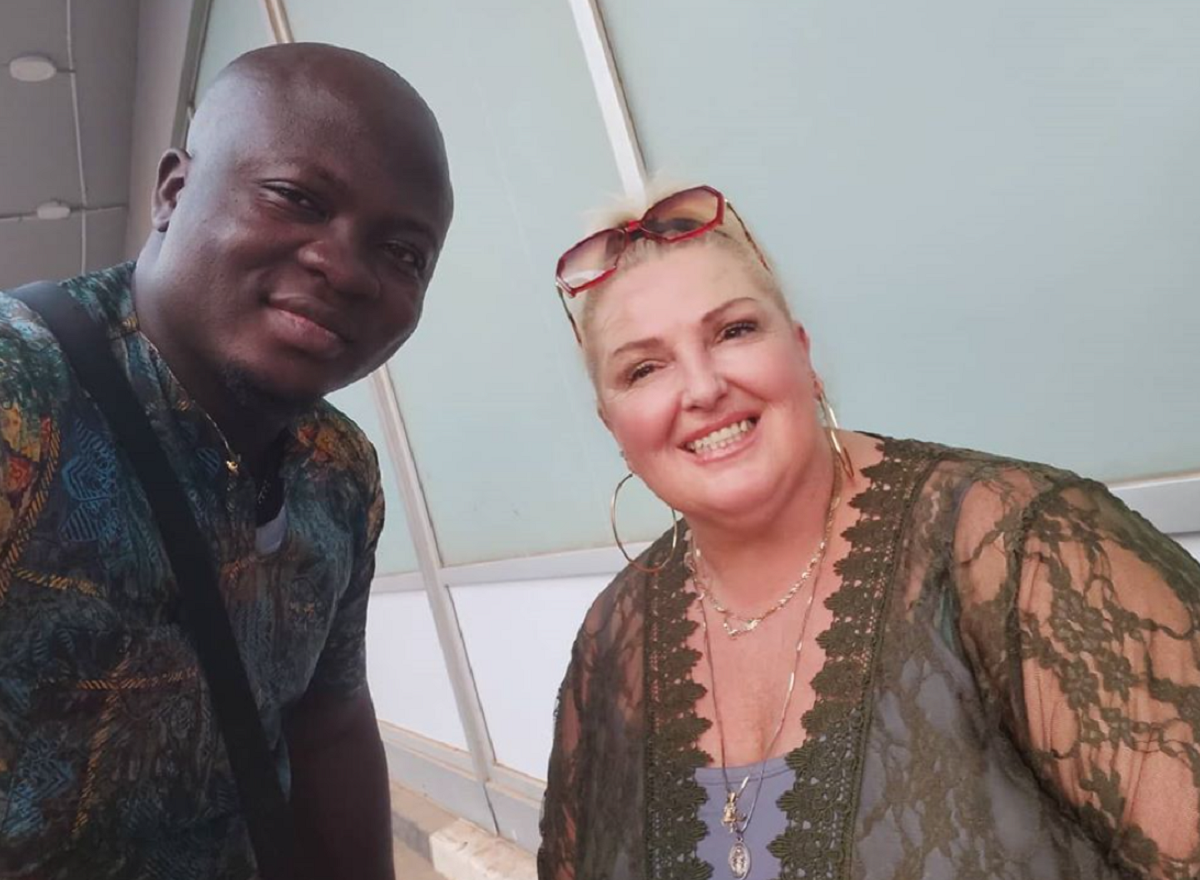 Angela and Michael have ongoing trust and jealousy issues
Michael and Angela have dealt with jealousy and infidelity issues since they first appeared on 90 Day Fiancé.
Angela initially had good reason to worry about Michael with other women. After all, he admitted to his American wife-to-be that he had once sought out a woman at a club for a sexual encounter behind Angela's back. Angela and Michael were only talking online at that point, as it was early on in their relationship. Still, the 90 Day Fiancé couple had already decided to be exclusive.
After that indiscretion, Angela became increasingly suspicious of Michael's behavior over the next few years. The 90 Day Fiancé star didn't allow Michael to follow other women on Instagram or even be photographed next to them in a public setting.
On recent episodes of the fifth season of 90 Day Fiancé: Happily Ever After, Angela's jealousy was on full display. An unfamiliar ringtone on Michael's phone convinced Angela that her fiancé might be cheating. When she arrived in Nigeria for their upcoming wedding, Michael wanted his bride-to-be to meet with several expats to discuss the reality of living in the U.S. as a Nigerian.
But when Angela discovered the expats were three women, she stormed off, cursing Michael out and even calling off the wedding (temporarily).
The '90 Day Fiancé' star pushed back against fans who called her out on Instagram
Many 90 Day Fiancé fans flocked to Angela's recent Instagram posts to criticize what they believed was her overly jealous and aggressive behavior towards Michael, as well as her harsh words.
"Why do you fly off the handle so easily?" one viewer wrote under Angela's recent Instagram post. "If you're a confident woman and trust your man, you shouldn't be popping off the way you do. If you don't trust him and get mad so easily then you have no business getting married. PERIODT."
Angela wasted no time in clapping back, writing back to the critic, "Hell I wish you find you some to marry and off Michael's d*ck."
The 90 Day Fiancé fan had a retort of her own, commenting in response, "Hell to the no thank you, girl, I'm good! Trust and believe you've got Michael all to yourself from where I sit."
Still, some fans argued that Michael's past infidelity justified Angela's suspicions somewhat. One Instagram user defended Angela, writing: "Michael has done some shady things with females in the past, which is why I think Angela has trust issues."
Some '90 Day Fiancé' viewers even called Angela's behavior 'verbally abusive'
In addition to arguing that Angela was too jealous and suspicious, some 90 Day Fiancé fans thought her yelling and harsh language rose to the level of emotional and verbal "abuse."
"You are incredibly abusive to Michael," one critic wrote to the 90 Day Fiancé star on Instagram. "Do you not know how to communicate without shouting, walking out, and always ending the relationship? He doesn't deserve to be treated the way you treat him." (Angela replied to the Instagram user with a series of laughing emojis.)
Other fans agreed, with one viewer writing in response, "He should not have to walk on eggshells around her. She is insecure."
Yet another agreed, "Angela would really help herself by losing the immature, trash mouth, jealousy issues."
Still others pointed out that Angela had Instagram photos of herself with male friends, but didn't allow Michael to have female friends in his life.
"Funny how she can have a male 'friend' over but Michael can't even so much as walk pass a woman without her going crazy and verbally abusing him," a 90 Day Fiancé viewer argued. "She's a classic abuser and TLC should stop filming and enabling the abuse."
Angela repeatedly defended herself against the claims, however, arguing that fans didn't know what they were talking about and demanding that they mind their own business when it came to Michael and Angela's relationship.
An Instagram user wrote, "Well, I hope you see your horrible behavior towards Michael and apologize. He is a good man that loves you very much but you are verbally abusive and you show him zero respect."
"I think you need to KMA [kiss my a**]," the 90 Day Fiancé star shot back bluntly.