'90 Day Fiancé' Fans Call Out Nicole Nafziger for Post About Paul Staehle and Karine Martins
'90 Day Fiancé' star Nicole Nafziger is under fire from fans after posting about Paul Staehle and Karine Martins to generate clicks for a news story.
90 Day Fiancé star Nicole Nafziger has come under fire in the past for misleading posts on her Instagram profile encouraging users to swipe up for a news story. Often, these include references to her relationship with Azan Tefou. However, this time, Nafziger posted a "link in bio" to her story referencing Karine Martins and Paul Staehle's situation, and fans think she's gone too far. 
Karine Martins filed an upsetting police report about Paul Staehle 
After an incident at the 90 Day Fiancé couple's home in which Karine Martins called the police on Paul Staehle, Martins has fled with baby Pierre. During the initial incident, Staehle suggested Martins was trying to leave the country with Pierre, and took Pierre's documents to prevent that from happening. 
Now, Martins has left, and has also filed a police report against Staehle that suggests some very upsetting behavior on Staehle's part. Martins claimed that Staehle physically assaulted her and forced her to engage in oral sex. 
She also claimed he required her to stop taking contraceptives, and that she fears for her family's safety were she to return home. She wrote, in part, "If I refuse he throw things, he yells, or he threats to call police, he currently hold my green card and all my documents. I am not allowed to leave the house, he monitor my phone [and] he have cameras around the house and he can see through his phone who arrives or who leaves. He threats take our son Pierre away if I ever leave [sic]."
Karine Martins assures '90 Day Fiancé' fans she's safe
Naturally, 90 Day Fiancé fans were concerned for Karine Martins' safety, especially given Paul Staehle's calls for information regarding her whereabouts. 
Martins took to her Instagram story to inform fans that she's safe and sound with Pierre. She wrote, "I want you all to know that me and Pierre are doing well now. All this past days I had a lot going on. As the media showed, I had issues where the police was called because I feared for my life and my son's life which led me to ask for help and ultimately be rescued from an environment that no longer was healthy for none of us involved in the situation [sic]."
"I'm getting the best help I could ever get and I'm really thankful for all the people involved in it. I also thank all the people that worry about me for the support I have had. It have been a big part of my recovery [sic]," she continued.
Martins went on to reassure fans that she's not missing, writing, "Relationships are hard and sometimes it just can't be fixed anymore. I need this time to organize my thoughts, work on myself and care for my son after everything we have been through in the last year and half. Just to clarify, the [protective order] was me, I had help from a translator since I do not speak English. I also would like to state that I'm not missing. The police know where to find me if they need me. This is a legal matter not a "media matter." That being said it's the first and last time I will speak about it. Thank you all again, Karine."
'90 Day Fiancé' fans rip into Nicole Nafziger for Instagram story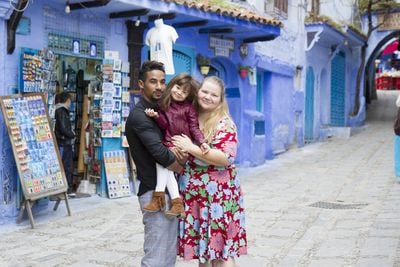 Meanwhile, Nicole Nafziger, who has been called out alongside her team for posting misleading "swipe up" stories in the past, is getting ripped apart by fans for taking advantage of Karine Martins' situation. 
Nafziger or her team posted a photo of Karine Martins and Paul Staehle, and captioned it, "KARINE IS MISSING #LINKINBIO" alongside some emojis. The post has since been deleted and replaced with a photo of Martins that reads, "issing #90dayfiance Star Karine FOUND. #LinkInBio."
90 Day Fiancé fans were quick to call out Nafziger for the post, suggesting she's taking advantage of a challenging situation. One Redditor wrote, "Really can't stand her now She'll do anything for a buck for [Azan]. DO NOT CLICK PLEASE."
Another wrote, "This is dangerous that she's given a platform to the abusive technique of trying to locate her after doing her serious harm and violence. She's not missing. She's escaped her abuser and found safe shelter (as per her mom's update)."
One user simply wrote that it is "insensitive AF," and another suggested that it's all her PR company's doing. In response to the latter statement, one user wrote, "Never let a good tragedy go to waste, when you can make even the teeniest amount of money off it. I get that she may not be personally posting it, but selling out your account is classless in the first place."
How to get help: In the U.S., call the RAINN National Sexual Assault Telephone Hotline at 1-800-656-4673 to connect with a trained staff member from a sexual assault service provider in your area.