'90 Day Fiancé' Fans 'Don't Understand' Rebecca and Zied's Obsession with Photo Memorabilia
'90 Day Fiancé' couple Rebecca and Zied are surrounded by pictures of each other. But some fans don't understand why they need so much photo memorabilia.
Zied Hakimi famously wore a shirt with Rebecca Parrot's filtered face on season 3 of 90 Day Fiancé: Before the 90 Days. And in their new season, the couple is taking their love of photo gifts to another level. After seeing Rebecca put Zied's face on her credit card, blanket, and clothing, some fans are trying to understand why.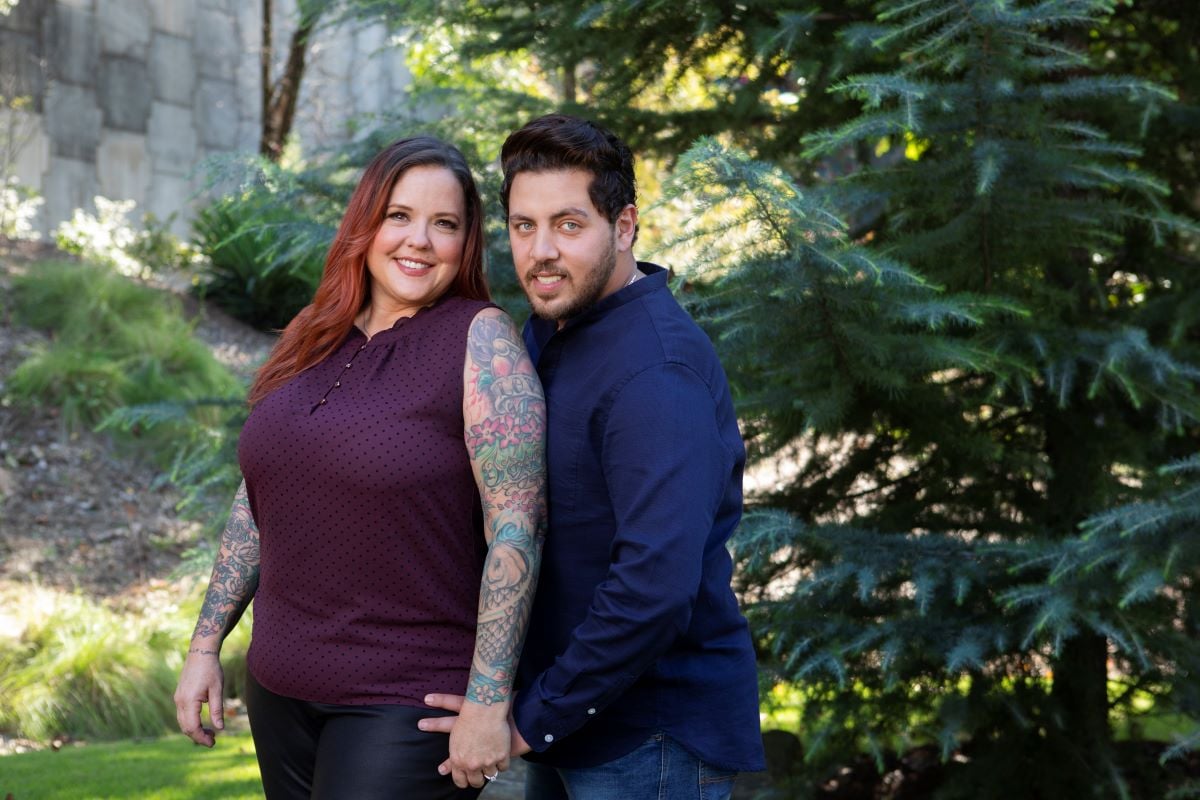 The '90 Day Fiancé' couple loves photo gifts
Viewers first saw Zied when Rebecca flew to Tunis, Tunisia, to meet him on the 2019 season of 90 Day Fiancé: Before the 90 Days. When he came to receive her at the airport, Zied wore a t-shirt featuring Rebecca's face.  And when fans got a look at Rebecca's apartment, they noticed it was full of Zied-faced memorabilia. 
But things have only escalated from there. On this season of 90 Day Fiancé, Rebecca's home is decorated with pictures and mugs of Zied. But she also whipped out a credit card with his face on it, slept under a blanket printed with their image, and hung out with her friend wearing a Zied-photo collage t-shirt.
Rebecca also got a tattoo for Zied
With all the photos she surrounds herself with, it's clear Rebecca truly loves Zied. But the  90 Day Fiancé star took her commitment a step further by getting a tattoo in his honor.
"I'm covered in ink, and today's tattoo is really special," she told producers. "Because it's in honor of my 27-year-old fiancé. This is actually something that me and Zied say all the time. It's Arabic, 'I am yours, and you are mine.'"
The purple ink tattoo is on Rebecca's wrist. And when talking to the tattoo artist, she joked that she hoped it said what Zied told her it did. 
Some '90 Day Fiancé' fans are confused by all the memorabilia
After seeing Rebecca's credit card and tattoo, some 90 Day Fiancé fans were a little taken aback by the couple's need for memorabilia. "I really just don't understand the t-shirts printed with their faces," one Reddit user wrote.
"The mugs were cute, and the bedside picture was fine, seemed like a common thing for some people to do, but the rest is too much," another Redditor shared. "Of course, everyone is different, and they might just be super into stuff like this, but it seems to me that no one could genuinely enjoy it to such an extent. It's over the top."
Other fans were more understanding. One pointed out that being in a long-distance relationship can be challenging, so it helps to have pictures of your loved one around you. 
"Do I think this is all excessive and silly? Yes," the Redditor wrote. "But also, I kind of understand it. Being in a long-distance relationship for a long period of time is hard, and if seeing each other's faces makes them happy, then there's truly no harm in it!"
Rebecca and Zied will move in together on this season of 90 Day Fiancé. So fans can continue to spot any new photo memorabilia the couple has created.