'90 Day Fiancé': Fans React to Angela Getting Into an Argument With Tammy During the Tell All
On 90 Day Fiancé: Happily Ever After, the drama is only beginning on the three-part Tell All. The virtual Tell All for season 5 has been extremely memorable so far, and there's more to come. In the upcoming second part, Angela Deem gets involved in an argument with Tammy, Asuelu Pulaa's sister. Of course, fans have their own opinions about what's about to go down.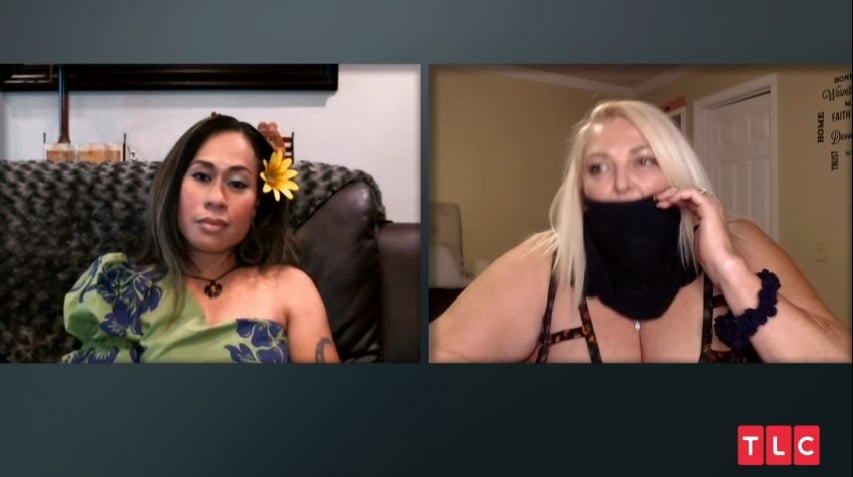 Tammy and Kolini go head to head
In the first episode of the virtual Tell All, Kalani Faagata and Asuelu are highlighted. People on both sides showed up as well, including Kalani's mother, Lisa, and Kalani's sister, Kolini. Plus, Asuelu's mother, Lesina, and his sister, Tammy, get brought into the dynamic as well.
They watch a clip of Asuelu cursing at his wife, and the host, Shaun Robinson, asks Tammy for her opinion after getting Kolini and Lisa's opinions. Tammy says everyone is "attacking" Asuelu, and that Kalani needs to tell Asuelu what to do.
Kolini then gets involved, and the money issues get brought up. Tammy mentions that "maybe" Kolini should "stay out it." But things continue, and Kolini asks Tammy how much she sends Lesina each month. "Why you care Kolini?" Tammy asks back.
"Focus on what you give to your mom," Kolini says.
Tammy tells her not to "worry about it." Kolini replies by saying then she shouldn't worry about how much Asuelu sends.
In a preview for the upcoming episode, Shaun says she was "shocked" that Tammy wanted to "fight Kalani." Tammy says Kalani was walking away, and Kolini questions why she would just stand there and "take that."
"Kolini, why you have to be involved?" Tammy asks her. "I will beat up Kalani, and beat you up."
"Now you want to fight me, fight me then," Kolini replies.
Angela and Tammy get into an argument as well
In a preview clip, Angela gets involved after Colt Johnson's mother, Debbie, puts in her 2 cents.
"I will take Debbie's place," Angela chimes in. "You sit here and bullied all these ladies on here, well bully me b****."
Tammy tells her to "bring it on," and Angela doesn't stop there.
"Listen, you contradict yourself," Angela explains. "One minute you say, 'Oh, I'm not in their business. She needs to stand up…" Tammy cuts her off, but Angela isn't having it.
"Shut your mouth and listen," Angela snaps back. "That's your problem. Listen, you ain't tough… If I was your mother, I'd beat you're a**. I would tear you're a** up. Oh yes."
Angela even holds up her arms and says, "These are what you worry about right here."
She goes on to say that if Tammy is "so worried" about her mother, she needs to get another job and take care of her. "Quit begging for money," Angela says.
Fans react to the drama
Fans on Reddit can't seem to stop discussing events in the upcoming episode. In a recent thread, fans weigh in on Angela getting involved in the drama.
"I loved it how Angela shut it up for Tammy on the Tell All," the post is titled.
One fan said the whole thing felt "staged." "That whole segment felt so staged to me," they said.
A fan replies that if that's the case, Angela didn't know. "If it was, nobody let Angela in on it," they wrote.
"Angie is a hot mess express, but I admit that I love that she's so quick to stick up for her castmates. She usually overdoes it, but I think her intentions are good…," a fan wrote.
Others expressed how much they "love Angela." "Sometimes I really love Angela," a fan admitted.
"I love Angela," someone else said.
It sounds like fans can't wait to see more from Angela and Tammy's altercation.