'90 Day Fiancé': Fans React to Ariela and Biniyam's New Apartment in Ethiopia
On this week's episode of 90 Day Fiancé: The Other Way, Ariela Danielle is in Ethiopia with Biniyam Shibre. She gets a rude awakening when she sees where she'll be staying, and it only gets worse this week.
Ariela and her mother go to see her new apartment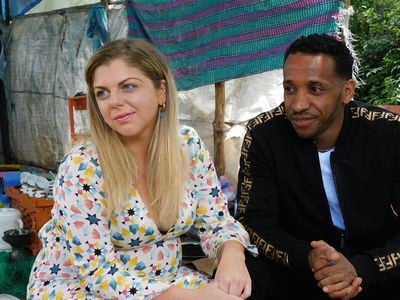 When Ariela arrives in Ethiopia, she goes to stay in her temporary apartment with Biniyam. It leaves a lot to be desired for both Ariela and her mother. However, this week they get to see the new apartment that is still being redone. Biniyam is working on it to get it fixed up for Ariela and the baby, and he insists it will be done in two weeks since he's renovating it.
The new place isn't much better, considering there are exposed wires and there's building material and paint chips sprawled everywhere. Ariela says the second place could be nice if it was in a livable condition. It's a two-bedroom apartment, but it's hard to tell what the place could be the way it currently looks.
Ariela's mother is worried about fire hazards with the exposed wiring. They go to see the bathroom, which has a terrible smell coming from it. The toilet doesn't seem to be working, and it's hard for them to stay in the bathroom for long.
"This apartment is a mess," Ariela's mother says. "The first one was bad enough, and the second one is just a disaster." She thinks it will take months to get the place livable, but Biniyam thinks it will only take him a few weeks.
Fans react to Ariela and Biniyam's new apartment in Ethiopia
Fans have a lot of thoughts about Ariela's future digs. A fan wants to know if Ariela really thought Biniyam would have an apartment with "American amenities."
"Did Ariela seriously expect Biniyam to have an apartment with all American amenities? Seriously?" a Twitter user asked.
One fan understands Ariela's mother's concern about the apartment. "She's a concerned parent so I get it. But Ariela is a grown woman. She made her decision," a fan said on Twitter.
A fan thinks Ariela can't "demand" everything she has in America. "If Ariela agreed to go and live in Ethiopia, she can't demand all the living conditions she has here," said a fan on Twitter.
Another fan wonders why Ariela's parents don't help pay to fix up the place. It might speed the process along, which would be good for Ariela and the baby. "Why didn't Ariela's parents offer to pay for the work needed in Biniyam's apartment so they can move faster? It's their daughter's future home. The guy is doing all he can," said a Twitter user.
One fan thinks Ariela and her mother's words are "cutting him to the core." "Biniyam is so sweet and respectful, but you can tell Ariela and her mom's words are cutting him to the core," wrote a Twitter user.
A fan thinks maybe Ariela could have moved after the child was born to give Biniyam more time to get things ready for them. "He is trying, which I respect him for doing," said a Twitter user. "Maybe their communication on living conditions and expectations should have been clearer. Or maybe Ariela should have moved after the baby was born if he wasn't ready for them."
Fans have a lot of opinions about Ariela and Biniyam's new apartment and what it means for the future of their relationship.