'90 Day Fiancé' Fans React to Tarik Myers' Song 'Hawt Sauws'
90 Day Fiancé star Tarik Myers recently had a pretty massive falling out with his brother Dean Hashim, which has resulted in the two no longer speaking. While that's certainly thrown a wrench in some of their joint work with TLC, Myers is busy with other projects on his own — including his musical career. To that end, Myers appeared on the Discovery+ spinoff, 90 Day Bares All, and gave a performance of his new song, 'Hawt Sauws.' Fans were not exactly blown away. 
Tarik Myers dishes on feud with Dean Hashim
Tarik Myers and his brother, Dean Hashim, have struggled with personal problems with one another during their tenure on the 90 Day Fiancé franchise. Myers recently claimed that Hashim tried to get him fired from Pillow Talk. 
"There's bad blood from him to me. It got really ugly. And I don't even know if I'm supposed to say this or not, but … he tried to get them to fire me," Myers informed Entertainment Tonight.
"He told them that if he couldn't do Pillow Talk alone because he was the star, that he'd quit. So, news flash, Dean tried to get his brother fired off of Pillow Talk. Period. End of story. Now, if you don't call that backstabbing…," he explained.
Hashim had a different story, however. He claimed that Myers got aggressive and in his face at one point, which set everything off.
"Everybody who was in that room, when we had that 20-minute argument and he's standing over me with his veins out of his neck like a maniac, they know why," Hashim said, per Us Weekly.
"They know why because they witnessed how volatile things get between us and it's like, 'Why? For what?'"
Tarik Myers performs 'Hawt Sauws' on camera
Now, Tarik Myers is back in the spotlight once more. But it's not because of his family drama. Rather, the 90 Day Fiancé star released a new song, 'Hawt Sauws'. Myers performed the song during an episode of Bares All. 
Shaun Robinson introduced Myers as "Virginia Beach's finest," and the reality star came on stage with a towel to perform his new tune. Prior to beginning the song, he calls himself "the Black Anthony Bourdain." 
Myers' new song can be found on Spotify, Apple Music, iTunes, and Amazon, among other platforms. 
'90 Day Fiancé' fans react to 'Hawt Sauws'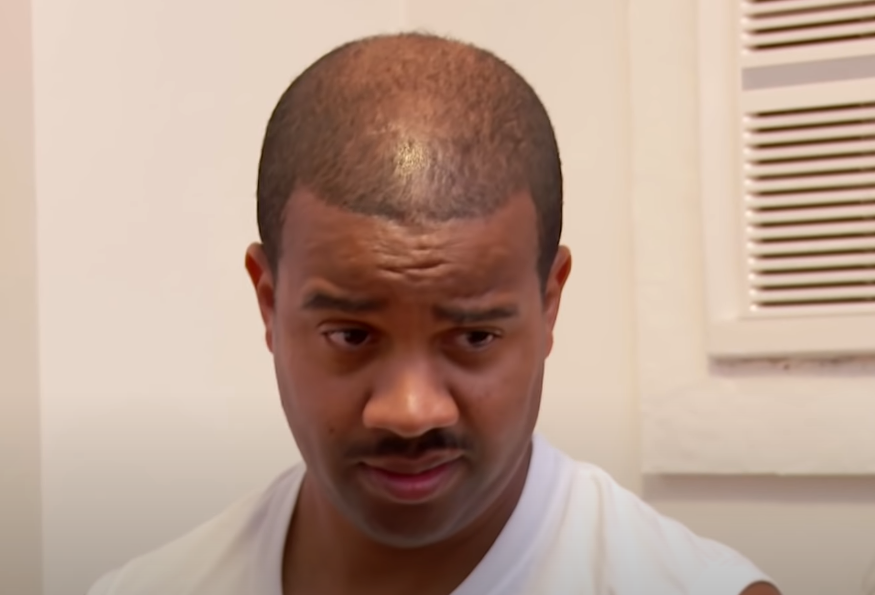 90 Day Fiancé fans weren't exactly blown away by Tarik Myers' performance, song, and album art. The reality star has received some pointed criticism since his performance. 
"I love how the camera crew is going all out for this and Shaun is like, 'how…do you dance to this?' while also counting the money she makes for each second that she has to listen to this," joked one Reddit user.
"I've shamelessly watched this probably four times now. My little yeah yeah?? Wtf does that even mean? I'll admit when he said 'what what' I laughed," added another user. 
Others panned the album cover for the song, which features oddly out-of-place text compared to the image behind it. 
"The album art was going okay until they superimposed the font in early 2000s WordArt style," wrote one critic.