'90 Day Fiancé' Fans Spot Cigarette Butts on Angela Deem's Floor
90 Day Fiancé star Angela Deem underwent a variety of surgeries recently and has since been recovering both in terms of her health and her relationship with Michael Ilesanmi. Deem has been advised by medical professionals to give up smoking before and after her surgeries — something she has yet to take to heart. Frustrated fans have pointed out that if she's truly concerned about her health, she would heed their advice. They were even more dismayed to see Deem's floor apparently littered with cigarette butts.
Smoking has been a sore spot for Angela Deem amid surgeries
90 Day Fiancé star Angela Deem has had some major surgeries recently, including and not limited to a gastric sleeve surgery and a breast reduction and lift. Her doctors cautioned her to stop smoking before and after her surgeries, but Deem was not willing to heed their advice. 
As a matter of fact, Deem was back to lighting up after her procedures. When it came time to get a facelift, things took a challenging turn for the 90 Day Fiancé star. 
Angela Deem's plastic surgeon, Dr. David Saadat, told Angela that he wouldn't work on her unless she agreed to stop smoking for four weeks before her surgery. He explained to Angela that he wasn't willing to take the risk to her health on his operating table that would come with her continuing to smoke. 
He asked Angela to sign a smoking contract that stipulated a nicotine test in four weeks, prior to her surgery. He also highlighted a $1500 fee that Deem would have to pay if she broke the contract after signing it. 
She lit up her "last cigarette" in the car on the way home, but has since been seen smoking again on Instagram. 
90 Day Fiancé fans spot cigarette butts on the floor of her home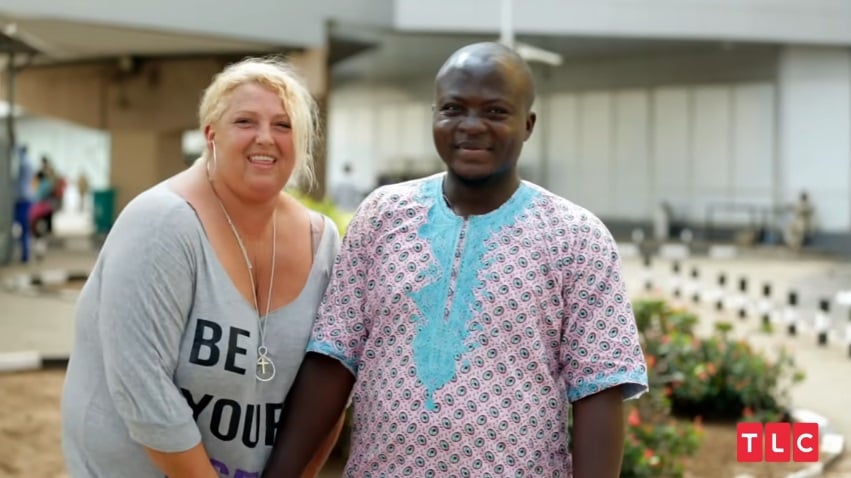 90 Day Fiancé fans have been feeling frustrated with Angela Deem over her refusal to stop smoking despite the advice of medical professionals. Others also note that Deem spends much time with her family's children nearby, and some feel that she could be exposing them to secondhand smoke. 
This frustration only increased when one fan pointed out cigarette butts littering Deem's floor during a recent episode. 
"Workout? She can't even be bothered to not throw her cigarette butts on her own floor," posted a Redditor, including a screengrab of the scene. It looks like there are cigarette butts and ash-strewn on the floor next to Angela. 
"There's a minimum of six kids in the other room. Talk about selfish," added the original poster.
"[I]magine chain-smoking in the house to the extent there are butts on the floor even with the knowledge that you have a film crew coming!" added another user.
Angela and Michael may be mending fences
90 Day Fiancé couple Angela and Michael have been struggling with their relationship in recent episodes. Michael Ilesanmi hasn't been communicating with Angela Deem much since her surgeries, feeling frustrated with her decisions.
Angela has since blasted Michael on several calls, drowning him out with verbal abuse and unsavory comments. The two have not been on the same page at all. A recent episode featured the couple reconciling and catching up again during a steamy bathtub hangout that got sexually explicit, to the dismay of many fans. 
Deem finally showed Ilesanmi her chest post-surgery, and he gave her an awkward strip-tease. It remains to be seen if the two will be able to entirely mend the recent rift in their relationship.