'90 Day Fiancé': Fans Swarm To Erika Owens' Defense After Explosive Breakup From Stephanie Matto
Stephanie Matto and Erika Owens didn't get the whirlwind romance and happy ending they wanted on TLC's 90 Day Fiancé: Before the 90 Days. After 29-year-old Stephanie flew out from the U.S. to visit 24-year-old Erika for the first time in Australia, things quickly went sour between the two women.
Although Erika and Stephanie shared some good times, their arguments over Stephanie's refusal to come out to her family—while Erika did—and Stephanie's jealousy about Erika's past relationships got the best of them. After an explosive fight and breakup in their hotel room, Stephanie headed back to Adelaide to prepare for her flight back to the U.S.
On the May 17 episode of 90 Day Fiancé: Before the 90 Days, "The Pleasure Principle," Stephanie and Erika hashed things out one last time after their breakup. Erika has become one of the season's heroes and most-loved cast members, with many fans taking to Twitter and Instagram to offer her an outpouring of support.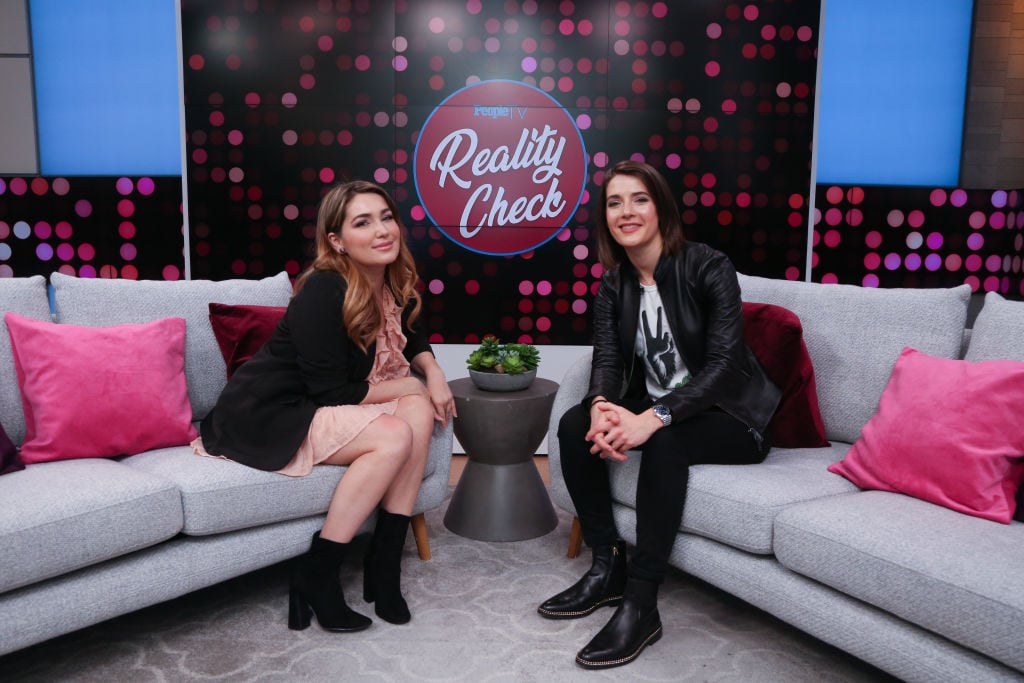 Erika and Stephanie met up one last time on the latest episode of '90 Day Fiancé: Before the 90 Days'
Stephanie and Erika met up for coffee for the final time in Australia to discuss their relationship. Erika, for her part, said she really didn't "give a f***" about what had gone down with Stephanie anymore.
The 90 Day Fiancé star suggested that she felt betrayed by her ex-girlfriend, especially because Erika made the effort to come out to her family, while Stephanie had refused to do the same.
"I put my heart on the line for Steph," Erika explained, revealing that she didn't think her ex had been willing to take the same risks and put forth the same effort for her. "I came out to my parents. I was prepared to risk so much for her. But she really hurt me, and I don't know if I can come back from that."
To Stephanie, Erika lamented, "I came out to my parents because I believed that something with us was going to happen, and you broke up with me."
And while Stephanie admitted that she'd brought "insecurities" and "jealousy" issues into the relationship that she knew she needed to work on, Erika wasn't having it. Seeming to take Stephanie's comments as excuses for her behavior, Erika shot back, "You should have told me any insecurities you had about my life or who I am as a person before you jump on a plane."
The women parted without a hug or an affectionate goodbye, and they seemed to have closed the door on any possibility of a reconciliation.
Many fans thought Stephanie seemed entitled in her behavior towards Erika
During the latest episode, many 90 Day Fiancé viewers argued that Stephanie's behavior towards Erika was uncalled for.
In particular, several fans took to social media to argue that Stephanie's jealousy was excessive. Others thought the 90 Day Fiancé star had portrayed herself differently online than in real life. Meanwhile, other viewers thought the YouTuber and OnlyFans content creator had sought out exposure on the show—and used Erika along the way.
"Stephanie is a user, she would have sucked you dry of all your beautiful colors," one fan warned Erika on Twitter.
One Twitter user argued that Stephanie's online persona didn't match up with reality. "I think Stephanie and Erika were doomed from the beginning bc Stephanie portrayed herself online as a fun loving, exciting, adventurous person," they wrote, "and in reality she has the personality of a broom with highlights."
Another thought that Stephanie's insecurities would always get in the way of a successful relationship if she didn't address them soon. "Is it me, or is Steph really jealous?" the Twitter user wrote. "I understand insecurities but that's too much. Chill or be alone. Everyone has a past & you don't need to know everything. If it doesn't affect NOW, to hell with Erika's THEN!"
Viewers sent Erika well wishes and supportive messages
Many 90 Day Fiancé viewers took to social media to wish Erika the best for her future career and relationships. Her quirky style and open-hearted demeanor, as well as her assertiveness after the breakup, won her many fans along the way. Many hoped to see her on the show, or a spinoff, again in the future.
"Erika is a ray of sunshine!" one fan gushed. "TLC, instead of garbage like the Family Chantel, give Erika her own show. She's a star! Stephanie? Ugh. What a whiny self-centered, self-absorbed baby. She was just jealous of Erika and her family and all her friends. Buh bye Stephanie."
Another wrote, "Awwww Erika! I love her strength & grace. She deserves so much better."
And one 90 Day Fiancé fan commented similarly: "Erika is so beautiful and Steph does not deserve her."
No matter where Erika goes or what she does next, it's clear that she has a solid following of admirers and well-wishers among the 90 Day Fiancé fanbase.