'90 Day Fiancé' Fans Think Deavan Clegg Takes No Responsibility, Always Blames Jihoon Lee
90 Day Fiancé couple Deavan Clegg and Jihoon Lee do not seem to be in a good place lately. The two have been butting heads not just on their season of TLC's reality show, but also in real life after filming. Now, many suspect that Clegg and Lee are finished, or on their way to splitting up. Additionally, fans feel as if Clegg may have been unfair to Lee — some fans thing she's been spending too much time blaming Lee instead of solving her own problems. 
Deavan Clegg feels 'scammed' by Jihoon Lee 
Jihoon Lee and Deavan Clegg have had continuing issues when it comes to Lee's employment status and income. Lee seems to have some difficulty getting all the loose ends in his life together. 
It often seems to 90 Day Fiancé fans as if Lee is making promises to Clegg that he's not able to fulfill. These usually include finding work and a suitable apartment. At one point, Lee lied and told Clegg he was prepared for them to arrive in South Korea. 
"I don't really have a job. I have a side job doing deliveries. It goes by the hour and it's a part-time job. I lied to Deavan because if I have no money, Deavan's not [coming] to Korea," Jihoon Lee confessed during an episode of the show. 
When Deavan Clegg found out, she was naturally angry with Lee. She told producers, "Jihoon admitting that he's not financially ready for us to come to Korea is devastating because he told me everything was fine. But he lied to trick me into coming and that's not OK."
Is the '90 Day Fiancé' couple split up?
During their most recent 90 Day Fiancé season together, things have not improved much for the couple. In fact, it feels as if their relationship is deteriorating rapidly. 
Many fans have suspected that the two are split up right now, and there is some evidence to support this conclusion. 
Notably, the two have become estranged on social media. Jihoon Lee deleted his Instagram photos and stopped following Deavan Clegg. Meanwhile, Clegg eliminated all her photos of Jihoon Lee. 
Additionally, Clegg has been in the U.S. for some time now, while Lee remains in South Korea. Clegg's mother did reveal that the two are still married, however, so there is a chance that they may be trying to work things out — especially because they share a child together.
Fans thinks Deavan Clegg blames Jihoon Lee too often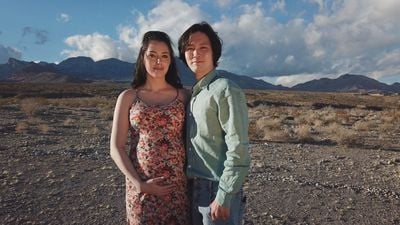 While Jihoon Lee was certainly in the wrong for lying to Deavan Clegg about his employment status, some fans think Clegg is too hard on her 90 Day Fiancé husband. 
One Redditor posted, "Got a problem but don't want to take responsibility? Blame Jihoon!" 
The caption accompanied a photo of a rainy day, with Clegg underneath saying, "How could Jihoon do this to me?"
"I mean, I'm trying to figure out how such a successful and got-it-together woman is hitching her star to his apple wagon. Her mom said by 30, people should have their own homes and tons of savings. So, like… she's, what – 23, 24? She probably has massive savings already, and at least lives on her own in a decent apartment back in the US. (checks notes) Oh," joked another Redditor.
"Nothing is her fault in life and it never will be. She will always create some ridiculously over-the-top alternative version of events where she's the real victim in any situation," added another fan of the show. 
Others felt frustrated by Deavan Clegg yelling at Jihoon Lee when Drascilla ran into the street. Many pointed out that Clegg should have taught her daughter better by now. 
"Am I the only one who doesn't understand how Drascilla running away is Jihoon's fault? Like yeah he shouldn't have told Daeven not to yell at him in that moment, but in 4 years of parenting Daeven has yet to teach her child not to run away into the street? That's on her," wrote one user.