'90 Day Fiancé': Fans Think Elizabeth's 'Stripper' Comments to Larissa at the Tell-All Are 'Uncalled For,' Wonder if She's 'Jealous'
Fans suggested that Elizabeth Potthast Castravet might be jealous of Larissa Dos Santos Lima after Elizabeth insulted Larissa's plastic surgery on Part 1 of TLC's '90 Day Fiancé: Happily Ever After' Tell-All on Sept. 27.
Clashes between cast members have come to be expected at the 90 Day Fiancé Tell-All each season. But one conflict—between Elizabeth Potthast Castravet and Larissa Dos Santos Lima—surprised fans after the Sept. 27 90 Day Fiancé: Happily Ever After Tell-All Part 1 on TLC, hosted by Shaun Robinson.
A conversation about Angela Deem and Michael Ilesanmi's infamous visit to a strip club in Nigeria turned ugly after Robinson opened up a dialogue about lap dances with various cast members. Elizabeth, who is married to Andrei Castravet from Moldova, made an unexpectedly harsh comment about Larissa being a "f*cking stripper," likely due to her many recent cosmetic procedures.
90 Day Fiancé fans immediately accused Elizabeth of being "jealous" of Larissa's plastic surgery and overall makeover, calling her comments "out of line."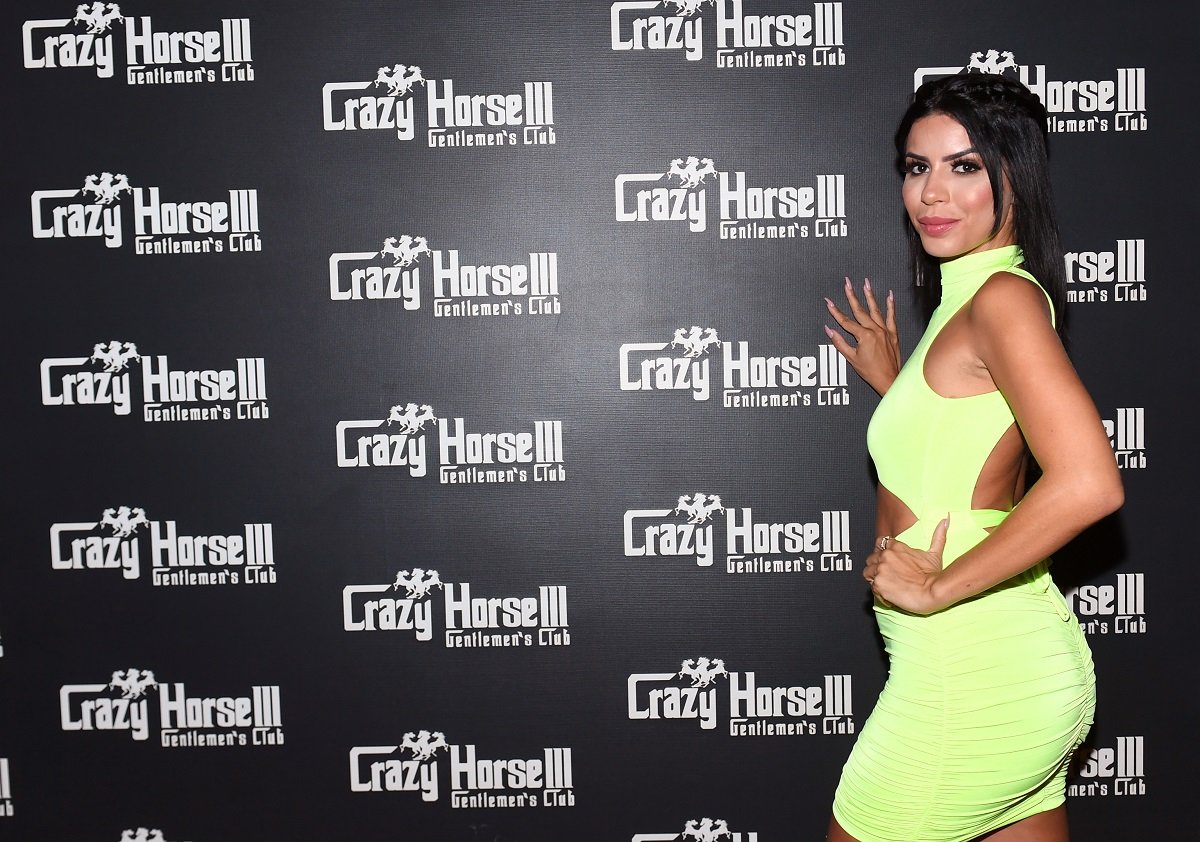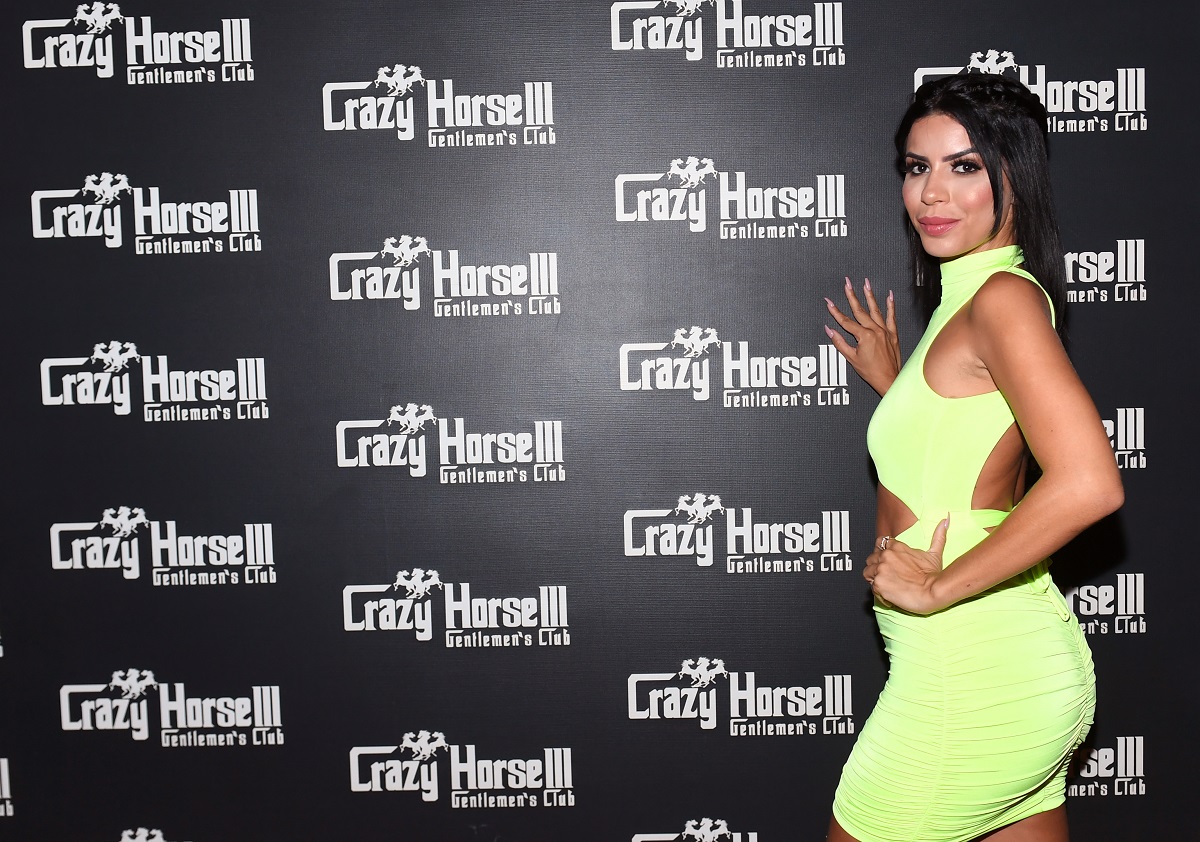 Elizabeth called Larissa a 'stripper' at the Tell-All
On Part 1 of the 90 Day Fiancé Tell-All, Angela discussed her insecurities about her looks and age difference with Michael with Robinson and her castmates. She explained that Michael's wandering eye one night at a Nigerian strip club made her wonder if she could really trust her husband around younger women.
Robinson opened up the conversation to Angela's castmates. She asked Larissa if she would feel jealous if her boyfriend, Eric Nichols, got a lap dance from an exotic dancer at a club.
Larissa laughed, joking that she wouldn't take it too seriously. "I don't mind, because the girls just care about the man's money," the 90 Day Fiancé star argued. "They are not doing a lap dance on Eric because they think he's handsome. It's just about money."
Elizabeth took the opportunity to make a snide remark, seeming to refer to Larissa's OnlyFans and cosmetic procedures in an angry aside to Andrei.
"She would know, because she's a f*cking stripper," Elizabeth muttered to her husband.
"Shut up," Larissa shot back, although she continued to laugh and didn't seem too offended.
"You would be there," Eric joked to Andrei.
But Elizabeth didn't see anything funny about Larissa and Eric's comments. "No, he would not," the visibly irritated 90 Day Fiancé star retorted grimly.
Andrei made comments about Larissa's plastic surgery
Elizabeth wasn't the only Castravet who took a few jabs at Larissa's new look on the 90 Day Fiancé Tell-All. Andrei also made several remarks about Larissa's large new breast implants, rhinoplasty, and other cosmetic procedures.
"Colt, why are you playing with women so much, and breaking their hearts so much, that they're changing their f*cking faces already?" Andrei asked Colt Johnson, laughing at Larissa's expense. "I don't recognize her, what's going on?"
Calling Larissa "Michael Jackson 3.0," Andrei also told Larissa that she would likely have to keep returning to plastic surgeons and aestheticians if she wanted to maintain her new appearance.
"That's not gonna last forever, you know?" Andrei said smugly. "You'll have to change that every couple of years."
"At least I have a job!" Larissa clapped back. But when Andrei brought up Larissa's three children in Brazil, she said she didn't want to talk to him anymore if he was going to "stoop so low."
'90 Day Fiancé' fans wondered why Elizabeth was being rude to Larissa
Immediately, 90 Day Fiancé fans slammed Elizabeth and Andrei for their harsh comments about Larissa's body and face. Several viewers argued that Elizabeth's attitude smacked of misogyny. Others argued that she might be insecure about her looks or jealous of Larissa's glam transformation. Still others wondered if there was an underlying issue between Larissa and Elizabeth, because her harshness towards Larissa seemed so out of left field.
"Elizabeth's comment to Larissa was uncalled for," one critic wrote on Instagram. "Wtf was that?? I didn't even know they had an issue…"
"Exactly, like what happened to girls supporting girls?" another 90 Day Fiancé fan agreed.
"Libby is jealous of Larissa," one Instagram user mused.
Yet another 90 Day Fiancé fan argued that Elizabeth seemed "threatened" by Larissa's beauty, speculating that she might be worried that Andrei was attracted to his castmate.
"I can see the jealousy steaming out of Elizabeth's head," the Instagram user argued. "WHY is she so threatened by Larissa? It's just so crazy to watch a woman go after another woman for their looks. She must have caught Andrei watching her oil video!"
On YouTube, many 90 Day Fiancé fans mused similarly that Elizabeth might be jealous of Larissa's plastic surgery or her newfound success outside of the show.
"Libby likes to put down other women because she's so disgustingly insecure inside," a YouTube user commented in response to Elizabeth's remarks at the Tell-All.
Yet another fan wondered if Elizabeth and Andrei were envious because Larissa's efforts as a social media influencer were so financially profitable.
"Libby is upset because Larissa is making big money, while she's stuck on Instagram trying to get promo," they argued.
While some fans agreed with Andrei and Elizabeth's assessment of Larissa's parenting, the overwhelming majority of fans seemed to be in agreement that their comments about her looks were uncalled for and unnecessary, at the very least.