'90 Day Fiancé': Fans Think Kalani Would Definitely Have 'Dropped' Asuelu's Sister; Others Aren't So Sure
Kalani Faagata and Asuelu Pulaa have had ongoing marital issues throughout the fifth season of TLC's 90 Day Fiancé: Happily Ever After. From Asuelu calling his wife a "lying b*tch" during an argument about the differences between Samoan women and American women to the couple's financial issues and Kalani's frustration with Asuelu's parenting skills, the 90 Day Fiancé pair has wrestled with a number of major problems in their relationship.
Asuelu and Kalani's problems came to a head during their trip to Washington to visit Asuelu's mom and two sisters. When Kalani and Asuelu made it clear that they wouldn't be giving his mom $1,000, as she had demanded—preferring instead to save that money for their own young sons, Oliver and Kennedy—the family reunion exploded into chaos.
Kalani finally confronted Asuelu's half-sister, Tammy, about their demands for money. After calling Kalani "controlling," Tammy lunged at her as if to fight. Kalani walked away from the situation, but 90 Day Fiancé fans couldn't help weighing in on which of the two women they thought would win in a fight.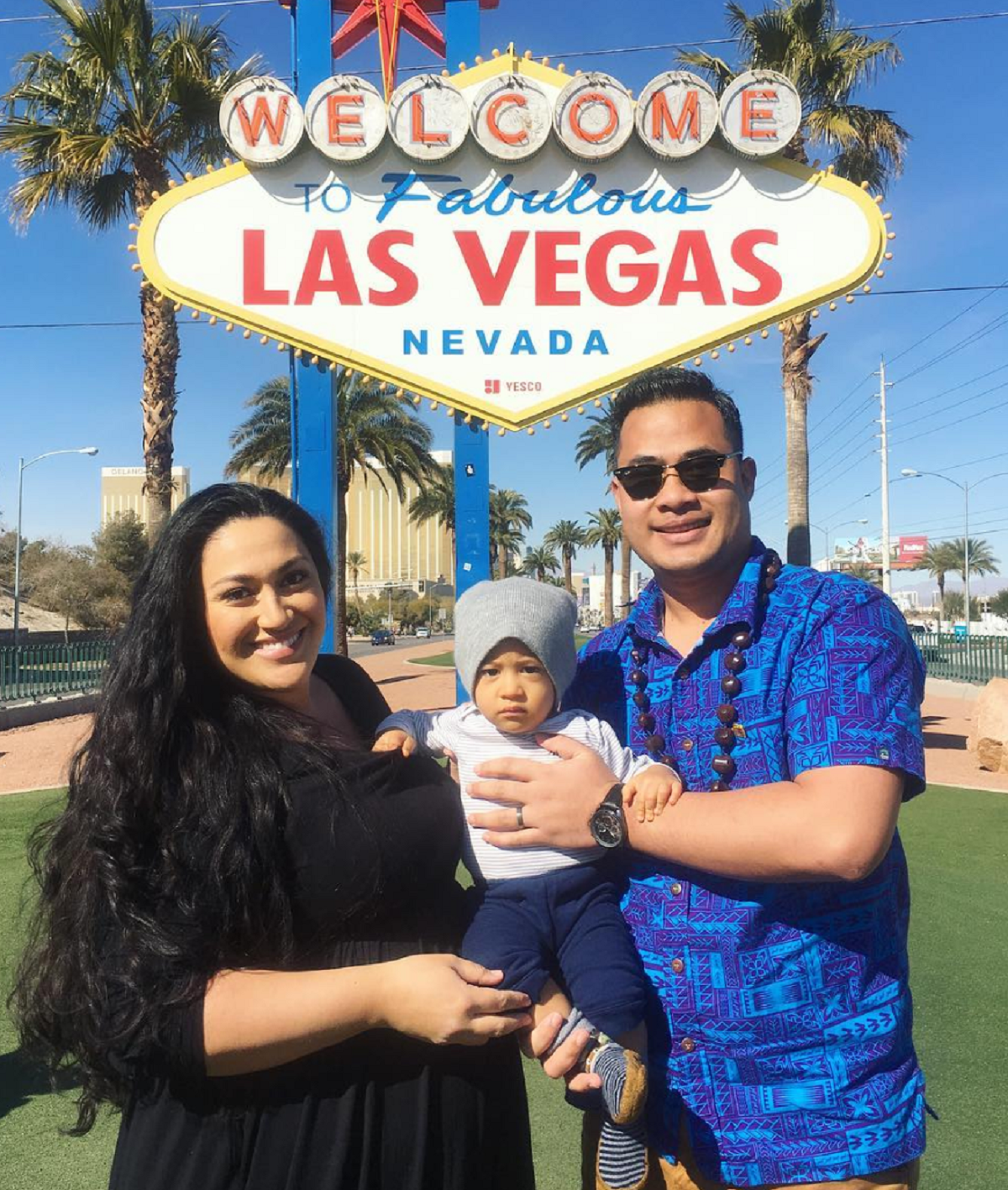 Asuelu and Kalani argued about who would win in a fight
Kalani and Asuelu initially agreed that his family was in the wrong, but the tide quickly turned. After Kalani's confrontation with Tammy, the mom of two relayed the bizarre scene to her husband.
Packing her bags hastily to head home from Washington, the 90 Day Fiancé star urged Asuelu to give up on having a relationship with his family—especially since they'd actually suggested the couple get a divorce, and that Asuelu give up his relationship with his kids, to return to Samoa with his mom. Calling them "a**holes," Kalani argued that Asuelu shouldn't have to buy his mom's and sisters' love.
Asuelu took offense to Kalani's words, asking his wife not to call his family names. But Kalani insisted that she was not the one in the wrong here.
"Your sister tried to grab at me—like, as if to fight," Kalani revealed. "Your sister that's, like, four feet tall tried to grab at me. If she would have grabbed me, I would have knocked her out."
With an angry gleam in his eye, Asuelu wondered if Kalani should really be so confident about her ability to win in a fight against his sister.
"So you think that if my sister will touch you, you can knock her out?" the 90 Day Fiancé star challenged her.
"Do I think that, or is that what I would do?" Kalani shot back. "Oh, I would do that…I've beaten up people bigger than your sister in the third f*cking grade."
RELATED: '90 Day Fiancé': Some Fans Think Kalani Should Be Held More Accountable For Her Problems With Asuelu
The couple's discussion got even more heated as it went on
Asuelu didn't take kindly to Kalani's insistence that she could beat Tammy in a fight, but his wife didn't back down.
"Okay, so now we're debating who would win in a fight," Kalani said incredulously. "I don't think you understand. I would beat you up in a f*cking fight."
Asuelu just laughed in response, insisting that she would absolutely lose if they were ever to physically fight. "No, sorry, Kalani," the 90 Day Fiancé star retorted sarcastically. "That's not happen."
Finally, Kalani seemed fed up with the direction the conversation had taken, especially because she had initially confronted Asuelu's mom and sister in order to defend her husband.
"If your sister would have touched a freaking molecule on my f*cking body, I would have dropped her," Kalani exclaimed. "Period. So shut the hell up."
The conversation didn't exactly end well, with Asuelu referring to Kalani as "f*cking crazy" and a "f*cking a**hole" before she slammed the door on her way out.
RELATED: '90 Day Fiancé': Asuelu Pulaa Chooses Kalani Faagata Over His Family
Some fans thought Kalani absolutely would have won in a fight against Tammy
In one Reddit thread, 90 Day Fiancé fans debated which of the two women, between Kalani and Tammy, would have won in a fight.
Kalani had the size advantage, as she pointed out in her fight with Asuelu. Others thought that Kalani would be the likelier winner because Tammy was so easily held back by Asuelu's mom when she tried to start something.
"Kalani would [have] f*cked Asuelu's sister up," one Reddit user argued.
Another Redditor agreed, putting their money on Asuelu's wife over his sister as well. "I think Kalani edges it," they wrote.
One Reddit user mused that Tammy might not truly have wanted to fight at all, given how readily she was held back by her aging mom. The commenter argued that Tammy's bark was likely a lot worse than her bite.
"I think Asuelu's sister was ALL TALK," the 90 Day Fiancé fan wrote. "You CANNOT convince me that her elderly money hungry mom was able to hold her younger/healthier/equally money hungry daughter down…My money is on Kalani. The sister ain't want no smoke."
RELATED: '90 Day Fiancé': Fans Can't Get Enough of Kalani Faagata's Dad
Others would have put their money on Asuelu's sister
Other Reddit users in the same thread argued instead that Kalani might have thought she could win, but her rather sheltered, cloistered upbringing might have been a disservice in a fight with her sister-in-law.
"I kinda don't doubt that Asuelu's sister can stand her ground," one 90 Day Fiancé fan wrote.
Another agreed, elaborating, "Yeah it's an unpopular opinion here but that girl seems like she can fight. Bigger doesn't mean badder. The bigger they are the harder they fall. Also Kalani grew up sheltered and in a Mormon household…I'd be willing to bet Kalani has never been in a fight in her life, and experience is everything, especially in a street fight."
Yet another fan agreed, commenting that they believed Tammy was probably a lot more "experienced" in the art of fighting.
"I don't believe somebody who's never had a fight would act the way Aseulu's sister was," the Reddit user wrote of her aggressive lunge towards Kalani. "That chick was freaking me out, I wouldn't f*ck with her."
Luckily (depending on your perspective), 90 Day Fiancé fans didn't get a chance to find out, as the two women never came to blows. But a few fans have jokingly suggested a "fight" version of the show—featuring Andrei Castravet and Charlie Potthast along with Kalani and Tammy.