'90 Day Fiancé': Gino and Jasmine Are Engaged — All of the Details of Their Romantic Proposal
On the March 20 episode of 90 Day Fiancé: Before the 90 Days Season 5, Gino and Jasmine get engaged. While the couple had their issues, it seemed to subside for the rainy proposal. Here's everything we know about Gino and Jasmine's proposal and engagement.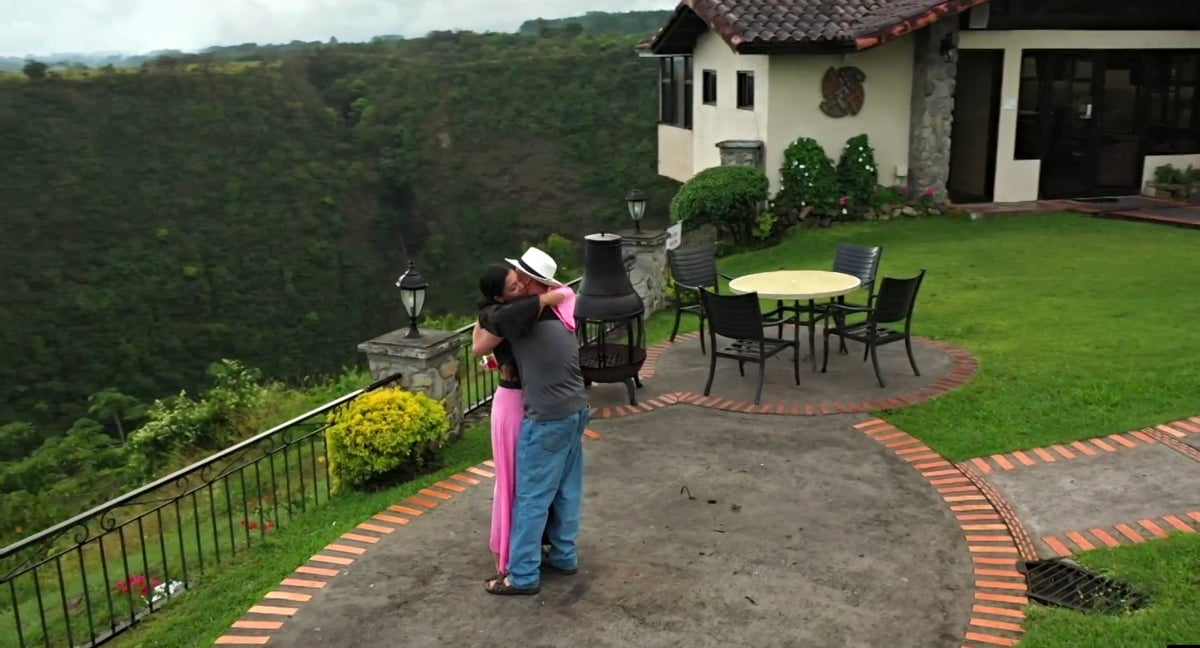 Gino asks Jasmine to marry him
Five days before Gino has to go back to his old life in Canton, Michigan, he decides it's time to pop the question to Jasmine. Earlier this season, he asked Jasmine's mother for her permission and blessing for their marriage. Then, he bought an engagement ring, hoping to get engaged to her on this trip to Panama.
On the last day of their trip to Jasmine's hometown, Chiriqui, Panama, they spend the day in the hot springs. Later in the day, Gino and Jasmine take a walk in the rain overlooking the hills and mountains. Gino gets down on one knee and proposes to Jasmine.
He says, "Jasmine, ever since I met you on March 8, we've had such an amazing connection together, ever since that day. You make me feel very loved. I've never felt so loved before like you love me. And you make me the happiest man. So, Jasmine, will you marry me?" She replies, "Gino, of course, yes!"
Jasmine's engagement ring
Gino places his engagement ring on her finger. Jasmine's engagement ring has a gold band and a diamond. As fans recall, this is the ring that Gino bought for $270 in a previous episode.
When asked about the ring after the proposal, Jasmine awkwardly admitted that she didn't like the ring. Gino asked her, "Do you like it?" She replied, "I mean, it's a beautiful ring. I love it. I like it. But maybe because I know my fingers, they are so skinny. This is kind of big."
She tells him, "I don't know if it is a diamond or not." Gino admitted he didn't remember if the engagement ring was a real diamond or not. She said, "It screams Gino, this ring. That's why I love it. It screams Gino."
What's next for Jasmine and Gino?
Gino admitted, "Jasmine and I have been through a lot of craziness in the last 10 months, but here we are, and she said yes." He said, "She's like one in a billion, trillion. So I'm the luckiest man, you know?"
He admits, "I know there's still a lot of work to do for me to bring Jasmine over to the USA, but this is the first step in a long road. And I'm glad we are, you know, on that path together."
As fans know, Gino is eager to start a family with Jasmine. However, Jasmine has hesitation about having children immediately with Gino, especially not before marriage.
There have been rumors that Jasmine is already in the US with Gino. However, fans will have to keep watching to find out more about Gino and Jasmine's relationship. 90 Day Fiancé: Before the 90 Days airs Sundays on TLC and discovery+.
RELATED: '90 Day Fiancé': Johnny Takes Full Responsibility for Ella's Cheating in Instagram Post