'90 Day Fiancé: Happily Ever After' Tell All: Colt Admits He Cheated on Jess With Vanessa
Colt Johnson and Jess Caroline talked about their relationship for the first time since their split on the 90 Day Fiancé: Happily Ever After Tell All special. And after Jess asked him to be honest, Colt finally admitted he cheated on her with Vanessa Guerra.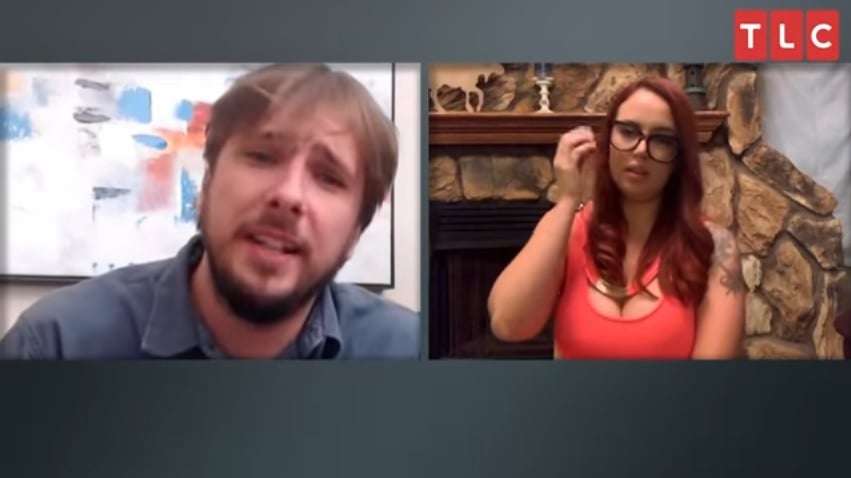 Earlier this season on '90 Day Fiancé: Happily Ever After,' Colt denied having feelings for Vanessa
Very early on in their relationship, Jess suspected Colt was hiding something. After seeing multiple texts on his phone from Vanessa, she wondered if he was cheating on her.
"He says he won't hurt me, but there's a woman that calls him all the time," Jess told her friends in an early episode. "He says she's a friend from the gym."
When Jess questioned Colt, he told her that Vanessa was just a friend. And when she remained suspicious, he pretended to stop talking to Vanessa altogether.
RELATED: '90 Day Fiancé: Happily Ever After' Tell All: Colt Accuses Jess of Throwing Around Sex to Manipulate Men
"I've been friends with Vanessa since I was going through my divorce with Larissa," Colt told 90 Day Fiancé: Happily Ever After producers. "We started talking online about my troubled marriage, and she was there to help me through it. Jess has never met Vanessa, but I think she thinks I'm having an affair with her."
Colt revealed his relationship timeline with Vanessa
Earlier this season on 90 Day Fiancé: Happily Ever After, Colt admitted to sleeping with Vanessa before dating Jess. And by the end of the season, he asked Vanessa to move in with him.
Jess ultimately dumped him after discovering his web of lies. And the two reality stars finally hashed out their issues during the Tell All special.
Colt presented a timeline of his relationship with Vanessa. And he revealed that he met her while he was still married to his ex-wife, Larissa Dos Santos Lima.
RELATED: '90 Day Fiancé: Happily Ever After' Tell All: Larissa and Jess Tell Colt He's a 'Liar and a Cheater'
"So she reached out to me probably after Larissa's second arrest — it was a big deal on social media," Colt said. "At first, I ignored her. She commented on my post. I definitely knew she wanted something, so I was like, 'OK, whatever.' But it wasn't until after Larissa and my marriage even further deteriorated that I started talking with Vanessa."
Colt explained that he and Vanessa talked a lot about their previous marriages. And after some time, he decided to ask her out. When Vanessa refused his offer, Colt said he started dating Jess.
On the '90 Day Fiancé: Happily Ever After' Tell All, Colt admits he cheated on Jess
Colt previously suggested that he only slept with Vanessa before dating Jess. But during the 90 Day Fiancé: Happily Ever After Tell All, he revealed that there was more to the story.
When host Shaun Robinson directly asked Colt if he slept with Vanessa while dating Jess, he finally admitted that he cheated. "OK, after I came back from Brazil, I cheated on Jess with Vanessa," Colt said after Jess pleaded with him for honesty. "I'm sorry, Jess."
Seemingly vindicated, Jess called Colt a "liar." And she suggested that Vanessa and his mother, Debbie, were enablers who helped him deceive her.
After rehashing their issues, the two may finally be able to put their relationship drama to rest. Jess has now moved on with a new man. And Colt still seems to be doing fine at home with Debbie.