'90 Day Fiancé': How Angela Deem and Michael Ilesanmi Both Proposed to Each Other
Fans are first introduced to Angela Deem and Michael Ilesanmi in season 2 of 90 Day Fiancé: Before the 90 Days. Since that time, they've made their way into the hearts of many fans.
One of the most memorable moments between the couple happens on Angela's first trip to Nigeria. She decides to propose, and Michael does as well almost immediately after. We've compiled all the details below from the special moment.
Angela Deem and Michael Ilesanmi talk about what life will be like when Michael gets to America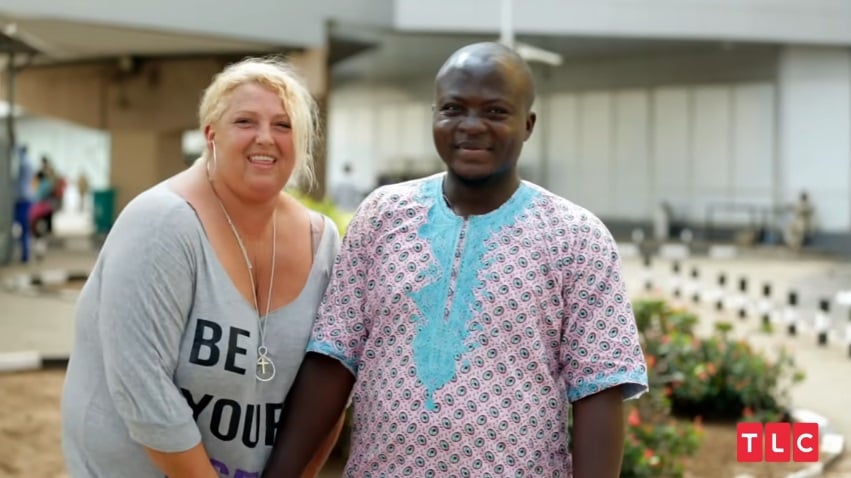 Angela and Michael obviously have a connection, but there's also a lot of drama between them, which makes for entertaining television. Even Angela's first visit to see Michael is far from uneventful. In episode 9 of season 2, Angela and Michael go out to a restaurant and discuss what life is going to be like in America together.
"I haven't made up my mind to marry Michael at this point, because I have had dishonesty from the start of our relationship," Angela tells the cameras. "It just took the feeling away. Even though I've forgiven Michael, if we're having problems now, what's going to happen when we get married?"
Angela asks Michael to tell her one of the things she doesn't like, and he says, "You don't like lying. And also cheats."
Angela goes on to explain that things are different in Hazlehurst, Georgia compared to Michael's native Nigeria. "The bottom line is I live a boring life, Michael," Angela tells him. "My neighborhood is nothing like your neighborhood. I live in the country. Nothing's rushed but me going to work. That's rushed. Getting the kids ready, getting Mama done. It's gonna be boring Michael."
Michael tells the cameras that he thinks they may end up arguing a lot. "If I move to the States with Angela, it's quite different from here in Nigeria," Michael tells producers. "I'm not sure yet, but I think we're gonna argue 'cause of the differences. But, she makes me feel so special and makes me feel like a real man."
Michael says he has "concerns," and he explains that he wonders how he will "relate" to Angela's family. "But trust, me, I know what I'm putting myself into," Michael assures her. "And I'm ready for it. I'm so ready for it."
Angela proposes to Michael
Angela admits that she is afraid of making the wrong choice. "Either way, if I say no, I'm scared I let a good man go. And if I say yes, I let somebody that don't love me come into my life," Angela says. She tears up a little, and Michael says that he knows what she's gone through, and he tells her to "believe" in him.
"I better not be making a mistake, Michael," Angela tells him. "I love you. And I know you love me. And I can see it in your eyes." Suddenly, Angela pulls something out of her shirt, and Michael asks what it is.
"That's the American flag Michael," Angela says. "It means you're going to America." Inside the small American flag is a ring for Michael, and he smiles and goes over to Angela to embrace her. They are both clearly elated, and Angela says, "Don't f*** it up."
Angela puts the ring on Michael finger, and tells him that they're engaged now. Michael hugs her again, lightly shaking her with happiness. "You don't know how happy I am," Michael tells his fiancé.
Michael proposes to Angela as well
But it doesn't stop there. Michael says he has something for Angela, and he pulls out a ring from his pocket. He gets down on one knee, and asks Angela if she'll be his "woman." Angela laughs, and holds Michael's face in her hands, telling him to get up. He says he wanted to "surprise" her, and he puts the ring on her finger. Angela gets down and kisses her fiancé.
The couple has now both proposed to each other, and they are officially engaged. It's a beautiful moment between them, which leads to them eventually getting married together in Nigeria.