'90 Day Fiancé': How Does Ariela Really Feel About Biniyam After Learning He Has an American Ex-Wife and Son?
When it comes to couples on 90 Day Fiancé, many of them have major red flags that they ignore throughout the relationship. This season, the show is following Ariela as she moves to Ethiopia to give birth to her first child and be with her boyfriend Biniyam. Sounds romantic, right? Only, this isn't Biniyam's first time at the rodeo. In fact, he has married and had a child with an American woman before. For Ariela's family, the similarities between her and Biniyam's ex-wife are a huge warning sign. But how does Ariela feel?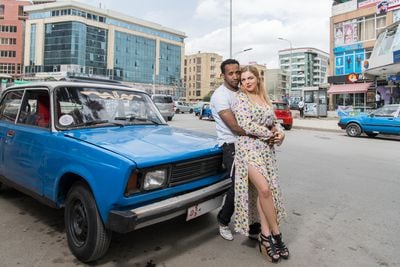 Ariela and Biniyam's relationship
On the show, Ariela describes herself as a bit of a wild child. After going on a trip to Argentina, she decided to stay in the country. There, she met her first husband Leandro and brought him to the United States with her. She had to marry Leandro in order for him to live in America. They were married for 10 years but were separated for the last three years of the marriage.
"I was young and immature and I definitely rushed into a responsibility that I wasn't ready for," Ariela said on the show.
After her divorce, Ariela was ready to travel the world. She found cheap flights to Ethiopia and booked a ticket.
"I was waiting for a taxi outside a local hotel and I saw a very attractive guy. I yelled out, 'Don't I know you from somewhere?' and it actually worked," she said of how she met Biniyam.
The couple began spending time together and after just three months of dating, she found out she was pregnant. She then went back to America for prenatal care.
Biniyam's first wife
On a recent episode of the show, Ariela revealed that her relationship with Biniyam was very similar to his first marriage. His ex-wife also got pregnant pretty early on in their relationship. She ended up moving back to America with Biniyam's child. Since then, Biniyam has not seen his son face to face.
This revelation worried Ariela's family. Her brother expressed concern that Biniyam could be using Ariela for a green card.
What does Ariela have to say to critics?
Ariela knows that her and Biniyam's story is strange but she still trusts that her partner is a good person.
"Biniyam is really an amazing guy," she told Entertainment Tonight. "Anyone who meets him really likes him the first time that they meet him. He is a very kind person and that's what I noticed at first. Of course, the first thing I noticed is he's a very attractive guy. He has a personality that I think people will really connect to."
But she does admit that when she moved to Ethiopia, she didn't know much about Biniyam.
"You know, in a way it's true, I barely even knew him, but at the same time, when you meet someone and you have that connection, you can feel like you know someone even if it's only been a couple of months," she said. "I decided that I wanted to try at least the experience of being together because I really wanted to start my own family."
But even if it doesn't work out between her and Biniyam, Ariela doesn't think she will regret the relationship.
"I got a baby boy out of it, so, it didn't go too bad," she told the outlet. "The other thing I'll say is, you know, in relationships, whether you end up with the person forever or not, you definitely learn something from them and you grow as a person and you learn something about yourself, so, I don't think it's a loss either way."