'90 Day Fiancé': Is Darcey Silva's Relationship With Georgi Rusev Already Ending?
90 Day Fiancé star Darcey Silva has become something of an icon for the show. The reality star has had two failed relationships on the show, but she continues to look for love, "keeping her eyes on the prize" as she might say. In fact, TLC decided to give Darcey Silva and her twin, Stacey Silva, a spinoff of their own — Darcey & Stacey. Now, Darcey seems to have found love again with her Bulgarian beau Georgi Rusev, to whom she just got engaged. However, a recent Instagram post and subsequent comment has fans wondering if their relationship might already be on the rocks.
Who is Georgi Rusev?
RELATED: '90 Day Fiancé': Fans Praise Darcey Silva After She Stood Up for Rose Vega
Darcey Silva was left in something of a tailspin after her breakup with Tom Brooks on 90 Day Fiancé. However, being Darcey Silva, she wasn't ready to give up on love yet. In fact, as one of Silva's own friends said on Darcey & Stacey, the reality personality "loves love."
Silva eventually ran into Georgi Rusev, a Bulgarian model — already he ticks off two of her major boxes. The two met during the Super Bowl in February 2020, and took a massive step forward when quarantine struck. The two stuck it out together, and their love seemed to blossom in turn.
However, there was some trepidation from Darcey Silva when she learned that Georgi Rusev was still in the process of getting divorced from his last wife.
"My soon to be ex-wife, we met in the modeling event four years ago. We like each other. We dated maybe six, seven months, before I propose. In the beginning was great. We get to point where we kinda, we cannot stand each other. We have old arguments and problems. We separate more than a year ago," Rusev explained during an episode of Darcey & Stacey.
Darcey Silva and Georgi Rusev announce engagement
Despite Georgi Rusev's ongoing divorce, the two decided to move their relationship forward. Or at the very least, Rusev decided when he proposed to Darcey Silva. 90 Day Fiancé fans seemed largely happy for the reality television star, who has had so many ups and downs during her time on the show.
Rusev popped the question after a romantic boat ride, and Silva thew her arms up in the air in excitement when she accepted.
"He's someone who has a different demeanor than the last two, thank God. For me, I feel like I get to honor myself and say what I want in a relationship. He's very patient with me, calm and so understanding and we have a lot of fun. I mean, let alone, he's a hot, sexy Bulgarian guy, who wouldn't want that?" Silva told Us Weekly of Rusev.
Instagram comment leaves '90 Day Fiancé' fans curious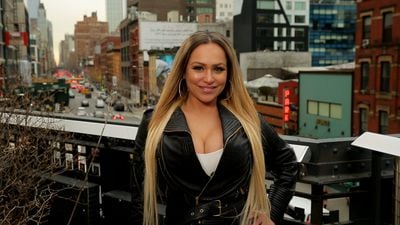 While 90 Day Fiancé fans were initially thrilled to see Darcey Silva seemingly in love with a man who cares, things may have taken a turn for the worse. A recent interaction on Instagram has fans wondering if the relationship might already be on the rocks.
Georgi Rusev shared a photo of the pair on their first date to his Instagram. Darcey Silva, however, did not seem pleased to see it posted.
"Well body language tells all. I tried and rather not be in this picture," commented Silva on the post. She then added, "Please take me off your page. Thank you."
John Yates captured the now-deleted comment, which can be found here. The pair have also stopped following one another on Instagram.
Additionally, Silva recently posted a photo of herself with a new haircut on her Instagram. She captioned it, "Short hair and don't care! Love is in the hair! Loving it! I deserve the best and will not settle!"
This left many fans wondering if something had gone awry with Rusev. She has since deleted the last portion of the caption, ending it after "Loving it!"