'90 Day Fiancé': Is Evelin Villegas Fed Up With Corey Rathgeber Drinking?
90 Day Fiancé fans have been through so many ups and downs with Corey Rathgeber and Evelin Villegas that it's become the norm. Their relationship always seems to be on choppy waters. Whether it's suspicions of cheating or drama with other cast members, the couple always seem to have something brewing. Now, things are coming to a head once again. This time, Villegas seems to have had enough of Rathgeber's relationship with alcohol — one that she deems unhealthy. 
Evelin Villegas calls out Corey Rathgeber
Evelin Villegas doesn't seem to have any qualms about discussing Corey Rathgeber's personal life on her Instagram page. The 90 Day Fiancé star took to her Instagram story to discuss an unnamed person's struggled with alcohol, but it seemed clear to fans she was discussing Rathgeber. 
"It's not healthy to keep trying to fix someone. For the last 2 years I've been trying. It's emotionally and mentally draining. Addicts can only get better if they seek for help. They not only destroy their life but the ones around them as wells," Villegas wrote in part. 
"I can't with him anymore. I really can't. His family that always check my stories please this time reach out to him!"
The reality star then added another slide in which she went into further detail about the unnamed person's behavior. 
"It's embarrassing and sad to share this and I don't make this public to play a victim in here. I do it because he cares about what's public, he pretends and lies about his alcohol issues, he thinks that if it's secret it doesn't exist but the true is that is a real problem and I'm not an expert…," she added. 
Corey Rathgeber replies on Instagram
Corey Rathgeber took to his Instagram page to push back on the story, as well as whatever reaction he was receiving from fans. The 90 Day Fiancé star insisted that all is well with him. 
"I am a very happy and healthy individual. However, I appreciate the concerns directed towards me. Please know everything with me is completely okay," he wrote. 
Rathgeber has been arrested in the past for driving while intoxicated. He was pulled over in Washington during November of 2019, and police found he had a blood-alcohol level of .133, over the Washington limit of .08.
As reported by Screen Rant, Rathgeber failed sobriety tests when pulled over, and seemed confused as to what was going on at the time.
'90 Day Fiancé' fans react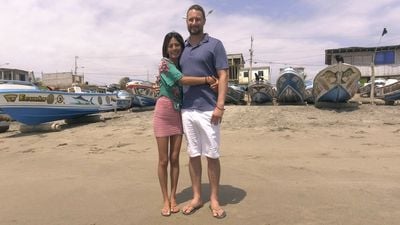 90 Day Fiancé fans seem concerned for Corey Rathgeber. Others feel as if Evelin Villegas shouldn't be airing his dirty laundry. 
John Yates shared a screenshot of both Villegas' story and Rathgeber's reply. One fan suggested that Rathgeber's loss of his father may be part of the issue. "Corey has probably been drinking since he lost his father," they posited.
"Yikes…I kinda feel she threw him and a very private matter under the bus. It's not our business and it's his choice to make it public," noted another commenter.
"She truly shouldn't out his addiction like this if it doesn't in fact exist. It's not her story to tell. If she truly wanted to help him, she would seek avenues that would actually be helpful instead of exposing him and his problems to a platform that could potentially make things worse," wrote another fan of the show. 
How to get help: In the U.S., contact the Substance Abuse and Mental Health Services Administration helpline at 1-800-662-4357.