'90 Day Fiance': Is Nicole Nafziger Finally About to Reunite with Azan Tefou?
When the couples of 90 Day Fiance get together, they already know that they have a lot of obstacles that they will have to overcome to stay together. One of the biggest ones is obtaining a visa so that they can be together in America. When the visas are not obtained, the couples have a harder time staying in a relationship.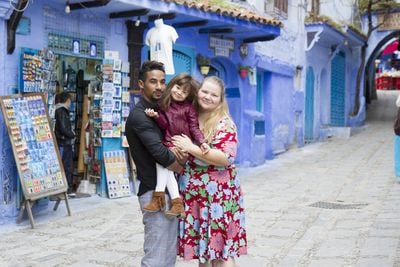 Nicole Nafziger and Azan Tefou have been together for over three years but Tefou has yet to move to America. Fans have doubted if the two's relationship is real as they have postponed their wedding before and Tefou has canceled Nafziger's trips to see him. But, new Instagram evidence shows that Nafziger may finally be about to see her long-distance boo again.
Is Azan in the relationship for the money?
When Nafziger and Tefou first appeared on 90 Day Fiance, people wondered if the relationship was real. As soon as Nafziger came to visit Tefou in Morocco, he was cold to her and barely touched her. Throughout their relationship, it has seemed like Tefou was not really into Nafziger.
Calling off the wedding
Tefou and Nafziger called off their wedding for the first time in June of 2018. They still stayed in contact once Nafziger was back and had plans to get married the next year.
"She's sticking around for her sister's wedding in June then going back to Morocco," a source close to Nafziger told Radar Online at the time. "Her intentions are to get married while she's over there."
"They Skype," the source continued. "She wants to bring him back to America."
But later, they called off their wedding for a second time.
When asked in an Instagram Q&A why she and Tefou called off their wedding, Nafziger said it had nothing to do with her relationship.
"Too much pressure not enough time or money," she said. "You can't rush this kind of stuff. Do it in the right moment and it wasn't the right moment yet."
Is Nicole about to visit Azan?
Since the couple decided to leave 90 Day Fiance, people have wondered if they are still together. According to Nafziger's Instagram, they are still going strong.
"Soon it will be four years and it's crazy how much we've been through," Nafziger wrote in an Instagram post of the two of them facetiming. "Ups and downs, rumors, tears, fights, love, connection, faith, love. We've been through it all. All the time we are getting stronger as a couple and understanding more of each other. Our journey is longer than others but that doesn't make it less true to each other. Just means we get stronger along the way. One day we'll never have to leave each other's side and it will be amazing. Until then I'll continue to support you as you support me. I love you." 
And fans think that one of Nafziger's most recent posts could mean that she is planning a trip to see her Moroccan lover.
"Bed hair don't care," she captioned a selfie. "Do you have any trips/vacation coming? Where are you going? I have a trip coming up and I'm so excited."
She did not specify if this trip was to see Tefou or not, so we'll have to stay tuned to her Instagram for updates.