'90 Day Fiancé': Is Sumit Lying to Jenny Slatten All Over Again? Fans Weigh In
Some '90 Day Fiancé' fans suspect that whatever Sumit may be saying about his divorce, he's lying to Jenny Slatten all over again.
90 Day Fiancé couple Jenny Slatten and Sumit shocked fans with their storyline on the franchise. And, according to producers, the storyline was a shock to them as well. Now, with The Other Way coming to fans once more with Jenny and Sumit, fans are wondering if it's going to be more of the same. Sumit claims he has filed for divorce, and Slatten is headed to India to be with him again. But is he telling the truth?
Sumit lied to Jenny Slatten
90 Day Fiancé star Sumit was keeping a huge secret from his American partner, Jenny Slatten. In a turn of events that scared and shocked Jenny Slatten, Sumit revealed he was already married. 
Everything came to a head when Sumit's wife's father arrived at the apartment he was sharing with Slatten. The man came to the door with Sumit, and said to Slatten, "Hello, Jenny. How are you? I'm Sumit's wife's father."
"What happened was worse than anything I could have ever imagined," Slatten told producers. "It's like you're having a nightmare and you wake up and it's true. That's what it felt like."
Producers were not on the scene when the altercation happened, but Slatten claims it wasn't long before the apartment was filled with Sumit's family, as well as his wife's family. Apparently Sumit looked ready to fight as they cornered him and eventually dragged him away. 
At the time, Slatten told producers, "They're threatening to put him in jail. I didn't know he was married, how can I get in trouble for it? I just found out too! I was scared. I don't know the Indian laws."
'90 Day Fiancé' producers say the moment was real
While some 90 Day Fiancé fans weren't convinced that what went down wasn't scripted, the producers claim it was absolutely real. Apparently, they were just as shocked as Jenny Slatten when they found out what happened with Sumit's family. 

Alan Orstein, the senior VP of production and development at TLC, told E! News, "I will say for us, and maybe because it's just still fresh in mind, but when we found out that Sumit was married, that really caught us off guard. And I remember vividly where I was in the office when I heard about it and talking about it on the phone with our production partners, Sharp. It was definitely a moment." 
"So, we quickly scrambled a crew and got them out there because we thought it was a very relevant and important part of the story to tell, provided everyone was still OK participating and telling that story. And that definitely was probably one of the most shocking moments, at least in recent memory on the franchise." Orstein added.
Is Sumit lying to Jenny Slatten all over again?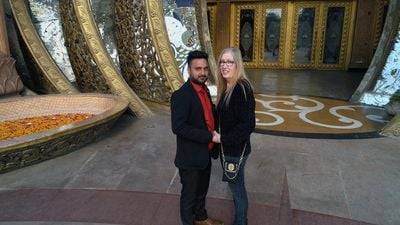 Since everything went down on their first season of 90 Day Fiancé, Sumit has claimed that he is filing for divorce from his wife so he can stay with Jenny Slatten. However, fans aren't so sure that Sumit is telling the truth.
One Redditor has suggested that per Indian divorce law, there's no way Sumit would have had enough time or resources to be anywhere near a completed divorce. The Redditor claims that mutual divorce in India requires that the couple has been apart for a year, minimum. 
They wrote, in part, "Ignoring the fact that he wasn't formally separated from his wife, if we take this period as sufficient to initiate the divorce process, then he would only be able to START the filing process around the time filming began in 2019. He would not be close to the end as he claims. And that's IF Sumit can actually pay for these lawyers and processes, something that is not guaranteed given that he wasn't working for 6+ months. It may not even be in his financial interest to do so given the financial consequences of paying maintenance to his wife."
One commenter suggested, "He might actually have a pathological lying problem, which is a serious personality disorder."
"Yeah, I agree. He's totally lying and Jenny is aware of it…at least subconsciously. He keeps stalling to no end. I can't stand his guts," added another user. Others weighed in to suggest that Slatten is aware of Sumit's lies.