'90 Day Fiancé': Jenny Slatten Has a Message for All of Her Haters After 'The Other Way' Premiere
As one 90 Day Fiancé door closes, another opens. Before the 90 Days may be over but 90 Day Fiancé: The Other Way has already premiered and the drama is already in full swing. On the first episode, we were introduced to several couples with interesting relationships, but perhaps the most interesting one was that of returning couple Jenny Slatten and Sumit. After last season, fans thought they had seen the last of the couple. But now that they are back for another round, fans are starting to question Slatten's decision-making skills.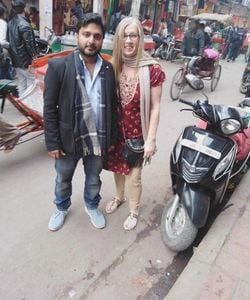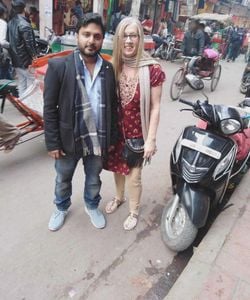 What happened between Jenny and Sumit?
Slatten and Sumit's relationship was weird from the start. When they first started talking, Sumit was using someone else's photos and pretending that he lived in England. Eventually, he came clean about who he really was and Slatten forgave him. Slatten eventually cashed in her 401k and used up all of her savings to go and live with Sumit in India. When she got there, she found out that Sumit did not want his parents to know about his relationship with her so he continued sleeping at his parents' house.
Later, Slatten discovered that Sumit was actually already married and he had to return home to his wife. When Slatten left India, she thought her relationship was over, but Sumit managed to win her back.
"I forgave him," Slatten said on the show. "He never wanted to be with his wife in the first place. It wasn't his choice."
She is now returning to India under the assumption that Sumit has filed for divorce.
"He's proven to me that he wants to be with me. I am the one that he loves," she said.
What do the critics say?
Fans were relentless in their judgment of Slatten and Sumit.
"Jenny's never met a bad idea she didn't like," one person tweeted.
"Sumit STILL has no job," another person said. "Jenny STILL barely has any money. Sumit is STILL lying. Jenny is STILL stupid I……just……..*cringe*."
Others criticized Slatten's financial decisions.
"Jenny wants to go to India where she can't get a job to be with her married boyfriend who's unemployed," one fan said.
"Really Jenny," another fan tweeted. "Sumit caused you to give up everything. Now you're going to mess up your social security."
What does Jenny have to say to her haters?
Slatten and Sumit know that a lot of people doubt their relationship, but they really aren't concerned about what others say.
"It's gonna happen regardless," she said at a recent press conference of having haters. "It's really difficult for us. We just love each other … we don't pay attention to those around us. It doesn't matter and we just don't pay attention to it. Of course, there's haters, but we just want people to understand that we love each other regardless of our age difference, our culture and background — Indian, American — it doesn't matter.
"We're in our own little bubble," she continued. "We don't even pay attention to it. Trust us, we know there's a lot [of critics]."