'90 Day Fiancé': Jess' New Husband Has a Weird Connection to Colt's Ex-Wife Larissa
Colt Johnson's ex-girlfriend, 26-year-old Jess Caroline, officially announced her marriage to 26-year-old Brian Hanvey on TLC's recent 90 Day Fiancé: Happily Ever After Tell-All, hosted by Shaun Robinson.
Jess called Hanvey, a Michigan-born indie musician who now lives in Las Vegas, a major "upgrade" from her ex. And, as it turns out, Jess was introduced to her new husband by none other than Carmen, Larissa Dos Santos Lima's close friend and former roommate.
The connection between Jess, Hanvey, and Colt's ex-wife doesn't stop there. Larissa and her boyfriend, Eric Nichols, even starred in one of Hanvey's music videos in 2019.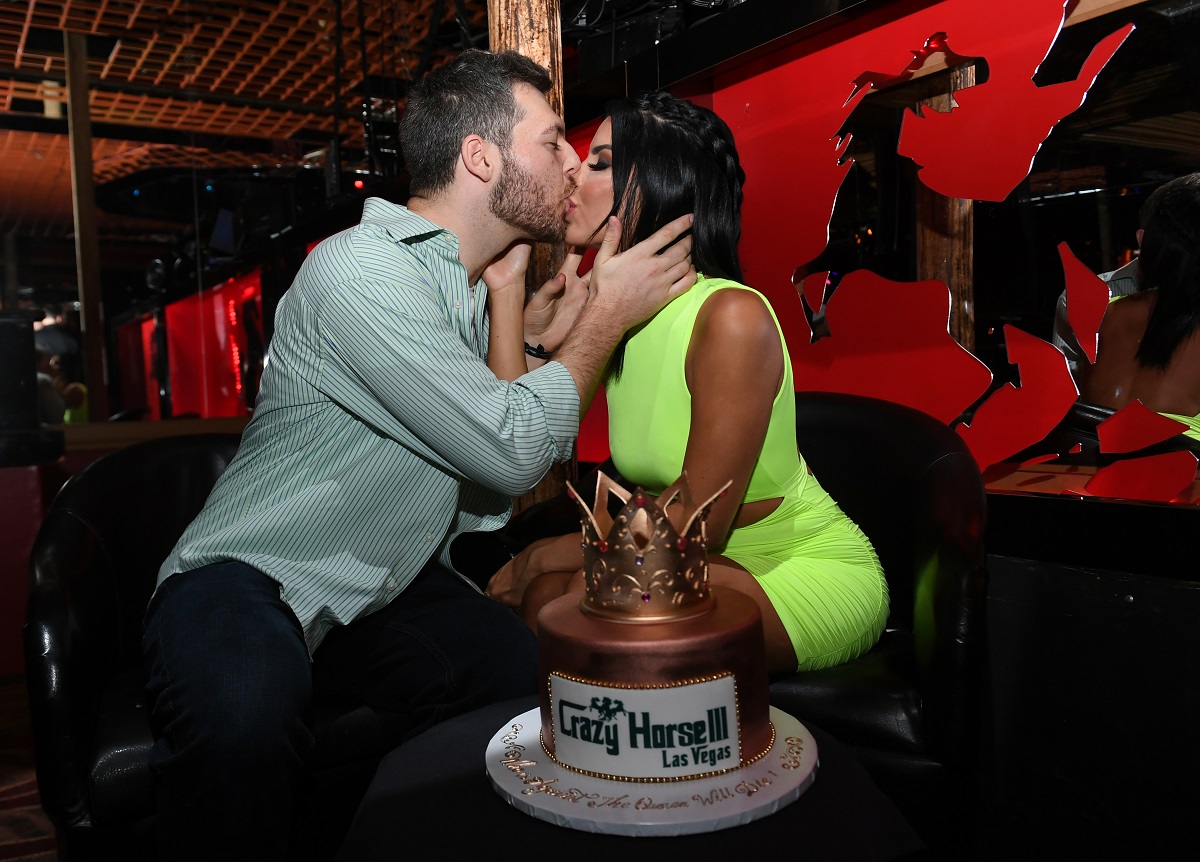 Jess introduced her new husband on the '90 Day Fiancé' Tell-All
On Part 3 of the 90 Day Fiancé Tell-All, Jess proudly introduced Hanvey to Colt and her fellow castmates. She married Hanvey just six weeks after her tumultuous breakup from Colt.
"Look at my upgrade!" she exclaimed, showing off her man, her ring, and her wedding photos.
Colt's ex-girlfriend claimed she'd been "heartbroken" by their relationship, especially due to his many infidelities – including an affair with Vanessa Guerra, his friend and former hookup. By contrast, Jess bragged, Hanvey was the ideal man.
"Brian, he is the man support me, make me happy every single day," Jess gushed, saying he was "loyal" and honest. "He's not a guy who needs to talk to a lot of women [to] feel better," she added.
Hanvey and Jess met through Larissa's friend Carmen
After the 90 Day Fiancé Tell-All aired, Hanvey and Jess shared sweet photos of their August 1 waterfront wedding.
"Couldn't have hoped to meet someone like you in my wildest dreams," Jess captioned an Instagram photo in which her husband gazed at her adoringly. "So happy I'm spending the rest of my days with you!" The couple wore matching red Converse sneakers to complement Jess's short white bridal gown and Hanvey's suit and red tie. A sprig of baby's breath completed Jess's unique wedding look.
Colt's ex-wife, Larissa, was one of the first to congratulate the newlyweds, both on social media and on the Tell-All. Larissa and Jess became good friends after bonding over their shared relationship problems with Colt. So it's no wonder that Larissa's friend, Carmen, wanted Jess to find love after her heartbreak.
Jess revealed to Robinson on the Tell-All that Larissa was effectively responsible for her relationship with Hanvey, as Carmen was the one who initially set up the pair.
Larissa previously starred in Hanvey's music video
Alongside his wedding photos, Hanvey released an original acoustic song, "Love Me 'Til You're Old," that he penned for his bride. But while he referred to their relationship as "fate" in the song's romantic lyrics, it seems that Larissa and Carmen had quite the hand in Hanvey and Jess's fate.
In fact, Larissa wasn't just Hanvey's acquaintance: They actually worked together before. Larissa and Eric starred in Hanvey's music video for his original song "If I Scream in My Sleep." In the steamy video – which featured plenty of poolside lounging, revealing outfits, rolling around in bed, and intimate makeout scenes between Eric and Larissa – Hanvey played Larissa's boyfriend, whom she abruptly dumped for Eric's character.
The music video dropped on August 2, 2019, which certainly doesn't seem like an accident. Larissa's ex-husband, Colt, had just starred in a music video himself – "Miss U 1000000" by Alex Winston. Winston's video was released just one day earlier, making the timing seem rather coincidental. Colt and his mom, Debbie Johnson, parodically skewered his ill-fated relationship with Larissa in Winston's video.
Given Larissa and Hanvey's history, it certainly doesn't seem impossible that Jess, Larissa, and/or Eric could collaborate again. Whether their potential collaboration would be 90 Day Fiancé– or Colt-themed remains to be seen.