'90 Day Fiancé': Jorge Nava Is Allegedly Getting Released From Prison Just After Mother's Day
Jorge Nava, who hails from California, and his Russian wife, Anfisa Arkhipchenko Nava, first debuted their tumultuous relationship on TLC's 90 Day Fiancé Season 4.
Anfisa and Jorge famously fought over everything from jealousy to money. But, despite fans' skepticism about Anfisa's authenticity in the relationship, Jorge was harboring a few dark secrets of his own.
The 90 Day Fiancé star already had a criminal record due to his burgeoning medical marijuana business, which wasn't legal in his area at the time. But when he was caught with nearly 300 pounds of marijuana in his car in 2018, he was sentenced to two and a half years in prison. He's now served out most of his sentence in Arizona.
According to 90 Day Fiancé blogger John Yates (@johnyates327tv), Jorge is slated for release in May 2020, months earlier than he expected to get out.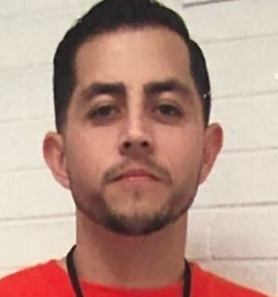 A '90 Day Fiancé' blogger revealed Jorge's alleged release date
Jorge was arrested in Feb. 2018 on marijuana-related charges and sentenced that fall to two and a half years behind bars. The former 90 Day Fiancé star has been serving out his sentence as a garbage man in an Arizona prison. But due to good behavior, it looks like he'll be getting out several months earlier than he expected.
Yates was able to snag a screenshot of Jorge's impending release date, which is set for just after Mother's Day on May 11, 2020.
It's clear that Jorge would like to keep his reality TV fame going, despite his incarceration and his breakup with Anfisa. In Mar. 2020, Jorge reached out to his followers on Instagram with a rare post from prison.
Showing off his nearly 128-pound weight loss, the Californian wrote, "Hey everyone, so glad to be on Instagram now to be able to connect with you guys! Praying for everyone that's being affected by the coronavirus. I know it's a tough time for everyone right now. And we're all going through it. We just have to stay strong and positive and together we will get through it. Stay healthy, stay safe out there. Can't wait to be with you guys again soon!"
The '90 Day Fiancé' star recently opened up about life in prison
In recent months, Jorge has opened up about what it's really like to be behind bars.
On the recent TLC special, 90 Day Fiancé: Self-Quarantined, Jorge said his life as an inmate was "boring" and "lonely." Still, he'd kept mostly to himself and stayed quietly productive, especially amid the coronavirus crisis, which frightened him and many of his fellow incarcerated buddies.
What's more, the TLC star claimed he'd gotten plenty of love letters from fans while he was in prison, which must have helped to temper the sting of loneliness. And while he said he was open to finding love again, he made it clear that his first priority was getting his own life together after his release.
As for Jorge's relationship with Anfisa, that ended not too long after he was incarcerated.
Entertainment Tonight reported that he said his wife had even started a fight with him the night before he had to report to jail to start his sentence. After his sentence began, she allegedly broke things off with him quickly.
"Probably about two months after I was in prison, she basically told me that she couldn't be with me anymore," Jorge claimed. "She wishes I got 12 years in prison, basically trying to get rid of me. We still talked on the phone. I tried to work on the relationship no matter what. I tried."
Jorge also claimed to have found out that Anfisa had moved on with a new man from the news and fellow inmates rather than directly from her. He said this "hurt" him so deeply that he was sure he wanted to file for divorce after he was released.
In turn, his estranged wife called him a "vindictive little boy" and insisted that she hadn't cheated on him before she let him know she was moving on. Anfisa told In Touch Weekly that Jorge was jealous of her success in her career and angry that she was living happily without him.
Still, it seems like Jorge is trying to maintain an optimistic outlook on his life as he gets ready to reintegrate into society and work to launch a new career. "I'm trying to build a positive image for everybody," he told In Touch Weekly in a recent interview. He added that even in the "darkest time in life, it's still good to have hope, because the light at the end of the tunnel will definitely come in."
Anfisa appears to have moved on from Jorge
As for Anfisa, she doesn't seem to be too concerned about her ex's impending release from prison. After marrying Jorge, Anfisa became a U.S. citizen, worked on her English skills, and attended community college in California.
The 90 Day Fiancé star has since developed a sizeable social media following in her own right for her fitness, diet, and bikini modeling competition content on YouTube and Instagram, where she has nearly 700,000 followers. Anfisa was certified as a personal trainer through the National Academy of Sports Medicine (NASM) and frequently posts about her workouts.
It looks like Anfisa also snagged a new man, Leo Assaf, who shared a romantic dinner date with her on Valentine's Day this year. In Mar. 2020, Anfisa confirmed Jorge's statement that they had broken things off—although she definitely didn't confirm any of his harsher claims about her.
The personal trainer seems ready to move on with her life and was recently accepted to the University of California, Santa Barbara, for a bachelor's degree program in pre-economics. She hopes to grow her fitness and coaching business.
Meanwhile, Jorge hasn't ruled out a return to reality television. So it seems like we'll be hearing about these two for some time to come.