'90 Day Fiancé': Juliana Custodio Reveals What Tania Maduro Is Really Like
Syngin Colchester and Tania Maduro quickly became one of the most controversial couples on TLC's 90 Day Fiancé Season 7.
Many fans saw Tania as this season's villain because of her attitude towards Syngin, her monthlong trip to Costa Rica during their first 90 days together, and her admission that her South African fiancé is probably not her "soulmate."
Season 7 stars Juliana Custodio and Michael Jessen have also drawn mixed reactions from fans.
While the 23-year-old Brazilian model seemed like an unlikely match at first for 42-year-old Michael, a wine entrepreneur divorced father of two kids, Juliana and Michael have won over many viewers with their obvious affection for one another. Juliana's positive relationship with Michael's ex-wife, Sarah Jessen, also led some 90 Day Fiancé fans to believe the family's love was more genuine than they originally thought.
Juliana, Michael, Syngin, and Tania hung out for Super Bowl weekend together, causing a social media uproar from many 90 Day Fiancé viewers. While fans flocked to the post to insult Tania and call Juliana out for her positive words about her, the new bride wasn't having any of it and responded by defending her castmate.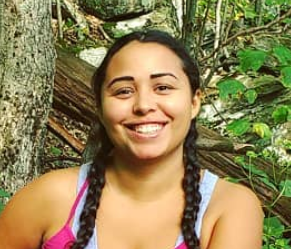 Juliana and Michael hung out with Tania and Syngin for Super Bowl weekend
Juliana took to Instagram on Super Bowl Sunday to praise her castmates Tania and Syngin, who are allegedly now married and filming for 90 Day Fiancé: Happily Ever After in Connecticut.
"Love these people," Juliana captioned a photo of herself with Michael, Syngin, and Tania on the couch. She joked about her serious expression, "And this is my model face 🤣🤣❤️ sorry guys."
Fellow 90 Day Fiancé Season 7 star Emily Larina, Sasha Larin's wife, also jumped into the comments to compliment the group. "You all look great!" she wrote. "I love the model face."
Meanwhile, Tania thanked Juliana for doing her makeup for the day, hashtagging #facebeatbyjuliana in the comments.
'90 Day Fiancé' fans criticized Juliana for spending time with Tania
Many 90 Day Fiancé fans weren't nearly as happy about Juliana's hangout with her castmates as she was. Fans flooded the comments with criticism of Tania and her treatment of Syngin.
"Tania is an a**hole," one Instagram user wrote under Juliana's photo. "I guess Syngin left his balls back home." Another critic agreed, writing harshly, "Can't stand that b**ch!!! He deserves better!!!!"
Another commenter insisted that Tania couldn't have been edited to come across as badly as she did unless she really did have tendencies in that direction. "I know a lot gets edited to fit a certain narrative but you have to admit telling your future husband he's not your soulmate is pretty cold," the 90 Day Fiancé viewer argued.
Other fans were even harsher about the 29-year-old bartender from Connecticut. "Tania is absolutely…and I am not exaggerating…one of the most nasty, mean, cold, delusional and despicable people I have even been so unfortunate to view," one viewer wrote in the comments.
The Brazilian model defended Tania and said she was 'nice'
But Juliana didn't let the criticism slide without defending her new friend. "Tania is nice, I don't know why they make [her] look bad, I liked her," the 90 Day Fiancé star wrote to one critic.
Later, she insisted to another fan, "Tania is nice." While some commenters tried to argue with Juliana and criticize her for spending time with Tania at all, the 90 Day Fiancé star held her ground.
This is far from the first time Juliana has defended herself or other 90 Day Fiancé cast members on social media. She and Michael have both spoken out repeatedly against TLC producers' editing, which they claim misrepresented them and their scenes.
Tania, too, has pushed back against her portrayal on the show, which she says was purposely edited to make her look like a villain.