'90 Day Fiancé': Kalani Accuses Asuelu of 'Making Out With His Mom' When They Meet in New Sneak Peek
Kalani Faagata and Asuelu Pulaa have been struggling quite a bit in their marriage on the fifth season of TLC's 90 Day Fiancé: Happily Ever After.
The 90 Day Fiancé stars and parents of two young boys fought over Asuelu's longing to head to his home country of Samoa for a vacation—during a dangerous measles outbreak, no less.
After a huge fight while visiting Kalani's family in California for their son's second birthday, Asuelu and Kalani came to a compromise. They agreed to visit Asuelu's mother and two half-sisters from American Samoa, who were currently living in Washington.
Kalani had often had tension with Asuelu's family—partly because they often asked the couple for money and didn't attend Kalani and Asuelu's wedding—but she agreed to put it aside to try to make Asuelu feel more at home.
But the tension was palpable when Kalani, Asuelu, and Kalani's sister Kolini Faagata met up with Asuelu's mom. And the awkward moment got even more uncomfortable when Asuelu seemed to share a too-lengthy embrace with her son.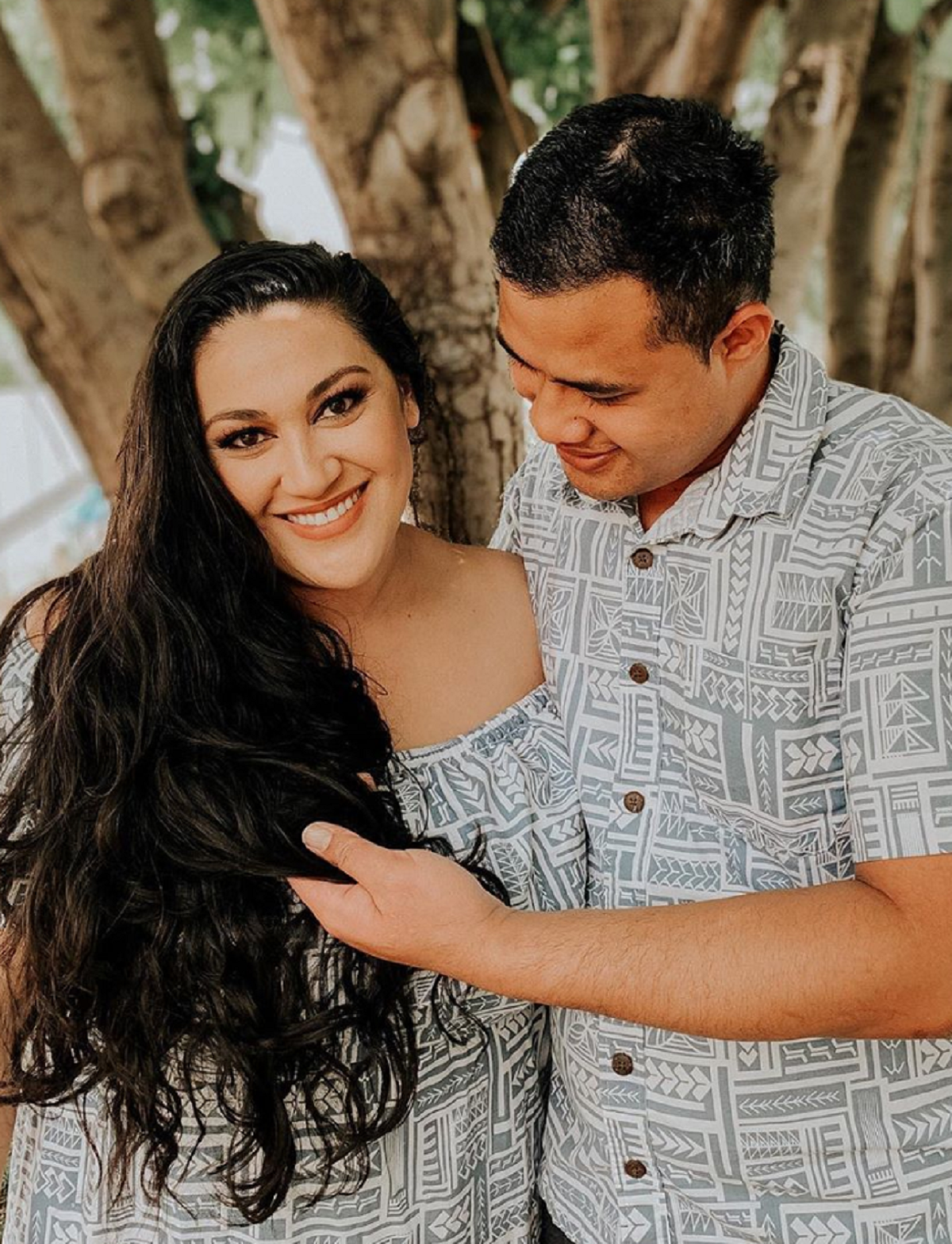 Asuelu and Kolini geared up for an awkward evening together
In a new sneak peek of 90 Day Fiancé: Happily Ever After, Asuelu and Kalani arrived in Washington to visit with his two half-sisters, Tammy and Rosa, and his mom, Lesina.
But, Asuelu explained, his wife would only agree to meet up with his family if her sister, Kolini, came along as well. The 90 Day Fiancé star and dad of two complained that his sister-in-law wasn't a big fan of his.
"I don't think Kolini like me, but I try my best so we can have a good time," Asuelu said, "and no one's gonna be mad at me."
Kolini agreed that her relationship with her brother-in-law was strained at the moment, at best. After Asuelu fought with Kalani on his son's birthday weekend, he locked himself in his room for the better part of the two days he was in California.
"I haven't seen Asuelu since California," Kolini told 90 Day Fiancé producers. "There's just an underlying awkwardness because we haven't spoken."
Kalani, too, had her own concerns about the trip. She and Asuelu's mom and other family members had sometimes clashed, partly because her in-laws often asked her for money.
"I haven't always gotten along with Asuelu's family in the past," the 90 Day Fiancé star admitted.
However, Kalani hoped this trip would be a fresh start for the couple's relationship with Asuelu's family. "I'm just hoping that this meeting goes well and that Asuelu doesn't throw me under the bus," she said.
RELATED: '90 Day Fiancé': Kalani Faagata Accuses Asuelu Pulaa of Trying to 'Buy' His Family's Love in Brand-New Sneak Peek
RELATED: '90 Day Fiancé': Fans Can't Get Enough of Kalani Faagata's Dad
RELATED: '90 Day Fiancé': Kalani's Dad Threatens to Give Asuelu an 'A** Whooping'
The '90 Day Fiancé' star and his mom shared a lengthy embrace
Next, Kalani, Kolini, and Asuelu headed to downtown Portland, Washington, to meet up with Lesina, Tammy, and Rosa.
Things were immediately awkward, as Lesina greeted Asuelu and his young sons, Oliver and Kennedy. She seemed to give Kalani the cold shoulder. Kalani and her sister hung back, looking uncomfortable.
"I missed you so much!" Lesina exclaimed to her son before cooing over the boys. "I'm dreaming every night about you, my boys. I love you so much," she gushed.
Then, things took an even more awkward turn when Asuelu's mom exclaimed "my baby!" and kissed him at length on his cheek. Kalani muttered, "Oh, my god," at the length of their embrace, as everyone else stood around apprehensively.
After Asuelu and Lesina finally stopped kissing and hugging, she told 90 Day Fiancé producers that she was thrilled to finally reunite with her son and grandchildren.
"I'm so excited because it's a long time, I never see my son and his wife, and his beautiful, handsome boys," Asuelu's mom raved.
Meanwhile, Asuelu's sister Tammy told 90 Day Fiancé producers that she wanted to see just how functional (or not) her half-brother's relationship with Kalani was.
"I don't know how their relationship goes, and now they have two kids," Tammy said warily. "So maybe this week we're spending more time, and maybe we can see if they're good for each other or not."
Kalani poked fun at her husband for his kiss with his mother
Like his mom, Asuelu was beyond excited for the reunion.
"I feel so fabulous, I finally see my family, my mom and my sisters," he told 90 Day Fiancé producers in an interview with his wife. "What do you feel, baby?"
Kalani smiled uncomfortably as she admitted, "A little awkward."
Asuelu seemed shocked to find out that his wife thought it had been a tense moment. He asked her what she thought was weird, and she began to good-naturedly tease him about his long hug and kiss with his other.
"You making out with your mom," Kalani joked, imitating the kiss with her husband. "It was lip to lip!"
But Asuelu wasn't laughing. "Mom didn't kiss me like that," the 90 Day Fiancé star insisted. "It was like this," he said, kissing his wife on the side of his lip.
Kalani said skeptically, "Okay, well, everyone else saw something different." Imitating the kiss again, she pointed out, "Baby, where we were standing, it was like this!"
"No," Asuelu said stubbornly.
"Okay, well, from where we were standing, that's what it looked like," Kalani said testily in response.
Asuelu seemed to get fed up and stormed away from Kalani and the cameras.
"Okay, so you f*ck me up. I don't want to do this s*it," the 90 Day Fiancé star pushed back angrily.
Kalani stayed put and wasn't happy with her husband's seemingly oversized reaction. "He is such a crybaby," she complained of Asuelu.